Composting process is the key to producing high quality organic fertilizer. If you want to ferment organic waste better, compost equipment is necessary. For this, small scale windrow compost turning machine is an ideal choice for you. As the name suggests, you need to pile organic materials into long windrows in composting with this compost machine. Then windrow compost turner will straddle over compost piles and turn them to supply oxygen to aerobic fermentation and dissipate excessive heat. After summarizing the data of November 2022, we find there are 2 kinds of small scale windrow compost turners that is best-selling with small organic fertilizer plants. They are:
Can semi-skilled worker operate small scale windrow compost turner?
---
Small scale crawler type compost windrower
If you plan to start a small scale organic waste fermentation on the ground, crawler type compost windrower is an excellent choice for you. It has a turning width of 2.4 – 5 m, and a turning depth of 1 – 2 m. Therefore, it can help you process 500 – 1,500 ㎡ of organic manure per hour. It can fully meet your requirements of composting organic fertilizer in a small scale. In addition, because crawler windrow composter mainly relies on tracks to moving, it has a large contact area with the ground. So it has high performance in road adaptability and can work more stably.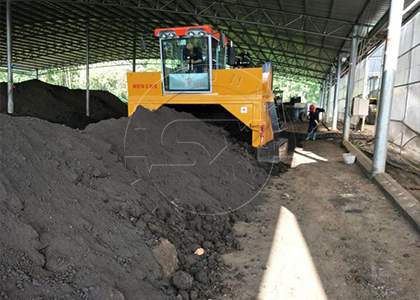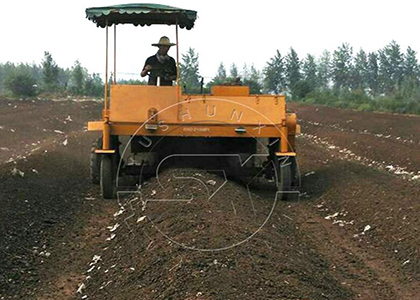 Small scale self propelled compost turner
But if you want to finish small scale windrow composting at a low cost, we recommend you choose self-propelled composter. It is also known as moving type compost turner. The reason why so many fertilizer manufacturers choose it is that it can compost organic fertilizer in a more flexible way. Because it is equipped with a four-wheel moving system, it can move forward, backward and turn direction freely. This will help you finish organic litter fermentation easier and at a lower cost. Moreover, it is suitable to process compost windrow with a width of 600-800 mm and a height of 600-800 mm. The capacity of self-propelled compost windrower is about 400-500㎡/h. Therefore, it is also an ideal choice for small scale composting of manure.
---
The above is the top 2 best selling small scale windrow compost turner in November 2022. And except for them, there are many other high quality fertilizer machines for composting on sale. For example, large scale composting machine, in-vessel fermentation tank, chicken manure compost equipment, etc. If you are interested in them, please contact us. We will provide you with high quality fertilizer processing machines at a favourable price!