Automatic batching system is a kind of necessary equipment for high quality fertilizer production. Whether you want to make organic fertilizer, compound fertilizer or bio fertilizer. Whether you plant to prepare powdery or granular fertilizer. Because fertilizer batching machine is the secret of ensuring that the nutrient composition of the finished fertilizer is consistent with your requirements. It has the characteristics of high measurement accuracy, high batching efficiency, high degree of automation and low labor cost. So most fertilizer manufacturers use it in their fertilizer production lines. For this, SX can provide three types of batching machines for your choice. They called loader type feeder, static batching machine and dynamic automatic batching equipment. It can fully meet the requirements of different fertilizer preparation from customers. If you want to know more details, please contact us immediately.
How many kinds of materials can batching machine process?
---
How does the automatic batching system work to improve batching accuracy?
Nutrient content is an important standard to judge whether your fertilizer is qualified or not. The difference in the proportion of nutrients is the reason why your fertilizer is different from others. So you need to improve your fertilizer batching accuracy. And in this aspect, fertilizer batching machine is a good partner for you. Then how does the automatic batching system work to finish it?
The batching machine usually consists of two parts: material hopper and electronic belt scale. First of all, you need to transport the materials to corresponding bins. Then when the batching system is set in motion, the hopper will open the discharge port and put the material on the belt. The belt is equipped with electronic weight sensor, which can precisely measure the weight of materials on the belt. And when the weight reaches the preset value, the belt will transport the materials to the next process.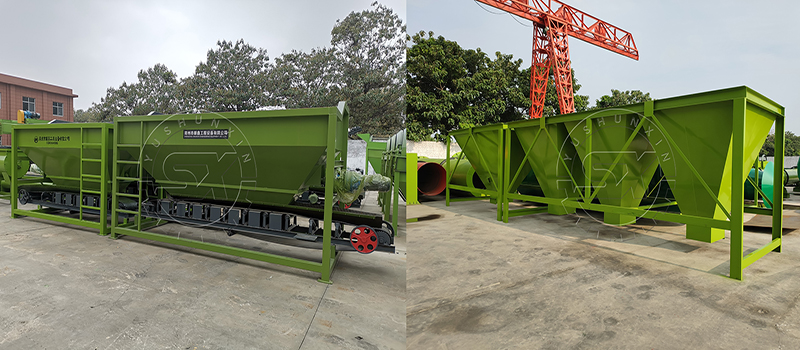 ---
3 types of fertilizer batching machine from SX fertilizer equipment factory
It is common that different customers have different requirements for fertilizer batching. For this, SX especially design three types of batching machine for your choice. They are loader type feeder, static batching machine and dynamic automatic batching equipment. You can choose according to your needs.
Loader type feeder
If you plan to start a powder organic fertilizer production which doesn't use many kinds of raw materials. Loader type feeder (also known as forklift feeder) is your best choice. It consists of a feeding silo and an electronic belt scale. But it can finish many work in organic fertilizer production. For example, this fertilizer feeder can filter the large rock and long branches in the organic waste, because it has a grid filter mesh on the top. And it also has a stirring shaft to mix the materials. It can make materials commingle more evenly and prevent it from agglomeration and sticking.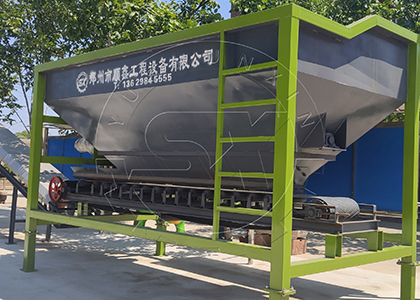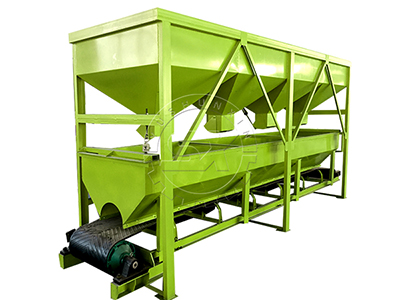 Static batching machine
When you use many kinds of materials to make fertilizer (such as npk fertilizer) and want to improve batching accuracy, we will recommend you static batching machine. It contains multiple material hoppers and a belt conveyor. So it can realize quantified supply of raw materials of in the production of fertilizer. It will put raw materials one by one and when the general weight reaches preset value, the belt will transport the materials to the next procedure. And if you want to reduce the cost of fertilizer production, it is suitable for you. Because it has a high degree of automation, which can greatly save time and cost on the labor force.
Dynamic automatic batching machine
If you have a large scale fertilizer plant, you can choose dynamic automatic batching machine. It is designed for the site of continuous batching. This site generally has higher requirement on the continuity of the batching and strict demand for the proportioning of various materials. In order to meet the requirements, we equip each material hopper with an electronic belt scale. And the host has PID regulation and alarm function, which can realize the automatic control of a warehouse. Therefore, it can help you a lot in your organic and compound fertilizer production.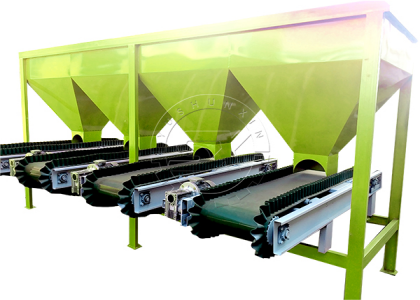 ---
How to select batching machine for your fertilizer production line?
Through the above introduction, you must have a certain understanding of these three batching machines. Then how to select a suitable one for you? You can consider it in following aspect:
The scale of fertilizer production
Generally speaking, different scale of fertilizer preparation needs different batching equipment. If you plan to produce fertilizer in a large scale, dynamic automatic batching machine is your best option. It can batch materials faster than other machines. But for medium scale fertilizer plant, static batching equipment is more suitable. And during small scale fertilizer production, static batching equipment and forklift feeder are both an excellent choice for you.
The type of fertilizer you making
The type of fertilizer you make is also an factor that can affect fertilizer batching machine selection. If you want to manufacture powdery organic fertilizer, we recommend you loader type feeder. When you make BB fertilizer, it is economical to buy static batching machine. Provided you plan to start a compound fertilizer making, dynamic batching is the best choice for you.
The accuracy of batching
If your fertilizer production has strict requirement in accuracy, dynamic automatic batching system is an optimal option for you. If not, choosing static batching machine is enough.
Your budget
Budget also plays an important role in fertilizer batching machine selection. If you have enough budget, it is better to buy dynamic automatic batching machine. But for those who don't have too much budget, static batching equipment is an ideal choice.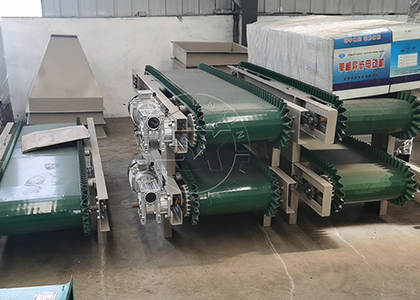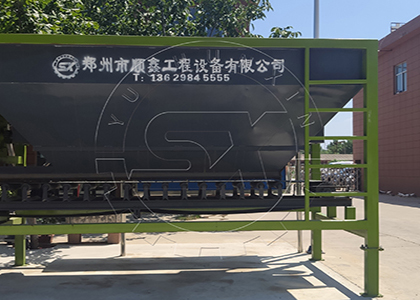 ---
Designs to prevent discharge block of high moisture materials processing
If the material has high moisture, is the discharge can block? This is an item most fertilizer manufacturers are worried about. In this case, we especially improve the design of our automatic batching system in the following aspects:
In general, the outlet port size of material hopper is 25×25cm. It is big enough for material discharge.
The cabin wall slop angle of SX batching machine is very sharp. Therefore, raw materials are more affected by gravity and easier to fall.
The cabin is not very big, the material in the discharge port won't take a lot of pressure.
All the three designs will be beneficial to material discharge. Even the material is with 30-35% moisture, it won't be blocked.
---
Advantages of automatic batching system from SX
Why so many fertilizer suppliers equip automatic batching system with their fertilizer production line? Because it has many advantages, which are beneficial for fertilizer making. They are as follows:
Wide application
No matter how many raw materials you use to make fertilizer, the automatic batching machine can fully meet your needs. We can provide the number of material hoppers according to your actual conditions. And it has high adaptability and can be used in the production of organic fertilizer, compound fertilizer and bio fertilizer.
High batching accuracy
The weighting system of the automatic batching machine adopts the weight controller and sensor. So it can quantify, batch and control the materials, and automatically modify the gap between real discharge volume and the required.
Adjustable speed
You can adjust the speed of belt by controller to change the discharge volume of each material. So you can adjust your fertilizer formula freely and produce different fertilizers.
Easy operated
SX automatic batching equipment has a high degree of automation. Only 1-2 workers, you can finish fertilizer batching easily.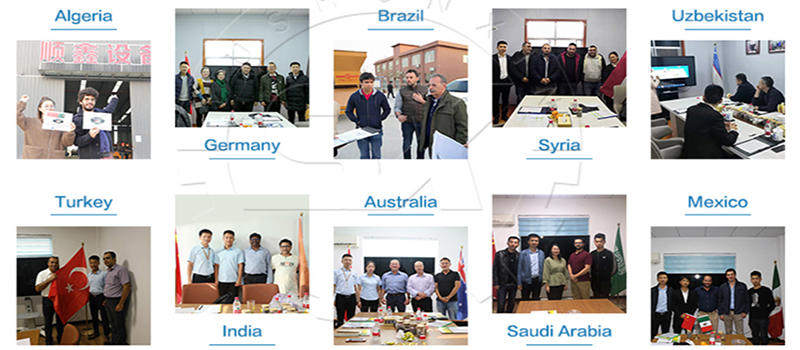 ---