Are you finding a solution for treating cow manure from your small farm? Do you plan to start a small scale organic fertilizer preparation out of cattle litter? SX 1-3 t/h cow dung fertilizer production line is an ideal choice. It can help you process cattle farm waste into granular fertilizer quickly and easily. So it is popular with organic fertilizer manufacturers. Then what is the configuration of this 1-3 t/h cow litter fertilizer making system? The solution is as follows: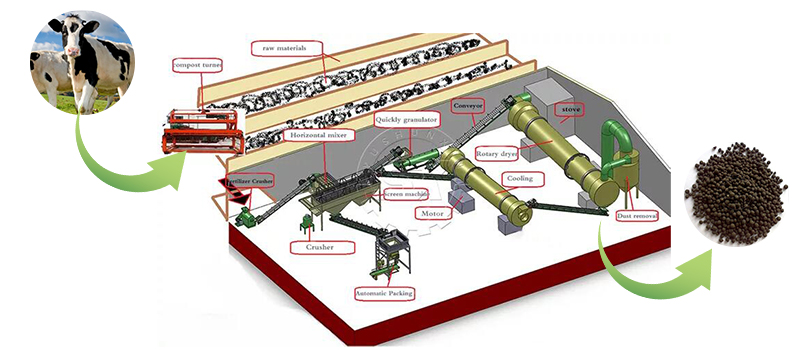 How to prepare cow manure fertilizer in a large scale?
---
Which equipment is suitable for small scale cow dung composting?
If you want to make cow dung into organic fertilizer, composting is necessary. Because it can kill harmful substances in cattle litter, such as bad bacteria, pest eggs and grass seeds. Thus, which compost machine is advisable for 1-3 t/h cow dung fertilizer making system solution? There are 3 types of compost machines for your choice.
Groove type compost turner
Groove type compost machine is a hot sale product for small scale organic fertilizer plant. It mainly composts cow dung in fermentation trench, which has a width of 2-5m and a depth of 1-2m. During cattle waste fermentation, it will move along the rails on both sides of the fermentation trench and turn material with stirring teeth. This can supply oxygen for composting and shorten its time.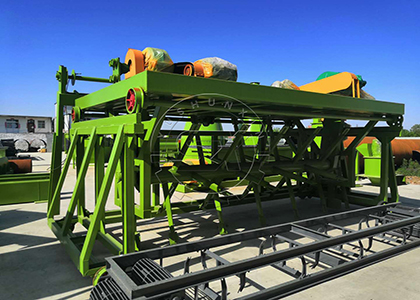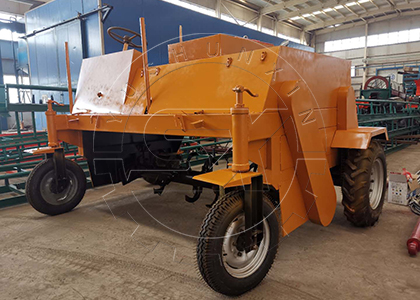 Moving type composter
If you want to start your small scale cow dung composting on the ground, we recommend you choose moving type compost turner. In this way, you only need to pile the cow dung into windrows and employ a worker to drive this machine. Then you can finish aerobic fermentation of cattle manure by turning material at a regular speed. And because it relies on four wheels to move, it can turn direction flexibly and change pile easily.
Horizontal fermentation tank
But when your space is not enough for trench fermentation and windrow composting of cow litter. It is advisable to buy horizontal fermentation tank. Only needs 10-30 ㎡, it can complete cow manure compost perfectly.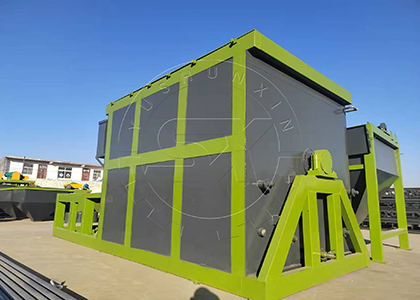 ---
What machine is an ideal choice for 1-3 t/h cow dung fertilizer granulation process?
If you want to get more benefits from the organic fertilizer you produce, it is advisable to make cow dung compost into granules. After granulation, your cow manure fertilizer is not easy to stick to and layer. So it is more convenient to transport and store. In SX 1-3 t/h cow dung fertilizer making system, there are 2 types of organic granulation machines for your choice.
Flat die granulator
If you want to finish small scale cow dung compost granulation at a low cost, flat die granulator is an excellent option for you. Because it is a kind of dry granulation equipment, which requires that the moisture content of materials must be below 15%. Therefore, it has no need for fertilizer drying and cooling. Moreover, it has a capacity of 0.5-3 t/h, which can meet your requirement for the capacity of your small cattle litter fertilizer plant.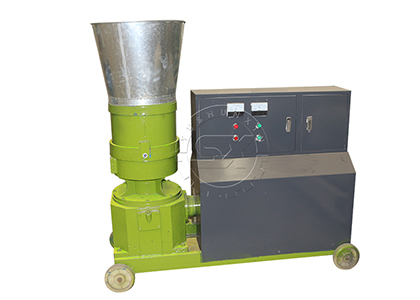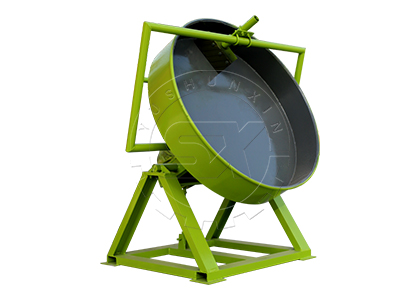 Pan pelleting machine
If the cow dung in your farm has a high moisture, we recommend you choose disc pelleting machine. It mainly makes use of the rotation of disc to granulate your cattle waste compost. When the size of granules meets your requirements, the pellets will be discharged automatically. For 1-3 t/h cow dung fertilizer making system, SXYZ-2800 disc granulator is an ideal option for you.
---
How to improve the quality of your small scale cow dung fertilizer making line?
If you need a simple process of 1-3 t/h granular cow dung fertilizer production, compost machine and granulator can fully meet your needs. But provided you want to deliver higher quality cow dung fertilizer to your customers, we can offer you the following equipment.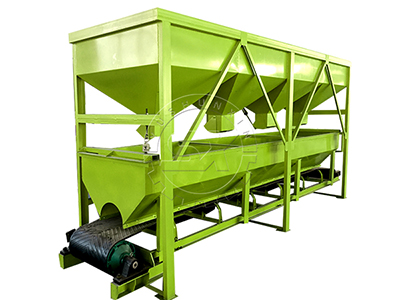 Batching machine
Batching machine is designed for strictly feeding different materials according to your formula. And we can change the number of materials hoppers according to your needs.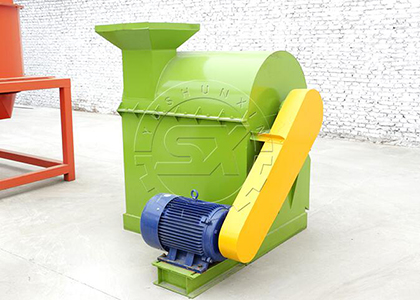 SXSF-60 semi-moisture crushing machine
It is an optimal choice for crushing cow dung compost, which has a high water content. After crushing, it is more beneficial for granulation.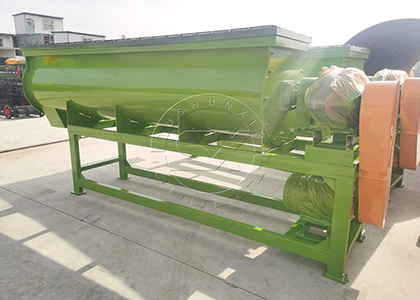 SXDJ-1050 single shaft horizontal mixer
This fertilizer mixer can help you mix cattle waste with other materials evenly to ensure the nutrients balance of your final cow manure fertulizer pellets.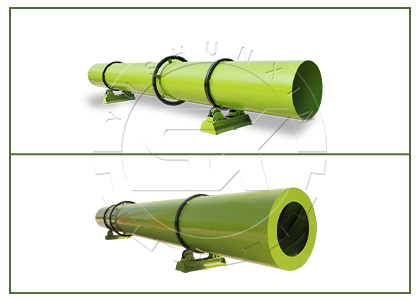 SXHG-1010 rotary dryer and SXLQ-1010 cooler
They can help you remove excessive moisture content of your cow dung fertilizer pellets. This is beneficial to improve the fertilizer quality to make it meet international requirements.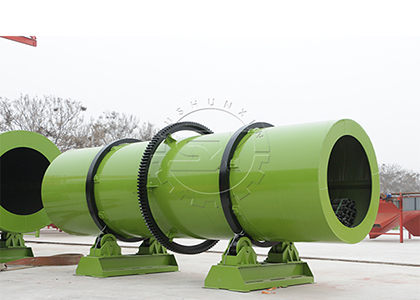 This equipment is used to add a protect film to your organic fertilizer particles. In this way, it can decrease the possibility of moisture absorption and improve the nutrient utilization rate of your fertilizer.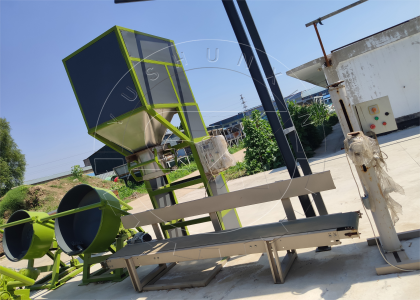 Single bucket automatic packing scale
Using it, you can finish fertilizer packaging quickly and easily. It has a high quantitative precision of 2‰. You can freely choose to pack your cow manure fertulizer in to 10 kg, 15kg,25 kg, etc.
The above is a solution for 1-3 t/h cow dung fertilizer making system. Besides this, SX also can provide you with solutions for large cattle farm waste disposal, the simplest organic fertilizer making line, etc. If you are interested in them, you can contact us for details. We will provide you with the best design and equipment according to your requirements.
---