In order to meet the requirement of crop growth, compound fertilizer manufacturing has been an important part in fertilizer production. Because compound fertilizer can supply the nutrients that the soil lacks in a targeted manner. Such as nitrogen, phosphorus, potassium, etc. So there are so many people investing in complex fertilizer production lines. From the selling data in the past nine months in 2022, we find there are 3 types of compound fertilizer preparation lines that are hot selling with fertilizer suppliers.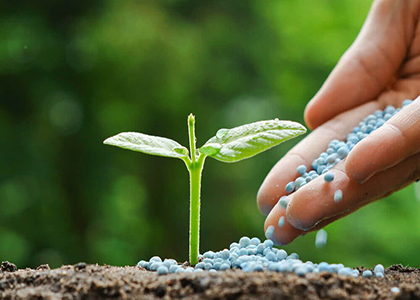 Come to get your own compound fertilizer making line!
---
Compound fertilizer wet granulation line
Why compound fertilizer wet granulation line is so popular with fertilizer manufacturers?
Because it make granular compound fertilizer by wet granulation method. Which uses liquid as binder to enhance the adhesive force between chemical powdery. This makes finished compound fertilizer pellets with higher density, which is beneficial for transport and storage. In addition, because of liquid involved, there will be less dust pollution in your compound fertilizer making process. If your chemical material has a high moisture content, this compound fertilizer preparation line is also an ideal choice for you.
What equipment is needed in a complete wet compound fertilizer production line?
First, it needs batching machine to feed chemical materials according to the required proportion. Next, fertilizer mixer will blend different chemical powder evenly. Then you need to use a suitable wet granulating machine to make mixed complex fertilizer powder into pellets. If you plan to start a small scale compound fertilizer plant, disc granulator is an ideal choice. But if you need a pelleting equipment for large scale complex fertilizer making, we recommend you choose rotary drum pelletizer. And because of wet granulation, you also need dryer and cooler for your complex fertilizer production line. Then coating equipment will add a protective film to prevent moisture absorption and nutrients loss. Finally, packing finished compound fertilizer by automatic packaging machine. This is the whole process of complex fertilizer production with wet granulation method.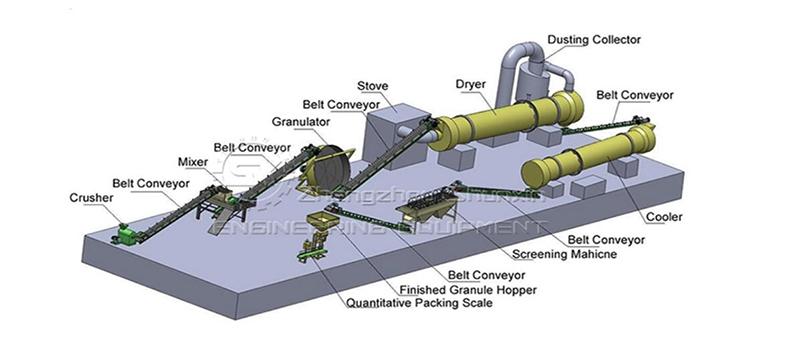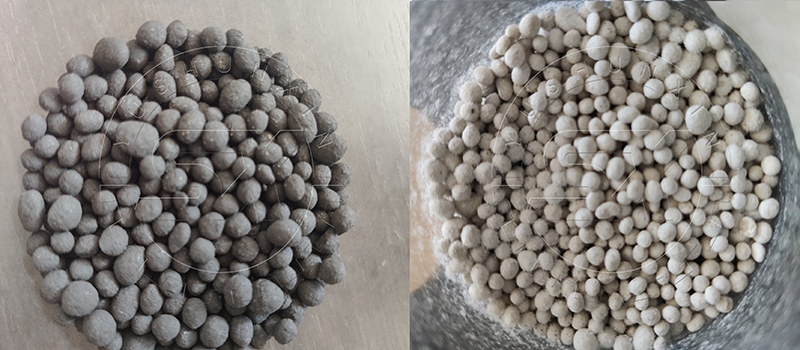 ---
NPK fertilizer dry granulation line
Who needs NPK fertilizer dry granulation line?
The customers who have chemical material with low moisture
NPK fertilizer dry granulation line, as the name suggests, there is nearly no water involved during this process of NPK fertilizer manufacturing. For one thing, the chemical material has a low moisture content of below 10%. For another, it doesn't need water in the process of granulation. Double roller granulator is an ideal chocie for dry granulation of NPK fertilizer. It mainly turns chemical powder into granules by extrusion of two rollers. There is only physical force and no chemical reaction.
The buyers who want to reduce the cost of compound fertilizer making
As mentioned above, there is nearly no water needed in the NPK fertilizer dry granulation line. So it also doesn't need to buy drying machine and cooling equipment to reduce exceed moisture. This can help you reduce costs on equipment, factory rent and energy consumption. So you can produce NPK fertilizer at a lower cost.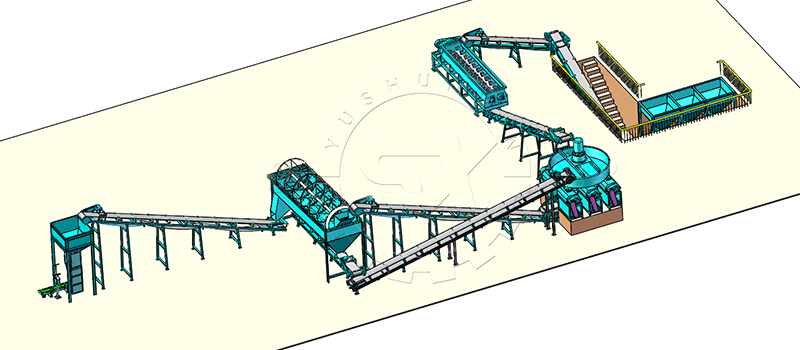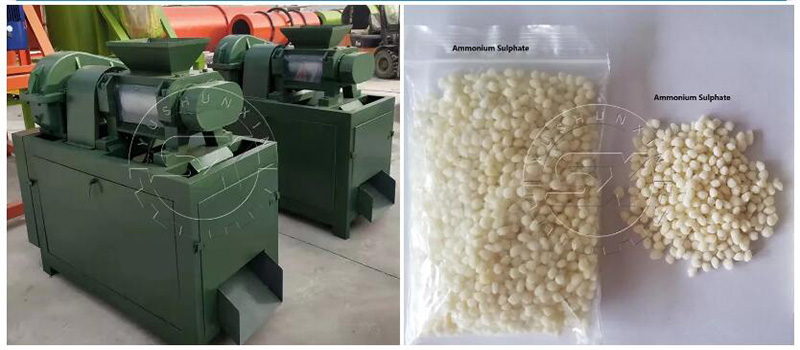 ---
Bulk blending fertilizer making line
Why should you choose bulk blending fertilizer making line?
Less space occupation
In general, this compound fertilizer line mainly consists of three fertilizer processing machines. Batching machine, BB fertilizer mixer and packaging machine. To a certain degree, the compound fertilizer making line with fewer machines denotes less space occupation.
High automation
The whole process of granular complex fertilizer blending line is operated by an electrically automatic control system. Therefore, it has a high degree of automation. And only 2-3 workers can keep the entire BB fertilizer preparation line running normally.
Low cost
From the above, we can know that this bulk blending fertilizer making line has characteristics of fewer fertilizer machines, less space occupation, less labor force employment. In other words, it can spend less on equipment buying, fertilizer factory rent and labor force.
Flexible adjustment of formula
Using this compound fertilizer blending line, you can produce various BB fertilizers flexibly.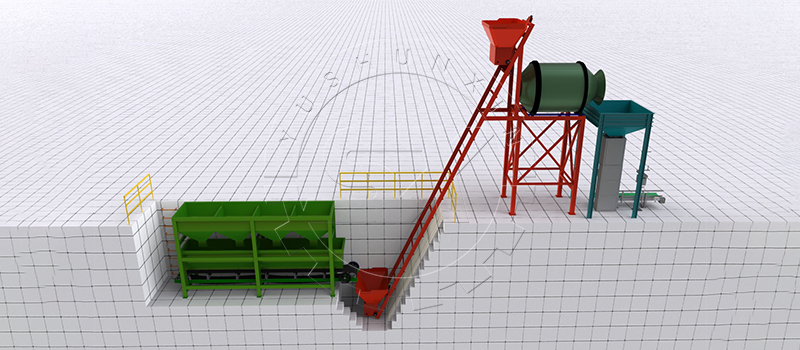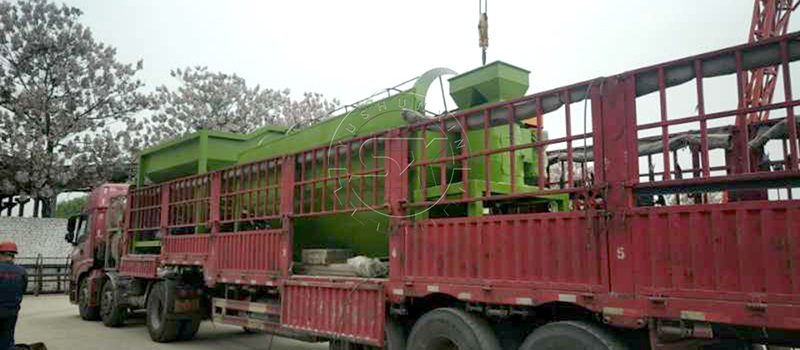 The above is the most 3 hot selling compound fertilizer production lines from SX in the past nine months 2022. And except for them, there are many other high quality fertilizer processing lines on sale. For example, organic fertilizer making line, cow dung fertilizer making line, poultry manure management system, etc. If you are interested in them, please contact us. We will provide you with high quality fertilizer processing machines at a favourable price!
---