The small compost production line from SX machinery
Do you plan to start a compost fertilizer making plant? Do you want to invest less money in your fertilizer composting? The small scale compost production line can meet your requirements. This  fertilizer composting line has characteristics of advanced design, less space occupation, less worker required and low energy consumption. These can greatly help you reduce your organic fertilizer production cost. And whether you want to compost chicken manure, cow dung or pig waste, it can fully meet your needs. Besides, if you want to expand the production scale later, you only need to replace some key equipment in the whole production line for that of a larger capacity.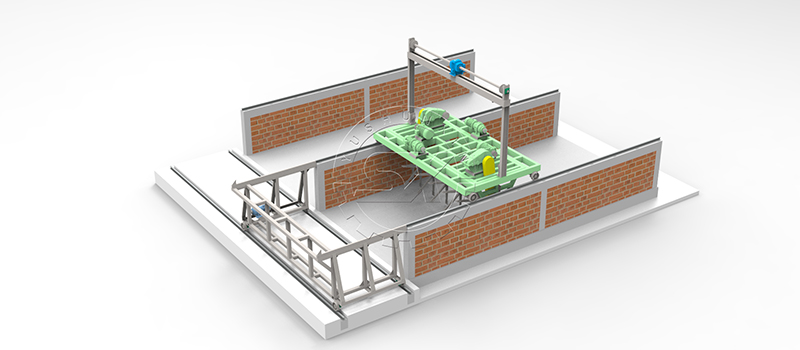 How to compost organic fertilizer faster?
---
What kind of machine you need for setting up your small scale compost fertilizer plant?
Generally speaking, small scale composting can be done through the following process: Crushing, composting, screening and packaging final fertilizer . So, if you want to set up a small scale compost fertilizer plant, you need to equip with fertilizer crusher,composting machine, screener, and packing equipment.
The first step: Crushing
If you want to compost the raw materials quickly, crushing is an important step during the small scale composting process. Because during the crushing process, the fertilizer raw materials will be shredded into smaller particles. So composting materials have a bigger contact area with oxygen. This is greatly beneficial for aerobic fermentation of organic waste in small quantities. For this, our new type vertical crusher and semi-wet material crusher are both suitable for you. They can grind caked materials into fine powder without blocking.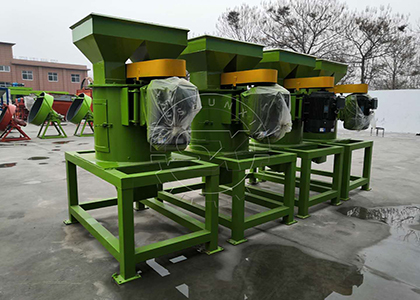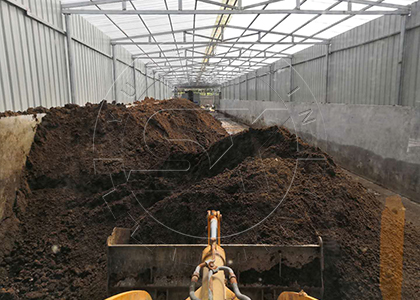 The second step: Compost pile turning
Compost pile turning is the key step in the small scale composting process. And we recommend you use professional organic fertilizer compost turner. It can turn over the compost piles from time to time to let more oxygen into the piles. Then compost bacteria in manure will decompose organic matter and generate heat to kill harmful substances. Therefore, you can use organic waste as fertilizer safely. For small scale compost business, there are various composting machines for your choice. Including groove type compost turner, windrow compost tuning machine and in-vessel fermentation tank.
The third step: Sieving compost fertilizer
Screening is another important process in the small scale composting business. SX small scale screening equipment has a high screening efficiency for particle size less than 300 mm. During this process, fine powder compost will be separated from waste materials, such as stones, cigarette butts, branches, etc. So, it can help you finish the screening work quickly. So you can prepare higher purity compost fertilizer.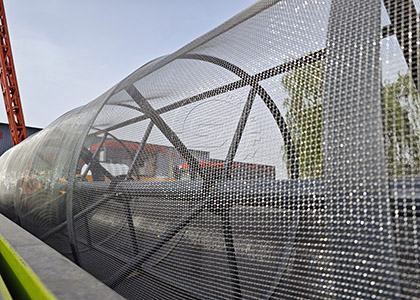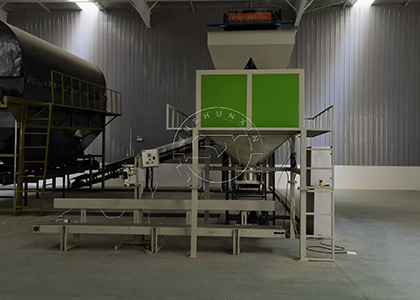 The final step: Packaging compost fertilizer powder
In order to make it more convenient to transport, store and use, finally, you need to pack compost powder to sell. However, manual bagging will take a long time, we recommend use automatic bagging equipment. It not only has a quantitative precision of 2 ‰, but also various types for your choice.
---
What are the different types of small scale composting?
In SX, there are many types of small compost system for your choice. In simple terms, the main difference between them is which kind of compost turning machine you choose for your business.
Aerated (turned) windrow composting
In windrow composting system, organic waste is formed into rows of long piles called windrows. And these windrows are aerated by turning the pile periodically though either manual or mechanical means. Generally speaking, the ideal pile height is between 4 and 8 feet, and the ideal pile width is between 14 and 16 feet. It will allow the compost pile large enough to generate sufficient heat and maintain temperatures, and small enough to allow oxygen to flow to the windrow's core.  If you are more willing to use this method to start your small scale composting, SX will provide you with two types of windrow composters.
Moving type compost turner for small compost heap
When you want to start small scale windrow composting at a lower cost, moving type compost turner from SX is an excellent choice for you. A moving type windrow composter only needs $4,000-$1,200. Is composting efficiency lower? No. This machine can turn over 300-500 m³ of organic materials piles. In addition, whether you want to use animal manure, sludge, agricultural waste or biogas residue as material, it fully meets your needs. It uses stirring teeth to turn these materials, which can make them fully contact with oxygen for better fermentation. Meanwhile, it will mix the sticky fermentation material, microbial fermentation agent and straw powder effectively. Moreover, it can move freely in the workshop and outdoors because of the unique four-wheel walking design. Therefore, with high working efficiency and low energy consumption, this type of compost turner is widely used in small farm composting systems.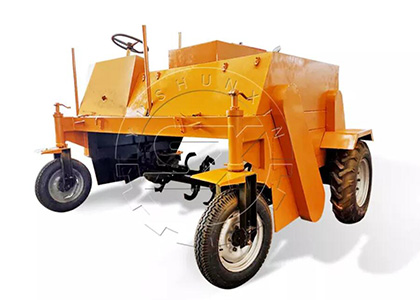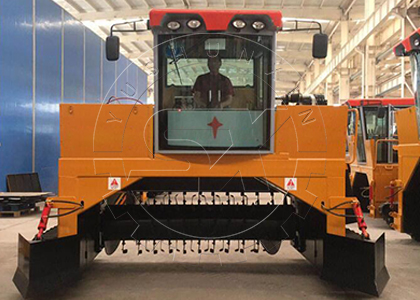 Crawler type compost turner for small composting options
If you plan to start a large scale fertilizer windrow composting, crawler type compost equipment is better. Its capacity is about 500-1500 m³. In your small scale composting system, turning width is about 2.4-3 m and stirring height is 0.8-1.5 m. Bur the length of the windrow is not limited and the section shape of the windrow can be trapezoid or triangle. Then, the whole body of crawler type compost machine should bestride the stacked windrows to do its work. At this moment, the rotary knives installed on a strong rotary drum under this turner machine can blend, loosen, and even move the piled compost. In this way, oxygen can come into the compost pile and speed up the fermentation process.
What is price of windrow compost turner?
Trench composting
This kind of composting method needs to turn the raw material in the grooves. So, before you do trench composting, you need to build some fermentation grooves in your plant. You can freely choose to build them on or under the ground according your needs. Then installing the rails on the both sides of the groove. And the groove type compost turner can moving smoothly to help you turn the raw materials and transport the oxygen in it. in this way, you can finish organic fertilizer composting faster. For small scale composting, SX can offer you groove type composter and chain plate type compost turner for you choice.
Groove type compost turner
Groove type compost turning equipment is widely used in small scale fermentation process. The turning width of it is 2-5 m and the turning depth is 0.8-1.5 m. It is a basic type of trench working compost turner. It mainly uses stirring teeth to turn organic raw material to transport oxygen into it. This can greatly contributes to better fermentation. And this stirring teeth can lift freely, so you can complete the groove changing quickly and easily.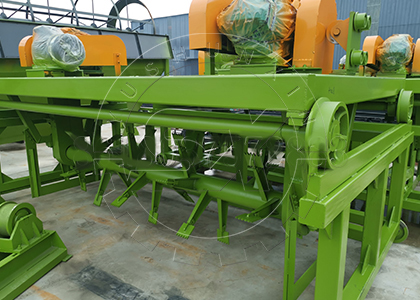 Chain plate type composter
When you need a fertilizer compost turner with adjustable walking speed, chain plate type compost turning machine is an excellent choice for you. It adopts variable frequency speed control system, which can change working speed flexibly according to the manure material resistance. So it can well adapt to the regulation of working load. Moreover, it can complete organic fertilizer fermentation better because of pallet design. The pallet design makes the material stay longer and disperse at a high position, so it can fully contact with oxygen and easily reduce moisture content.
Can trench type composting equipment use ground rails?
In-vessel composting
In this kind of small composting system, the organic materials will be fed into a full closed tank for fermentation. So, it is called in-vessel composting. We have professional in-vessel composting facility on sale. In order to improve fermentation efficiency,the apparatus designs a mechanism to turn or agitate the material for proper aeration. In addition, it can reduce your budget on labor force, because the environmental condition including temperature, moisture, and aeration are automatically controlled. What's more, SX in-vessel composter has different sizes and capacities for your choice. And it can be customized to suit your small composting business.  If you have any questions about this composting facility, just contact us freely.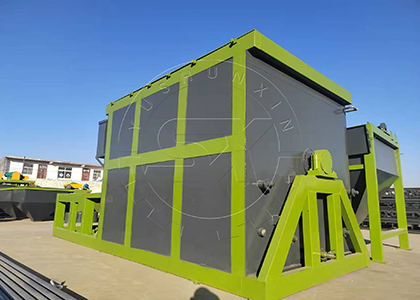 Is there vertical organic fermentation pot?
---
How to run a small scale composting business with low cost?
If you want to start a small scale composting business in your country, SX can help you to start it with the low budget. We can decrease your cost in the following aspects:
Ideal equipment price: We are source factory of fertilizer processing equipment. There is no extra charge during sale. So we can provide you with an ideal price.
Low maintenance cost: We have advanced technology in the manufacturing of fertilizer equipment. So our composting euipment has high quality and can operate for a long time. And we can provide you with guidance on how to operate it correctly and how to maintain it. So you don't need to replace it in a short time.
Resonable project design: We can design your small scale organic fertilizer composting project according to your material, capacity, budget. etc. If your budget is not enough, we will recommend you simpler production line and equipment with small capacity and low price.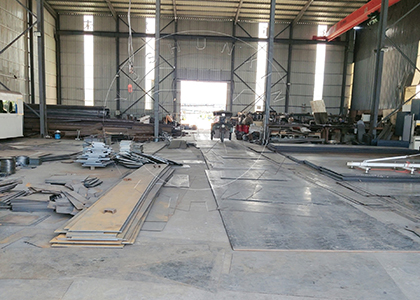 ---