With the increasing demand for fertilizers and the need for agro-industrial waste disposal. More and more companies choose to extend their business to the field of fertilizer production. And most of them plan to build a fertilizer preparation plant. During this process, fertilizer manufacturing plant cost is an important factor in which method and equipment they choose to produce fertilizer. As a professional fertilizer equipment manufacturer, SX designs fertilizer production lines with different budgets for your choice. If you have any special requirements, we also can provide customization service for you. So if you are interested in it or want to know more details, please contact us quickly.
How to choose materials for fertilizer manufacturing
Fertilizer materials selection is the first step of starting a fertilizer production. Different raw materials require different processing methods.
Organic fertilizer material
For those who have a farm, poultry manure management is important. And making them into organic fertilizer is an ideal choice for them. But different raw materials have different contents of each element. So they require different processing methods. Chicken manure has rich nutrients, roughly containing 18.7% crude protein, 13% ash, 11% carbohydrate, 7% fiber, 2.5% fat, 2.34% nitrogen, 2.32% phosphorus and 0.83% potassium. It is several times higher than other organic waste and the produced fertilizer can meet the nutrients requirement of international fertilizer criterion. But if you use cow dung to make fertilizer, you need to mix it with other materials with high N, P, K content. To increase the N, P, K, content of your organic fertilizer and rich its nutrients.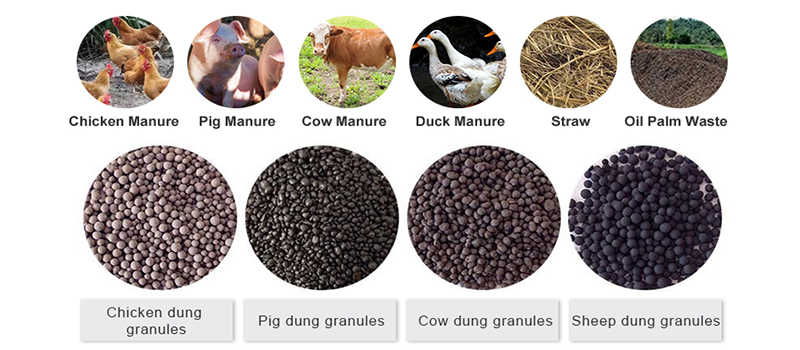 Compound fertilizer material
If you want to start a compound fertilizer production, there are two kinds of materials for your choice. Powder and granular. Generally speaking, the price of powdered compound fertilizer materials is lower than that of granular ones. However, if you want to turn powdery raw materials into the required granular compound fertilizer. You need to complete a process of multiple procedures. But if you use granular materials, only three steps, you can get the final fertilizer. Overall, the cost of the former is higher than the latter.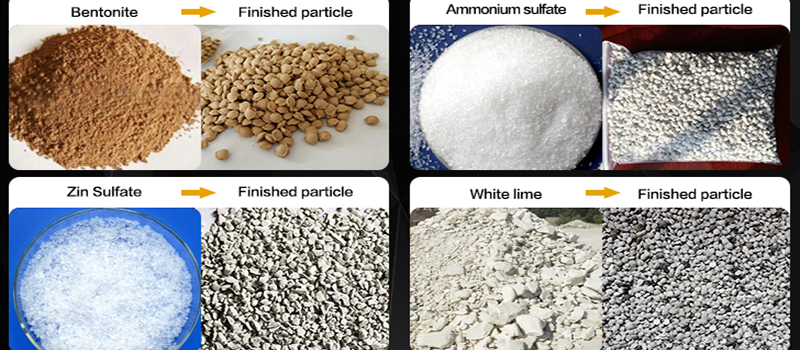 Cost of different types fertilizer production line in SX fertilizer equipment factory
After deciding on the raw materials, it is time to start making fertilizers. In this case, there are three fertilizer production lines are popular with fertilizer suppliers. And whether you want to make organic fertilizer or compound fertilizer, they can fully meet your needs. You can choose one according to your needs.
Granular fertilizer making line for sale
If you plan to high quality fertilizer and have enough budget, we recommend you to choose it. It is used to turn powdery materials into granular fertilizer. A complete granular fertilizer making line consists of many fertilizer processing machines. Batching equipment, crusher, mixer, granulator, dryer, cooler, screener, coating machine and packaging equipment. And if you plan to make organic fertilizer, you will also need compost equipment. In general, more fertilizer equipment means high cost. But more complex processes tend to produce higher quality fertilizer as well.
Each of them is helpful for preparing fertilizer of high quality. For example, fertilizer composter can kill harmful substances in your material. Crusher and mixer can break agglomerated material and make it finer. Granulation machine is greatly helpful for preventing fertilizer sticking. Then the dryer, cooler and coater will further remove the moisture of fertilizer granules. Screener is the key equipment for distinguishing qualified from unqualified fertilizers. Packaging equipment makes the finished fertilizer convenient to store and transport. You can choose according to your needs.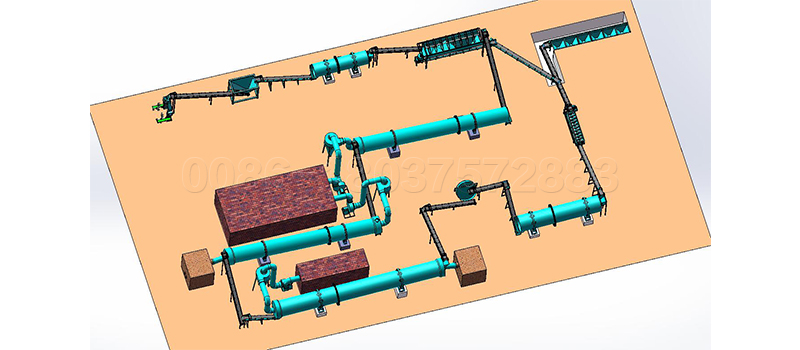 Powdery fertilizer production line
If you want to process poultry manure into fertilizer at a low cost, you can choose this powdery fertilizer production line. It is designed to turn raw materials into powdery organic fertilizer. So it only contains composting machine, fertilizer feeder, crusher, screening machine, packing equipment and belt conveyor. Only half of the equipment of the granular fertilizer production line. Less fertilizer equipment also suggests less space occupation. So it can not only reduce your cost on fertilizer equipment, but also on workshop area.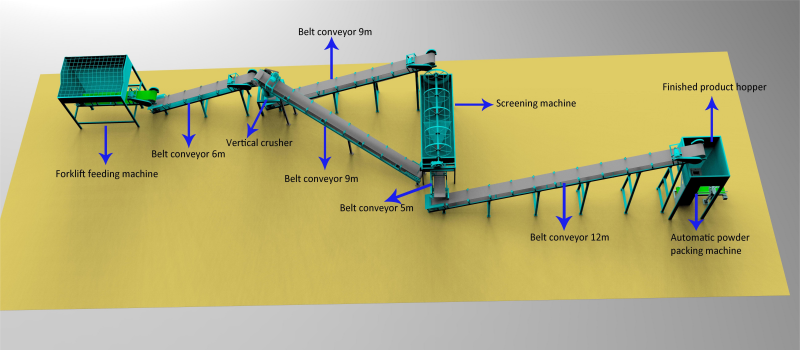 BB fertilizer preparation line
Is there a low cost production line for compound fertilizer? Of course. Our BB fertilizer preparation line is on sale. It can help you finish compound fertilizer manufacturing in three steps. Batching, mixing and packaging. But its capacity can reach 1-30t/h. Therefore, it can fully meet your requirements, whether you want to manufacture fertilizer in a large, medium or large scale. But for this production line, you would better use granular materials.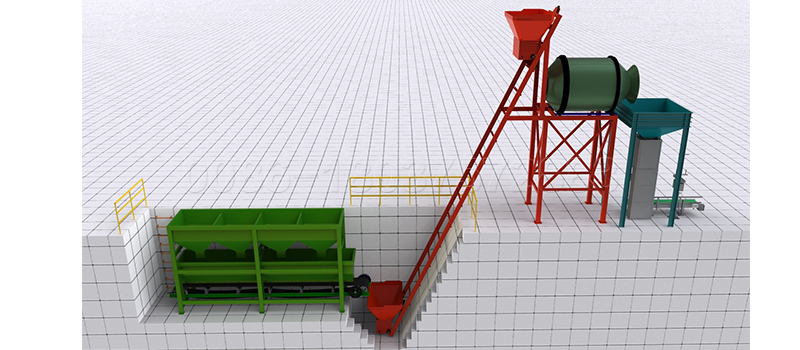 How to build fertilizer manufacturing plant at low cost
There are many factors that affect the cost of building a fertilizer factory. So besides the choice of production line, you can also reduce the cost of building your fertilizer plant from these aspects.
High quality Equipment
High quality fertilizer processing machines usually can be used for a long time. So you can spend less on changing broken fertilizer equipment. For this, SX fertilizer equipment is your ideal choice. Because it is mainly made of high strength materials and all areas in contact with fertilizers are made of corrosion resistant steel. And we can provide guidance on how to operate it correctly and how to maintain it. These can prolong the service life of your fertilizer machine.
Reasonable layout
Reasonable layout also can reduce your fertilizer manufacturing plant cost. We can provide you with a free project design according to the actual situation of your fertilizer plant. You only need to tell us your materials, capacity, fertilizer plant area and budget. We can offer you free process design drawing, reasonable configuration plan, forward guidance according to your requirements.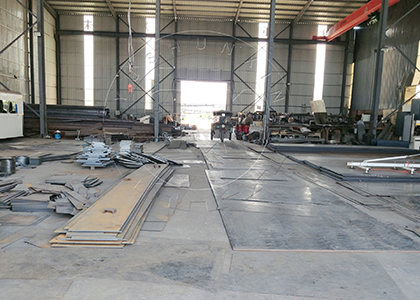 Reliable Equipment manufacturer
Choosing a reliable fertilizer equipment manufacturer is important to build fertilizer manufacturing plant with low cost. For this, SX is an excellent choice for you. As a professional fertilizer equipment factory, SX has advanced technology and nearly 20 years experience in this field. So we can provide you with high quality fertilizer equipment and economical price. In addition, we can offer you guidance on installation and maintenance of fertilizer equipment to prolong its service life. If you want to buy high quality fertilizer equipment at a favourable price, please contact us immediately.
Where to buy
Where to buy is also a factor which influences your cost. The prices of buying fertilizer equipment online or offline, from distributor or source factory are different. It is no doubt that buying fertilizer equipment from source factory is more economical. So buying fertilizer equipment from SX is an optimal option for you. Because it is a source factory for fertilizer processing equipment and there is no extra charge.