Organic fertilizer granulator, as name suggests, is designed for making organic fertilizer into granules. And with the raising of customers' requirements for organic fertilizer quality, more and more fertilizer manufacturers choose to granulate their organic fertilizers. But where to buy organic fertilizer pellet making machine? How to buy a suitable pelletizer for your organic fertilizer production? Here, SX fertilizer equipment company will be your good partner. It has nearly 20 years experience in organic and compound fertilizer equipment manufacturing. We design various organic granulators for your choice. They can fully meet your needs, whether you want to make organic fertilizer on a small, medium or large scale. Whether your materials are wet or dry. If you have any special requirements, you can also contact us for customization.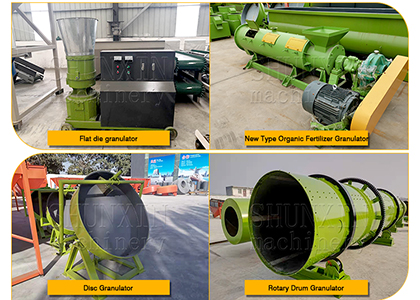 Get your customized organic fertilizer granules plan !
---
What you need to do before granulating organic fertilizer?
Do you want to prepare high quality organic fertilizer? Do you want to make your granulation process more smooth? There are something you must focus on, they are greatly in favor of better granulation of organic fertilizer.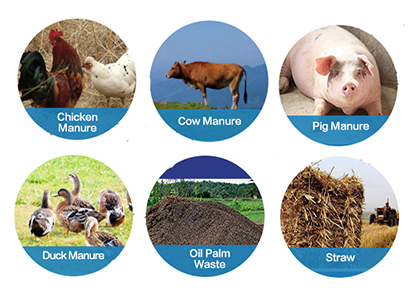 Collect materials
If you want to produce high quality organic fertilizer, you must pay attention to material selection. For organic fertilizer preparation, you can use poultry manure, agricultural waste, sludge, biogas residue, etc as material. Among them, poultry manure is the most common material for the production of organic fertilizer. Such as cow dung, chicken manure, horse manure, etc. Because it is rich in nitrogen, phosphorus, potassium, which are important in the growth of crops and plants. In addition, using fresh manure is better than old manure during organic fertilizer making.
Adjust the moisture content
When you use fresh poultry manure to prepare organic fertilizer, you will find that it cannot be used directly. Because it is a mixture of solid manure and liquid, and has a high moisture content. At that time, you can treat it in two ways. First, you can use some dry agricultural waste to balance the water content, such as straw, corn cob, peanut shell, etc. If you want to finish it quickly, we recommend you use our dewatering machine. It can help you separate solids from liquid in a short time. And the moisture can be reduced to 30%.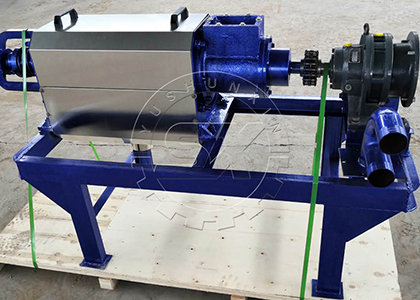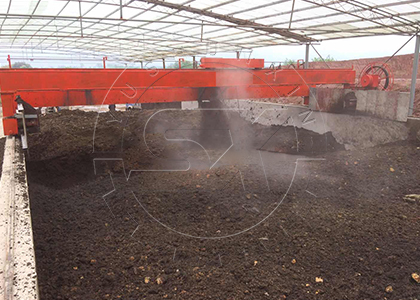 Composting
Composting is a key step to manufacturing high quality organic fertilizer production. It can remove harmful bacteria, pest eggs and grass seeds in animal manure. So manure will become harmless for the health of crops and humans. During this process, fertilizer compost machine can help you finish it easily. And you can add some fermentation strain to increase fermentation efficiency.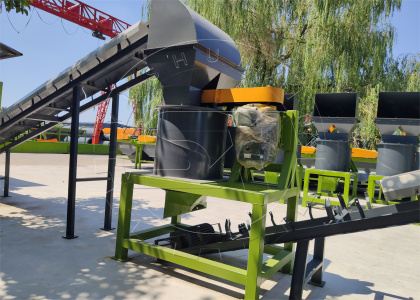 ---
How to turn powdery organic fertilizer into pellets?
Though above processes, you can get high quality powdery organic fertilizer. If you want to further improve its quality, you need to convert it into granular fertilizer. Then how to turn powdery organic fertilizer into pellets? There are four methods you can use.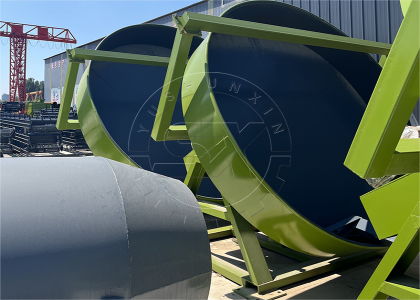 Disc granulation
Disc granulation is a kind of natural pellet making method. It makes use of the rotation of the disc to drive the raw materials to move upward. Then they will roll down and stick to each other. Finally, they will form the round organic fertilizer granules. Pan granulator is a typical equipment, which employs disc granulation method. And it is an ideal choice for those who want to start a small organic plant. Because it has small capacity but high performance in granulation. It can produce 0.5-6 tons of organic fertilizer granules per hour. But it has a high granulation rate which reaches 93% and an economical price. So it is suitable for those who don't have enough budget.
Rotary drum pelleting
Rotary drum pelleting also belongs to the natural granulation method. And the organic material will get squeezed together into fertilizer particles under the action of drum rotation. In SX, the most popular pelletizer, which uses this method, is rotary drum pelleting machine. If you need a granulator for large scale organic fertilizer granulation, it will be your best choice. We especially design the drum pelletizer SXZGZ-2080 and SXZGZ-3210, which has a large capacity of 8-15t/h and 15-30t/h. And you must want to know whether it can resist the erosion of such a large number of organic materials. Of course, our rotary drum granulator not only has rubber linings to enhance corrosion resistance. But it also has material lifting plates to prevent fertilizer sticking to the wall.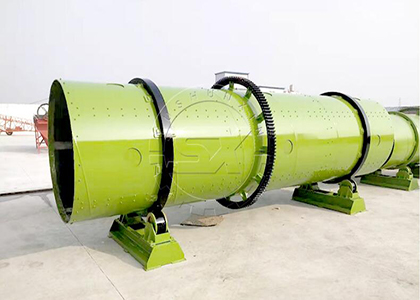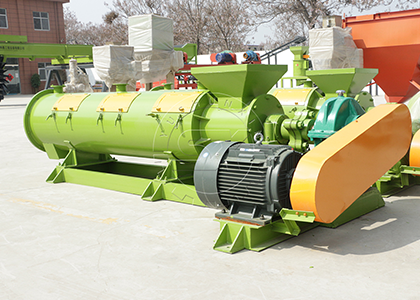 Stirring teeth granulation
If you want to make organic fertilizer pellets with high strength, you can use stirring teeth granulation method. It mainly granulates powdery organic fertilizer by two forces. High speed rotary mechanical agitation force and the resulting aerodynamic force. So compared to natural granulation, the organic fertilizer pellets produced by stirring teeth granulation have higher strength. In this case, we can provide new type organic fertilizer pelletizer for you. It is also called stirring teeth granulator.
Extrusion pelleting
Extrusion pelleting method, as name suggests, is mainly make granular organic fertilizer by extrusion force. Because there is nearly no water involved, subsequent drying and cooling is not needed. Therefore, it can help you reduce the cost of organic fertilizer production. So if your budget is limited, it is your ideal choice. For this, we can offer you flat die granulator.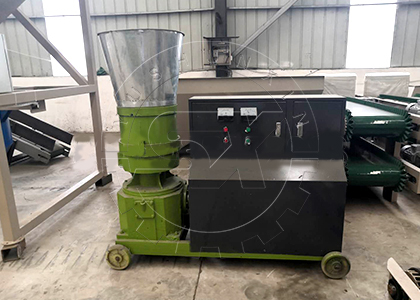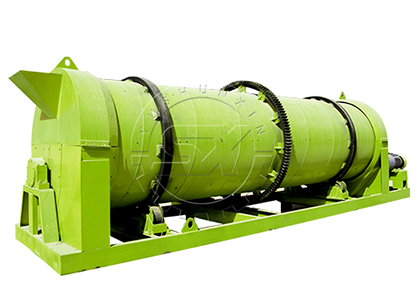 Rotary drum pelleting + Stirring teeth granulation
Except single granulation method, we also can provide you with organic fertilizer pelletizer with two pelleting ways. It is rotary drum churning pelletizer. Because of two methods usage, it can offer you higher granulation rate than others. And in order to increase its working efficiency, we design two motors for it. One for stirring teeth, another for rotary drum.
---
How to adjust the size of granules during organic fertilizer production?
If you want to make organic fertilizer pellets of different sizes, our equipment also can meet your requirements. You can change fertilizer size by following ways:
Regulate moisture content
During organic fertilizer granulating, controlling organic material moisture is the most common way to regulate the granule size. Less water, smaller size; much water, bigger size. It is suitable for various pellet making machines, especially wet granulation equipment. Such as pan granulator, rotary drum granulator, stirring teeth pelletizer and rotary drum churning pelletizer.
Control the pan slope angle
If you plan to use disc granulator to prepare organic fertilizer, you also can regulate the final granule size by adjusting the pan slope angle. Sharp slope, smaller size; slow slope, bigger size.
Adjust rotating speed
If you want to change fertilizer size during pelleting by rotary drum granulator, stirring teeth pelletizer and rotary drum churning pelletizer. Besides water content, you can finish it by adjusting the speed of the granulation machine. High speed, smaller size; low speed, bigger size.
Change mold
Then how to regulate organic fertilizer granule size when you use flat die pelletizer? You only need to choose the mold of the required size. We can provide you with mold for the production of 2-10 mm organic fertilizer columnar particles.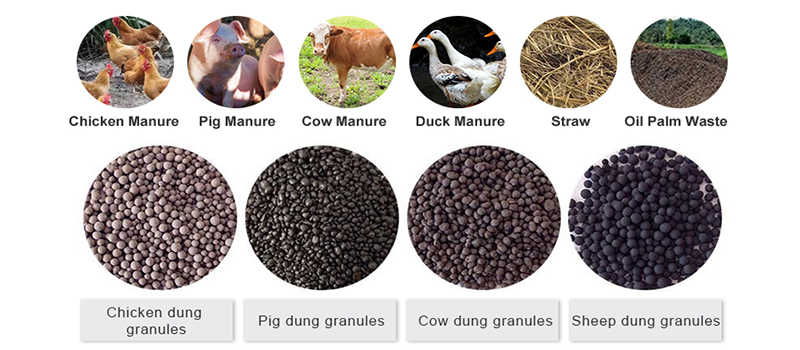 ---
What you can do to improve the quality of organic fertilizer granules?
After organic fertilizer granulation, you will find that there still are some items you want to improve. For example, uneven appearance, excess moisture, easy to stick after long time storage, etc. Is there any solution for them to improve the quality of organic fertilizer granules? The answer is yes. There are some fertilizer processing machines can help you a lot.
Granule polishing machine
If the shapes and sizes of your organic fertilizer pellets are different, using a fertilizer polishing machine is an excellent choice for you. It is designed to make your fertilizer granules more round and look more beautiful. It is an ideal equipment for organic fertilizer to make spherical particles.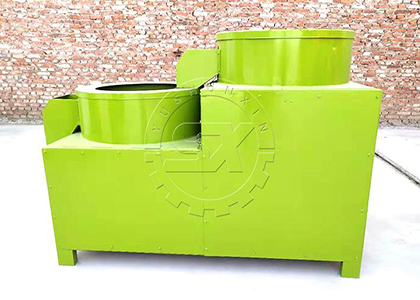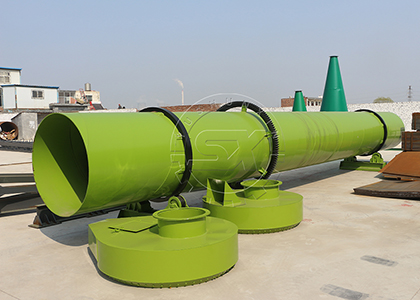 Dryer and cooler
The international requirement of organic fertilizer moisture is 14%, but the water content of granulated organic fertilizer is about 20%. So you need to further reduce the moisture content of organic fertilizer after granulation. At that time, drying machine and cooling equipment will be your good partner.
Coating machine
From above, we can know that keeping moisture content is important for organic fertilizer making. But it is also essential after production. Because after a long time storage, the finished organic fertilizer pellet will absorb the moisture from air and become easy to stick again. In this case, we recommend you to use fertilizer coating machine to add a film on your organic fertilizer granules. It not only prevents your fertilizer from sticking, but also from nutrient loss. Then you can improve the quality of your organic fertilizer pellets.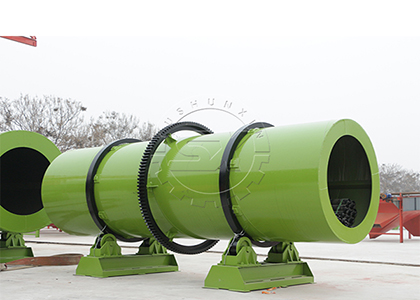 ---
Why so many fertilizer suppliers choose to buy organic fertilizer granulator from SX?
When you want to buy organic fertilizer granulator, SX fertilizer equipment factory will be your ideal choice. Why?
Wide applications
Organic fertilizer granulator from SX has high adaptability, so it can be used for a variety of organic materials. Including chicken manure, cow dung, straw, sawdust, sludge, biogas residue, etc. So you have more options for organic fertilizer materials.
High quality equipment
All SX fertilizer equipment is made of high quality steel, which can increase the ability to resist wear and corrosion. So you can use it for a long time. For this, we can provide you with relevant certificates.
Advanced technology
During organic fertilizer equipment manufacturing, we adopt many advanced equipment. Including plasma cutting machine, laser cutting machine, automatic bending machine, etc. Guarantee the manufacturing accuracy of the granulator.
Economical price
SX is a source factory of organic fertilizer granulator, there is no extra charge for you. So we can provide you with high quality equipment at a favourable price. In addition, we can design the organic fertilizer production project according to your actual conditions, which include your budget.
Considerate service
Considerate service is also one of the reasons why fertilizer manufacturers are willing to buy granulator from SX. First, upon receipt of customers' information, we will promptly reply by telephone and email. During the sale, we will try our best to provide you with optimal project design according to your requirements. After the sale, we can offer you guidance for installation, operation and maintenance.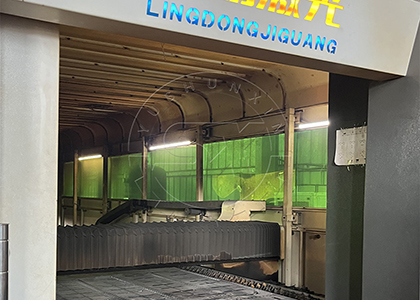 ---