The full name of BB fertilizer production line is bulk blending fertilizer making line. It is a kind of compound granular fertilizer mixing line. It is designed for mixing several single fertilizers or compound fertilizers according to a certain proportion. And it can provide you with high quality bulk blending fertilizer. It has characters of granule uniformity, less water, granule intensity moderate, no agglomeration, easy to use and low cost. If you want to know more about it, you can contact us for details.
Come to start your bulk blending fertilizer production!
---
How to manufacturing bulk blending fertilizer with 3 steps
One of the reasons why fertilizer suppliers choose the BB fertilizer production line is that it can help you make NPK compound fertilizer easily. Only taking three steps, it can turn chemical materials into finished bulk blending fertilizer.
Step 1
First, you need to use a forklift to put the raw materials into the corresponding batching bins. Then the batching bins will put the raw materials in sequence according to the preset ratio. During this process, static batching machine is an optimal option for you. It can help you make BB fertilizer strictly according to the requirements.
Step 2
Second, the materials will be transported into BB fertilizer mixer. It can blend the materials evenly to prevent nutritional imbalances. For this, you can choose one from BB fertilizer mixer and drum type BB fertilizer mixer according to your needs.
Step 3
Finally, you need to use fertilizer packaging machine to bag them. This is beneficial for fertilizer transportation, storage and selling. At that time, automatic granular packing scale can greatly save your time and cost of BB fertilizer bagging.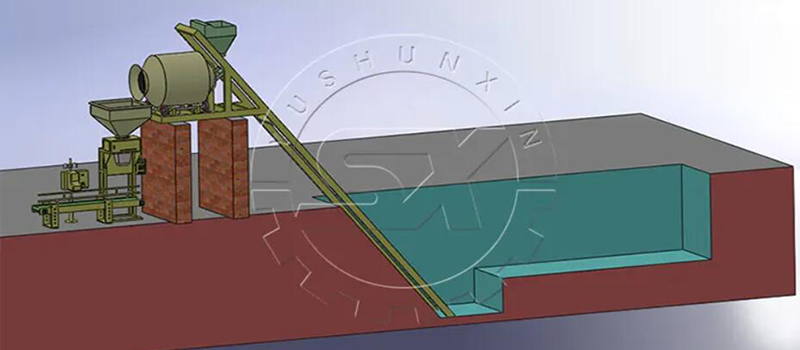 Get the specifications of BB fertilizer making system!
---
Bulk blending fertilizer mixers suitable for different scales BB fertilizer making
Among above three steps, fertilizer mixing plays an important role in the production of high quality BB fertilizer. There are two types of bulk blending fertilizer mixers we want to recommend to you. BB fertilizer mixer and drum type BB fertilizer blender. They are suitable for bulk blending fertilizer production of different scales.
5-10 t/h BB fertilizer mixer for sale
If your ideal yield of BB fertilizer is below 200 t/d, BB fertilizer mixer is an excellent choice for you. It has a capacity of 5-10 t/h, if you make the fertilizer mixer run 3 shifts (24 hours) a day, you can get up to 240 tons of BB fertilizer per day. In addition, it overcomes the mixture chromatography and distributaries phenomena caused by different proportion of raw materials and particle size. Then the accuracy of batching will be improved. So you can manufacture BB fertilizer of higher quality.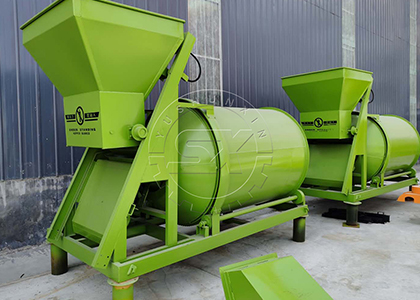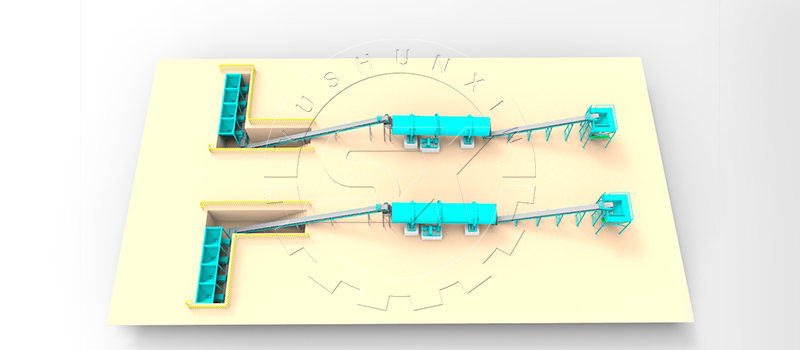 Large scale drum type BB fertilizer mixer
If you need a bulk blending fertilizer mixer with a larger capacity, you can choose drum type BB fertilizer mixer. It is designed for continuous BB fertilizer preparation, and the output can reach 20-30 t/h. So it is an ideal choice for you to start a large scale bulk blending fertilizer manufacturing. Moreover, its main parts are made of Q235B steel, and easy wear out parts are using Mn steel. Anti-corrosion and wear-resistant. So you can use it for a long time.
---
What other compound fertilizer equipment is needed in the BB fertilizer making system?
Besides BB fertilizer mixing equipment, it also needs other compound fertilizer machines to prepare high quality bulk blending NPK fertilizer. Including:
Batching equipment
As mentioned above, BB fertilizer is a mixture of two or more compound fertilizer. But how to mix them strictly in the required proportion? For example, NPK 15-15-15, NPK 15-15-20, etc. Batching machine is designed for this purpose. It has an electrical weight scale, which can greatly improve the precision of materials feeding and ensure you can produce bulk blending fertilizer you need. In addition, you can add the number of hoppers according to your materials types.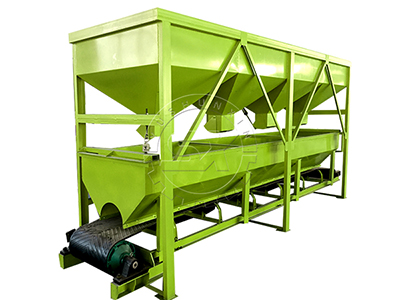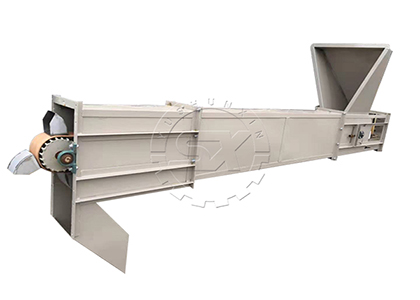 Bucket Elevator
In general, in order to reduce space occupation of compound fertilizer production, we will install batching machine at a place which is below the ground. Moreover, for adapting to the height of packaging machine feeding port, BB fertilizer mixer will be installed at a high position. But this will make materials transport more difficult. Here, it is advisable to replace belt conveyor with bucket elevator. This machine is suitable for vertical transportation of powder, granular and small pieces of materials. The hopper scoops up the material from the storage below. As the conveyor belt or chain rises to the top, it turns downward around the top wheel, and the bucket elevator pours the material into the receiving slot of BB fertilizer mixer. The Conveying distance is within 30 m.
Automatic packaging machine
Packaging is the final step of bulk blending fertilizer manufacturing. It makes transport and storage of fertilizer more convenient. And if you pack final fertilizer in bags with different volumes. Such as 20 kg/bag and 50 kg/bag. You can attract more customers with different needs for fertilizer volumes. SX can provide you single bucket packaging scale, double buckets packaging scale, ton bags packing equipment, etc. Whether you want to start a small, medium or large scale BB fertilizer making plant, you can find a suitable one.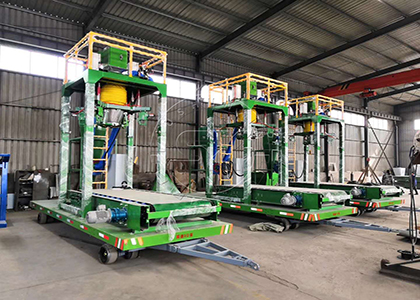 ---
The principles of choosing ideal materials for BB fertilizer manufacturing line
If you want to prepare high quality bulk blending fertilizer, the choice of materials is an item you must pay attention to. There is some advice for your reference.
Choosing granular fertilizer as materials is the primary principle. Because the BB fertilizer manufacturing line is especially designed for processing compound granular fertilizer. Such as MOP pellets,
DAP
pellets, urea fertilizer pellets etc. In addition, fertilizer pellets are not easy to stick to each other. So the finished BB fertilizer is convenient for transport and storage.
If your fertilizer material supplier is far away from you, you need to take more time to get the materials. And if your materials cannot be provided stably, you may not be able to continue the supply of BB fertilizer raw materials in time. They both are impediments to produce bulk blending fertilizer smoothly.
During the BB fertilizer making, uniform size and density granular materials is the secret of reducing the possibility of delamination. If you use raw materials with different sizes and densities to produce bulk blending fertilizer. The finished BB fertilizer is easy to layer during the transport and storage. The chemical pellet of low density and small size will settle in the lower layer. The large will float on top. Therefore, farmers need to re-mix BB fertilizer before application. So it is advisable to choose the materials with uniform size and density to produce BB fertilizer.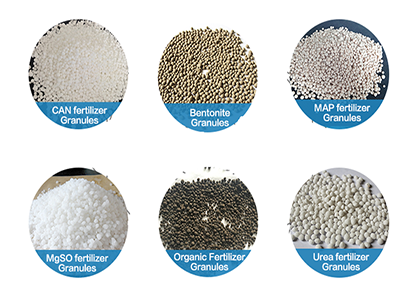 ---
Why so many people want to invest in the BB fertilizer production line
If a product wants to attract customers to buy it, it should have its own highlights. Of course, the BB fertilizer manufacturing line is the same. It has various advantages to improving its competitiveness in the market.
Low cost
It is an optimal option for those whose budget is not enough. Because compared to other compound fertilizer production lines, the BB fertilizer preparation line encompasses less fertilizer equipment. Only four, including batching machine, conveyor, mixer and packaging equipment. Less equipment will provide you with lower cost.
Less labor force used
The other advantage of the BB fertilizer production line is that you don't need to hire too many workers. Because only using three controllers, you can keep the whole bulk blending fertilizer line running. Batching system and packing machine each has an independent controller. Mixer and belt conveyor have a total control system. So 2-3 workers is enough.
Adjust formulation flexibly
Even if you want to produce BB fertilizer with different formulations, the fertilizer production line can fully meet your needs. You only need to adjust the amount of each raw material through the batching machine. Then you can manufacture BB fertilizers with different nutrients and concentrations.
High accuracy
Both the batching machine and the packaging machine are equipped with the sophisticated measure system. As soon as the predetermined weight is reached, the device will close the delivery port. So it ensures you can produce the BB fertilizer you need.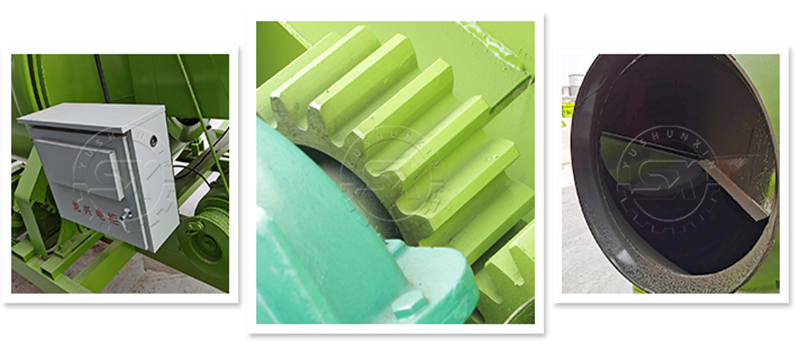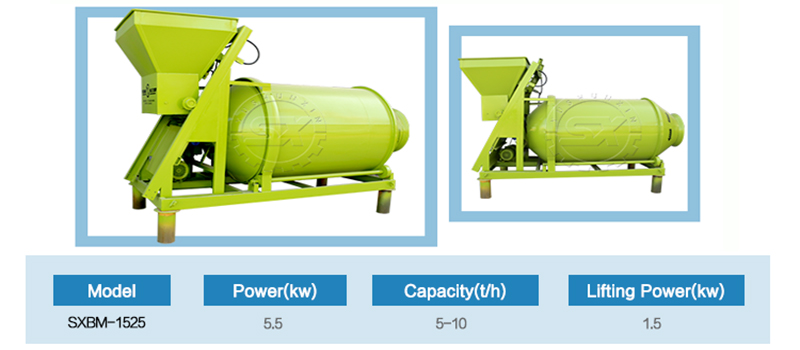 ---
Why choose BB fertilizer production line from SX can reduce your cost
Cost is an item that you must consider when you plan to build a BB fertilizer plant. If you want to lower your cost, choosing BB fertilizer production line from SX fertilizer equipment factory is an excellent choice. The reasons are as follows:
Fewer fertilizer equipment included
General speaking, fewer fertilizer processing machines means you will spend less on equipment. This BB fertilizer manufacturing line only consists of four equipment. batching machine, conveyor, mixer and packaging equipment.
Long service life
Our fertilizer equipment has a long service life. So in the short term, you don't need to spend extra money on new equipment. For one thing, all equipment in our BB fertilizer production line is easy to corrode and wear. Because their main parts are made of Q235B steel, and easy wear out parts are use Mn steel. So they can work for a long time. For another, we will provide you with guidance. Including how to use the machine correctly and how to maintain them. These can prolong the service life of the BB fertilizer processing equipment.
Less space occupation
The money spent on the BB fertilizer plant area is also part of the cost. Less space occupation will offer you lower cost on plant ground. This production line of making bulk blending fertilizer has fewer fertilizer machines. And we can design a special plan according to your fertilizer workshop area. So the whole bulk blend fertilizer preparation line doesn't take up much space. A BB fertilizer mixing line of 20t/h capacity, with 6 kinds of materials. Its working area is about 24×35 m.
---