Why does fertilizer mixer machine play an important role in fertilizer production line?
Fertilizer mixer machine is an important part of fertilizer production line. Using the mixing equipment in fertilizer making process, you can fully mix the material in a short time. It ensures that the finished fertilizer is nutritionally balanced. And after mixing, the material will become more convenient to make fertilizer granules. Here, SX has different types of fertilizer mixers for sale. They can be used in various fertilizer production lines to finish the fertilizer mixing process. What's more, all the fertilizer equipment can be customized according to your actual production demand. If you need fertilizer mixing equipment, you can contact us.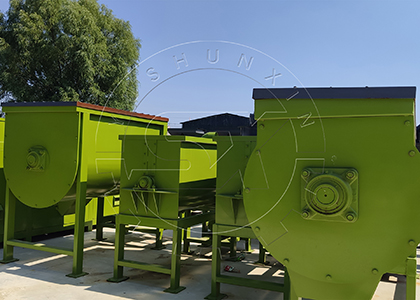 ---
How does the fertilizer mixer work to process material?
Fertilizer mixing machine mainly work by stirring shaft inside. When the fertilizer mixing equipment is set in motion, the power transmission part will drive the stirring shaft rotate. The main shaft is welded with helical paddles, which can improve fertilizer blending efficiency. Under the rapid and violent mixing of the stirring blades, the influence of difference in material gravity and particle size will become smaller. Therefore, using fertilizer blending machine can help you mix various fertilizer material quickly and evenly.
Get more pictures and videos of fertilizer mixer operation
---
5 Hot sale fertilizer mixing equipment in SX fertilizer machinery
Fertilizer mixing machine is necessary for manufacturing high quality fertilizer, whether you want to make powdery or granular fertilizer. In order to meet different requirements from customers, our engineers design various types of machines for mixing fertilizer materials. There are five of them we want to recommend to you. They are disc fertilizer mixer, horizontal mixing machine, single shaft fertilizer blender, double shafts horizontal mixer and BB fertilizer mixing machine.
Horizontal mixer
If you want to make fertilizer at a low cost, horizontal mixer is an excellent choice for you. Whether you want to start organic or compound fertilizer production. It is an intermittent work equipment for fertilizer blending. After finishing the fertilizer mixing, you need to discharge the mixed material manually first. And then you can process the next batch of material. In addition, it is an ideal mixer for large scale fertilizer processing. Because its largest capacity can reach 15 t/h.
Horizontal Fertilizer Mixing Equipment
Model: SEECWJ-7015
Speed Reducer Model: ZQ350-23.34
Motor Power(kw): 7.5
Stirring Speed(r/min): 46
Capacity(t/h): 2-3
Dimensions: 2350x1200x1000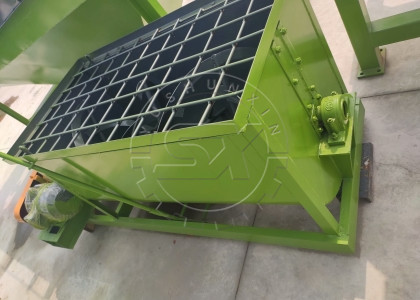 Single shaft mixing machine
If you don't want to stop your fertilizer production line when it is working, you can choose single shaft mixing machine for it. This mixer is designed for continuous mixing of fertilizer powder. We especially equip it with an electrical control system, so it can feed and discharge material simultaneously and doesn't need a worker to operate.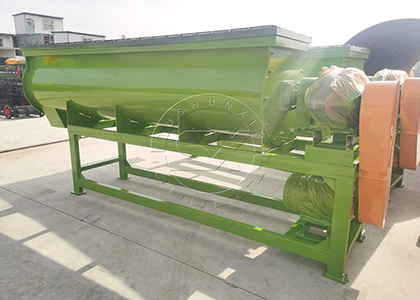 Single Shaft Fertilizer Blender for Sale
Model: SEECWJ-9015(can be customized)
Dimensions(mm): 2350x1200x1000
Motor Power(kw): 11
Speed Reducer Model: ZQ350-23.34
Capacity(t/h): 3-5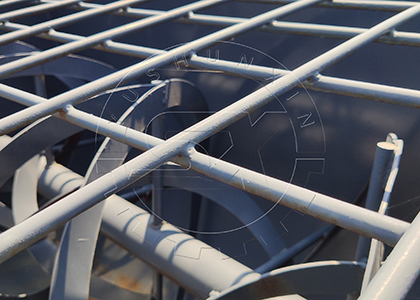 Double shafts horizontal mixer
When you need a fertilizer blending machine with a higher mixing efficiency, double shafts horizontal mixer is more suitable for you. Because it has a pair of screw shafts with opposite rotating, which can work without stop. So it can help you complete fertilizer mixing faster.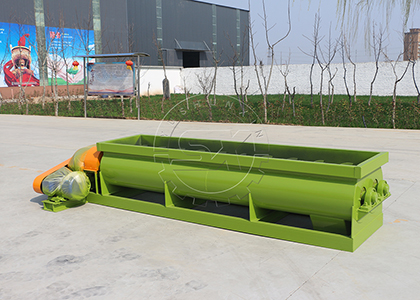 Double Shafts Horizontal Fertiliser Mixer
Model: SEECSJ-8030
Power(kw): 11
Speed Reducer Model: ZQ350-31.5
Outer Diameter of Mixing Shaft(mm): 420
Mixing Speed(r/min): 35
Dimensions(mm): 3700x800x750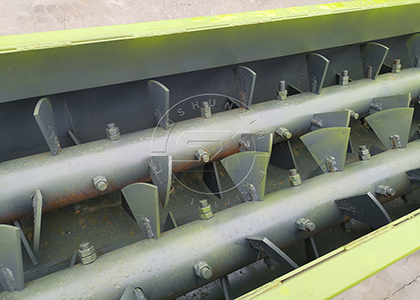 Vertical disc blender
If your fertilizer plant doesn't have enough space for a big mixer, we will recommend you disc blending machine. Dislike the above three horizontal blending equipment, it is a kind of vertical mixer for fertilizer manufacturing. Compared with other mixers in SX, it has a less area occupation. Moreover, whether you want to make a small, medium or large scale fertilizer production, it can fully meet your needs. Because it has a capacity of 2-15 t/h. But the price of it is not high, so it is an ideal choice for those who want to buy an economical fertilizer blender.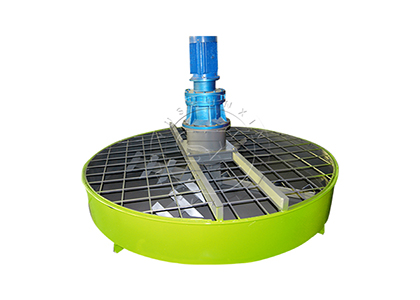 Disc Fertilizer Mixer for Sale
Model: SEECPJ-2200
Edge Height(mm): 400
Disc Diameter(mm): 2000
Mixing Capacity(t/h): 6-8
Mixing Speed(r/h): 16
Dimensions(mm): 2200x2200x1850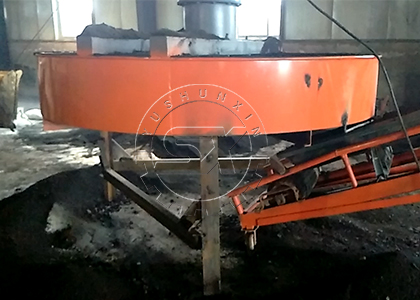 BB fertilizer mixer
Finally, there is a fertilizer mixing equipment especially designed for BB fertilizer making line. During BB fertilizer manufacturing, it can solve the influence materials properties, mechanical vibration, cold weather, etc. So it can help you produce bulk blending fertilizer in strict accordance with the required proportion. If you plan to produce BB fertilizer, it is an excellent choice for you.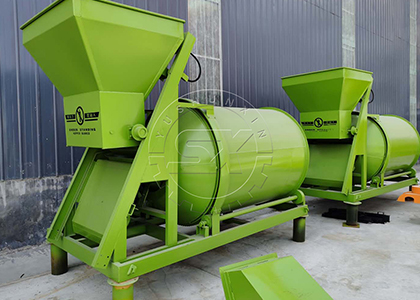 BB Fertilizer Mixing Machine
Model: SEECBM-1525
Power(kw): 5.5
Capacity(t/h): 5-10
Lift Power(kw): 1.5
Color: can be customized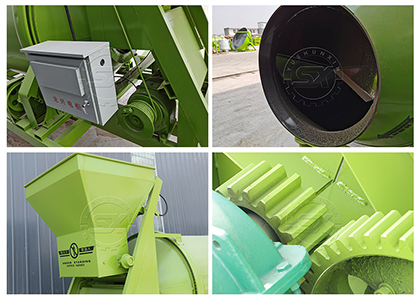 ---
How to choose a suitable fertilizer mixer for your fertilizer manufacturing?
Obviously, choosing a suitable fertilizer mixer is the key to make high quality fertilizer successfully. You can consider it from the following items:
Fertilizer type
If you want to produce bulk blending fertilizer, BB fertilizer mixer is your best option. But for organic fertilizer preparation or compound fertilizer making, you can choose one from the other four blenders according to your needs. With mixing blades rotating, you can get materials that suitable for prepare fertilizer with uniform nutrients.
Capacity
The capacity of fertilizer production is an item you must focus on when choosing mixing machine. If you want to start a small scale fertilizer production, SXWJ-7015 horizontal mixer and SXPJ-1600 disc blending machine are suitable for you. But if you plan to further enlarge your fertilizer making scale, it is advisable to choose single shaft or double shafts blender. Because they can mix fertilizer continuously. Moreover, when your fertilizer manufacturing capacity is higher than 8 t/h, SXWJ-1630 horizontal mixer and SXPJ-3000 pan mixer are your ideal choices.
Price
How much fertilizer blending machine cost is an essential factor for a businessman to invest fertilizer industry. At the same time, it also decides what kinds of fertilizer blending machine you can buy. If you have enough budget on mixer, we will recommend you single shaft mixing machine and double shafts blender. But if your budget is not enough, horizontal mixer and vertical disc blender are more suitable for you.
Equipment manufacturer
Besides the above points, what other things do you need to pay more attention to? Manufacture, the fertilizer mixer from a reliable equipment supplier is higher quality. Like SX, which has high reputation in China, plays an important role in making high quality fertilizer mixing equipment. We have advanced technology and professional sales team to help you reduce the cost of investment. Therefore, we can provide you with high quality fertilizer mixer at a favourable price.
---
Advantages of fertilizer mixing machine from SX
Fertilizer blending equipment is a hot sale product in our factory. Then why so many fertilizer suppliers choose to buy mixer from SX for their fertilizer production line? Because it has advantages as follows:
High efficiency: The blades of SX fertilizer mixer are helical, which can greatly reduce the effect of difference in material gravity and particle size. So you can finish fertilizer mixing in a shorter time
Long service life: The mixing blade of our fertilizer blending machine adopts high rear-resistant special alloy steel. And the body is made of anti-corrosion steel. Therefore, our fertilizer blender can withstand the corrosion of fertilizer and service your fertilizer production plant for a long time.
Low noise: The fertilizer mixer is driven by a reducer, so it can operate with less vibration and low noise.
Wide applications: There are various fertilizer mixing machines for your choice. Whether you produce organic fertilizer, compound fertilizer bio fertilizer. We can fully meet your needs.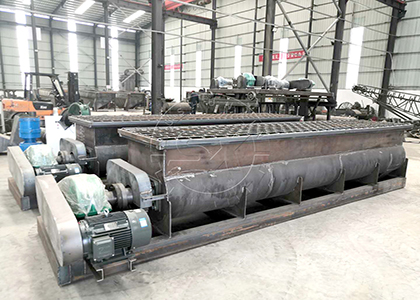 ---