Why you need dewatering machine for poultry and animal manure management?
For animal or poultry farm owners, you may find there are lots of manure waste wait to be treated every day. If you don't manage them promptly and efficiently, they will soon pile up in your farm and produce unpleasant smell. And with the development of organic agriculture, our requirements for environmental protection are more and more stringent. So you need to look for a sustainable development way to remove them. In order to make better use of this organic waste for your farm waste management, SEEC suggests you to collect them together and get them processed through our manure dewatering machine.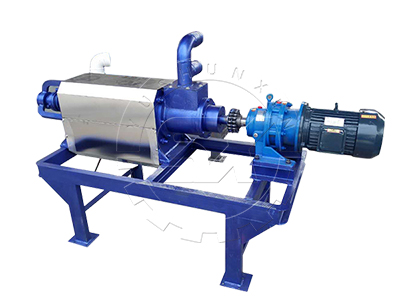 By using our screw press dewatering machine, you can remove lots of water in manure for transport conveniently. What's more, after dewatering, both the dried manure waste and water waste can be sused in a better way. For example, the separated dried manure is a kind of good raw materials for organic fertilizer production. By mixing with other organic wastes and fermenting sufficiently, you can get high quality organic compost in your own farm. Then with the help of organic fertilizer pellet machine, you can easily make those organic compost in fertilizer granules for commercial market sale. In addition, you can sell them to organic fertilizer plants, they will like these dried manure very much.
Our manure dewatering machine are  constantly innovating and pursuing new technologies to solve the problems of animal and poultry manure disposal. At present, we have two types of dewatering machine are hot sale. Screw dewatering and machine and inclined screen solid-liquid separator. They  are excellent chioces for you to separate animal excrement, distillers' grains, medicine dregs, starch dregs, sauce dregs and other high concentration organic sewage from chickens, cattle, horses from slaughterhouses  or  intensive farms.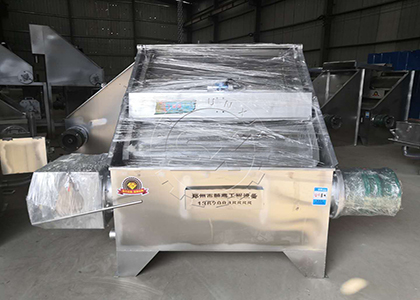 What is the features of SEEC manure dewatering machine?
The dewatering machine for manure from our company can separate the dry and wet animal excrement quickly. And the separated dried manure is almost odorless. And can used as fish feed, planting, and raw materials for different kinds of fertilizer production.
Practicability: This series of dewatering separator machine can separate the solid from the liquid quickly. After dewatering by this machine, the water moisture is about 30%. So, it is convenient for transportation or as raw materials for organic fertilizer production. What's more, you can also adjust the slag output and water content to meet different needs.
Advanced: Our dewatering machine has the strong ability of decontamination, and no blockage, easy to clean. The removal rate of solid content, chemical oxygen consumption, total oxygen consumption, nitrogen and phosphorus in treated feces and urine can be between 70-95%.
Durability: The frame, sieve and other important parts are made of stainless steel and after anticorrosive treatment. In particular, we use 304 stainless steel for parts that can be contacted with materials. So, it has good corrosion resistance and enough strength for long service life.
Economy: Our screw press dewatering machine for manure has high degree of automation, low power consumption and low price. And it is easy to operate in any working conditions.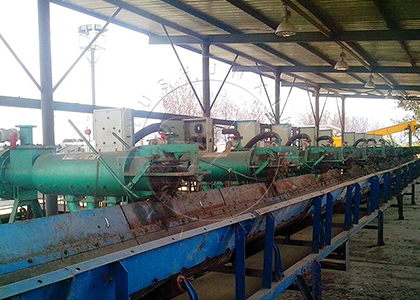 What is the dewatering effect of the SEEC solid liquid separator For manure?
The deawtering machine from SEEC company is a professional dewatering equipment to deal with different kinds of materials with high moisture content. It adopts the principle of screw press which can control the discharge speed and water content of the materials freely. What's more, it can finish its work quickly and the waste water will be extruded from mesh screen and flows out of the drain pipe. In general, the moisture is about 30% after dewatering by our solid liquid separator machine. If you have other requirements for water content after dehydration, it is adjustable to meet your needs.
How to maintain screw type solid liquid separator for long service life?
In order to extend the service life of the manure dewatering machine, you'd better clean the mesh screen after use it. When cleaning, you should take down the roof cover of the shell, and the you can use water torch to clean stemming.
How does SEEC dewaterer machine handle fresh chicken manure effectively?
Chicken manure is a kind of familiar excrement in poultry farms. People who raise chickens in large quantities there will produce large amounts of chicken manure in their farms. But don't worry, our chicken manure dewatering machine can help you handle them effectively. When you use this dewatering machine, the pump of solid liquid separator lift the fresh chicken manure into the dehydrator. Then, the screw press wring dragon gradually pushes the water of chicken excrement to the front of the body, and continuously increases the pressure at the leading edge. Under strong extrusion pressure, redundant water in the chicken manure will be squeezed out of the screen. When the extrusion pressure reaches a certain level, the discharge port will open to release the dried manure and the dewatering process finished.