Introduction of fertilizer screener machine in fertilizer production line
Fertilizer screening machine is an important equipment in fertilizer production line. Rotary screening machine can sift the compost material according to its particle size. If the fertilizer products are qualified, they will be conveyed to fertilizer coating machine or transported to automatic fertilizer package machine directly. Otherwise, they will go back to fertilizer crusher for granulation process again. Therefore, the role of fertilizer screener is to help you choose qualified and high quality fertilizer products in your fertilizer making process. SEEC, as a professional fertilizer production equipment manufacture for 30 years, our products has sold all over the world and get high praise from our clients. Here, SEEC has two kinds of fertilizer screeners for you: rotary screen equipment and vibrating screening machine.
Rotary fertilizer screening machine
The rotary fertilizer screener from SEEC is a new type self-cleaning fertilizer screening equipment. It is widely used for screening of various solid materials with particle size less than 300 mm. The production materials of our rotary screen machine is galvanized steel, so the service life will be long for your fertilizer production. Its screening capacity is 1t/h-20t/h. what's more, SEEC can provide customized service for you. If you have any questions or requirements about the equipment, just feel free to contact us.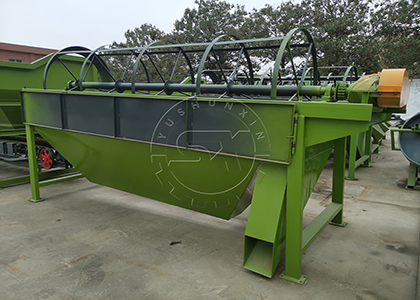 Rotary Fertilizer Screener for Sale
Model: SEECGS-1020
Power(kw): 3
Drum Speed(r/min): 21
Screening Capacity(t/h): 1-2
Model of Reducer: ZQ250
How about the structure of rotary fertilizer screener?
We can divide it into three parts:
Rack part: The machine frame contains high carbon steel plate and channel steel, which can pass strict product certification and meet specific technical requirements. It can reach the purpose of the machine.
Transmission and screening part: This part uses a combined screen mesh, which is transmitted through a coupling to the main shaft. The material enters from the feed end, then the roll cage will continuously turn and screen it. Finally the fertilizer will outflow evenly from the corresponding outlet. This effectively separates the finished product from the Re-material, thus improving the working efficiency.
Transmission connection part: The motor drives the pulley, the triangle belt and the reducer to make the spindle rotating. In which the drive reducer and he main working part of the main engine are driven by the axle pin couple, it is convenient to ssemble and maintain.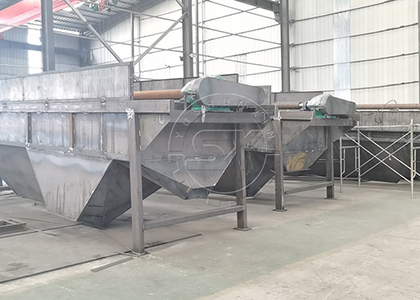 Technical highlights of SEEC rotary screening equipment
High Screening Efficiency. Because the equipment is equipped with a plate-type screen cleaning mechanism, it can never block the screen, so as to improve the screening efficiency of the equipment.
Good Working Environment. The whole screening mechanism is designed in the sealed dust cover. When this machine is working, there is no dust flying phenomenon which improve the working environment greatly.
Low Noise. The noise generated by material and rotary screen is completely isolated by sealed dust cover.
Long Service Life. The production materials of our rotary screen machine is galvanized steel, so the service life will be long for your fertilizer production.
Convenient Maintenance. There are observation windows on both sides of sealed dust cover. So, works can observe the operation of equipment at any time.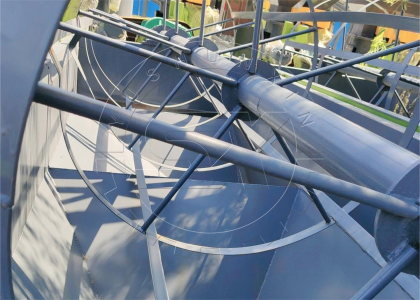 Vibrating fertilizer screener for sale
The vibrating fertilizer sifter from SEEC is widely used for product classification in organic fertilizer production line, compound fertilizer production line, transportation industry, mining, energy and chemical industry.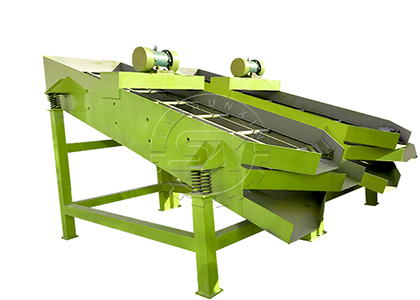 Vibrating Fertilizer Sifting Machine for Sale
Model: Tdzs1x3 (can be customized)
Power(kw): 1.5
Dimensions(mm): 3400x1500x2700
Screen Area(㎡): 3
Screen Capacity(t/h): 3-5