Roller extrusion granulation line is widely used in compound fertilizer production. It can turn powder chemical material into granules at a lower cost. Because it adopts dry granulation method, which makes compound fertilizer particles only by physical extrusion force. And there is nearly no water involved in complex fertilizer making process. So you don't need to spend on fertilizer pellets drying and cooling. In addition, it also has characteristics of less energy consumption, high granulation rate, easy operation, etc. This is the reason why more and more fertilizer choose double roller granulation line for their fertilizer plant. Moreover, SX can provide you with roller extrusion granulation lines with different capacities and design layout according to your actual conditions. If you are interested in it, you can contact us at any time.
---
Who needs this fertilizer roller extrusion granulation line?
This double roller pelleting line is absolutely an excellent compound fertilizer making line. But is it suitable for you to prepare your own fertilizer? And where can this fertilizer granulation line be used for?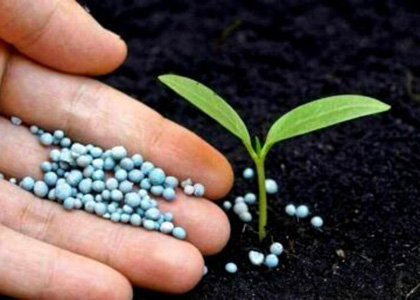 When you need a compound fertilizer manufacturing line
If you plan to start a compound fertilizer plant, the double roller granulation line is an ideal choice for you. Whether you plan to produce NPK fertilizer, urea fertilizer or phosphate fertilizer, it can fully meet your needs. However, if you want to make organic fertilizer pellets, we recommend you choose the disc granulation line.
When you plan to make compound fertilizer with low moisture chemical material
This roller extrusion granulation line is designed for processing chemical material with low moisture. It is nearly no water involved, of course, the same as material. Therefore, it is advisable to use raw material with a water content of below 10%.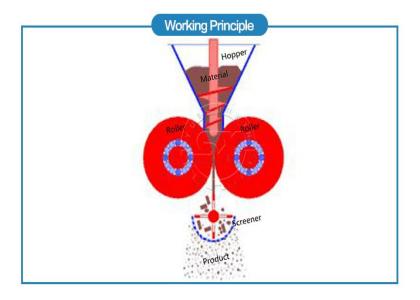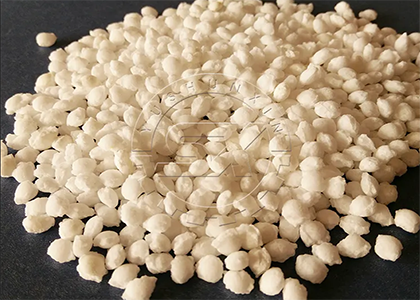 When you want to turn powdery chemical material into granular fertilizer at a low cost
If you need a fertilizer preparation line with low investment, we recommend you choose this fertilizer granulation line. Because it adopts dry granulation method, which finishes the whole compound fertilizer manufacturing process with low moisture. So it can help you reduce the cost of fertilizer drying and cooling. Which includes expenses on equipment, fuel, energy consumption, etc.
---
How roller pressing granulation line to process compound fertilizer?
If you want to buy a fertilizer making line, it is necessary to know what equipment is needed in it. In general, a complete double roller granulation line consists of five stages, six types of fertilizer processing machines as follows:
Batching machine
During this process, you need to feed the various chemical powder according to required formula. The difference in material proportion is the reason why your fertilizer is different from others. So you need to focus on the accuracy of batching. In this case, SX automatic batching equipment is an optimal option for you. It is equipped with electronic scale and PID regulation and alarm system, which greatly contributes to improving batching accuracy.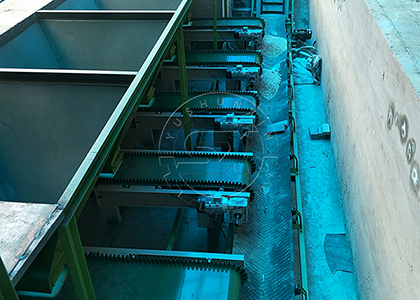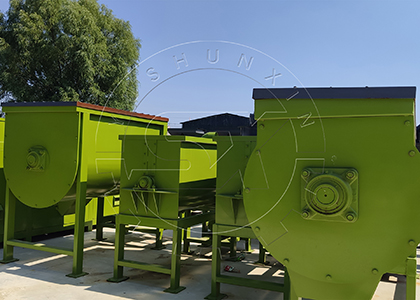 Mixing
Mixing can help you mingle various chemical materials evenly to prevent nutrients imbalance. And for powdery blending, we can provide you with a variety of fertilizer mixers. You can choose a suitable one according to your needs.
Roller granulation
This is the most important step in fertilizer roller extrusion granulation line. In this process, the mixed material will be granulated by extrusion force between two rollers. After pressing granulating, compound fertilizer is more convenient for transport and storage. Because granular fertilizer can prevent nutrients layering during transport and storage. Here, we design double roller granulators with different capacities for your choice.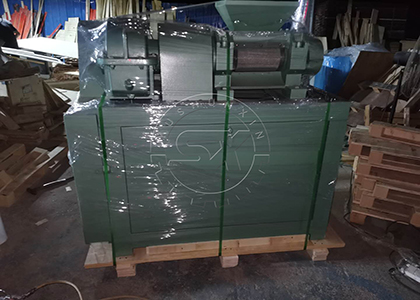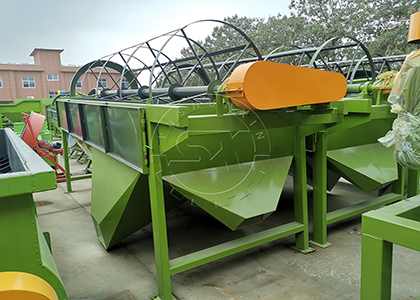 Fertilizer pellets screening
After roller granulating, you may find that there are some fertilizer particles that don't meet your requirements. Then how to separate them from qualified fertilizer pellets? Rotary screening machine can help you a lot.
Packaging
Fertilizer packaging is the final stage of double roller pelleting line. In this stage, automatic packaging scale will bag granular complex fertilizer in 20kg/bag or 50 kg/bag in a short time. This is beneficial for transport and storage. And various packing capacities can meet different requirements for fertilizer suppliers.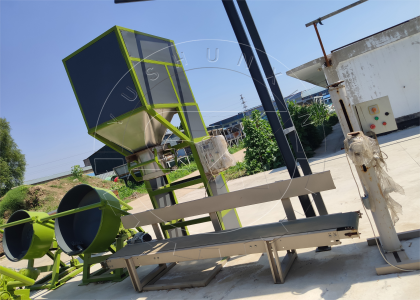 ---
Different scales of roller extrusion pelleting lines in SX
The capacity of double roller granulation line must be an item most fertilizer manufacturers pay attention to. Then what is the capacity of this compound fertilizer making line? The answer is that it can produce fertilizer not only in a small scale but also in a large scale. Different capacity requirements have different project designs. Generally speaking, it can be divided into two cases.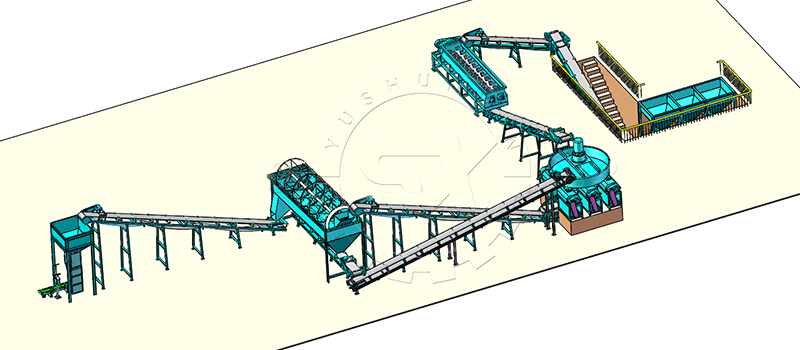 1-3t/h small scale double roller granulation line
If you plan to start a small scale compound fertilizer plant, we can provide you with 1-3 t/h double roller granulation line. This fertilizer making line usually contains a static batching machine, a SXPJ-1600 disc mixing machine, a double roller pressing pelletizer, a granular fertilizer screener, an automatic packaging machine and belt conveyors. In addition, they are all controlled by an automatic electrical control system. Only 2-3 workers, you can keep the whole complex fertilizer granulation line running. And the smallest fertilizer roller extrusion line only needs 800㎡ for installation.
Larger scale roller pellet making line
But if you want to enlarge your complex fertilizer making scale, we also can offer you a suitable design of fertilizer roller extrusion granulation line. Because of the requirement of large output, you need to choose fertilizer processing machines with a large capacity. In this case, we recommend you choose dynamic automatic batching machine for batching and double shafts horizontal mixer for chemical materials blending. Then the largest capacity of double roller pelleting machine is 3 t/h, how to enlarge the granulation output? You can choose to increase the number of roller granulators. If you equip your fertilizer manufacturing line with four roller granulating machines. Then keep the double roller pelleting line running two shifts a day and 10 hours per shift. It can produce about 70,000 tons of granular compound fertilizer per year.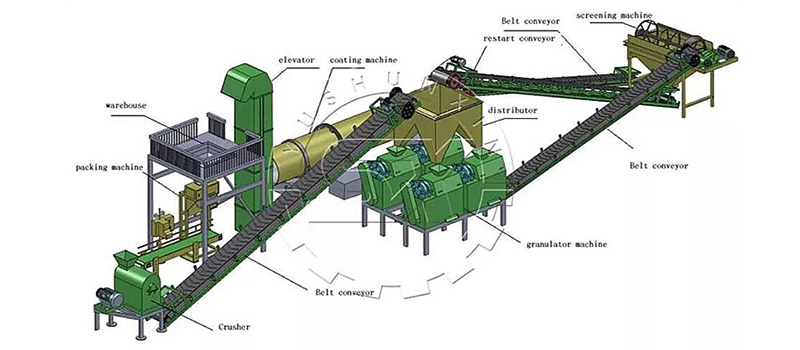 ---
Why so many fertilizer suppliers choose roller granulation line for their fertilizer plants?
In recent years, more and more people choose roller extrusion granulation line for compound fertilizer making. Why?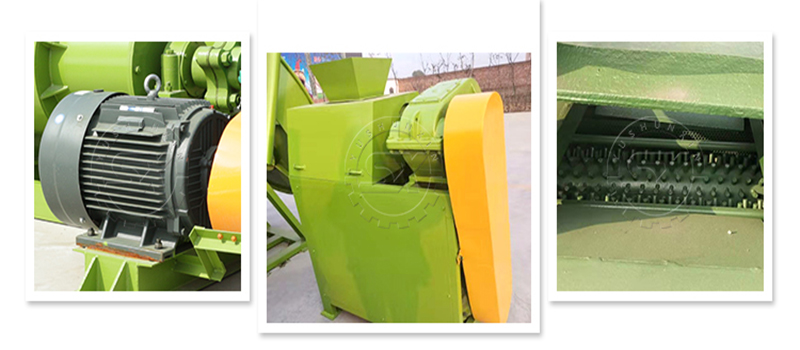 ---
How to buy fertilizer roller granulation line at a favourable price?
Price of this roller pressing granulation line also must be an item you focus on. And a complete SX double roller granulation line will cost$25,000-$60,000. Then how to buy it in an economical way? There are three tips for your reference.
Finding a leading fertilizer equipment manufacturer
General speaking, a leading fertilizer equipment supplier has mature technology and rich experience in fertilizer equipment manufacturing. So it can produce the equipment of the roller granulation line at a lower cost. Thereby it can provide you with high quality fertilizer machines at a lower price.
Looking for a source factory of fertilizer machine production
It is advisable to buy fertilizer machine you need from the source factory rather than the distributor. SX is a source factory of fertilizer equipment. If you choose to buy double roller pelleting line from it, we We guarantee you don't need to pay any extra charge.
Designing a reasonable layout for your compound fertilizer plant
The price of roller pressing granulation line usually varies according to its configuration. So a reasonable project design can help you set up fertilizer plant in an economical way. Here, SX can design project fro you out of charge according to your budget, factory space, capacity, etc.
---