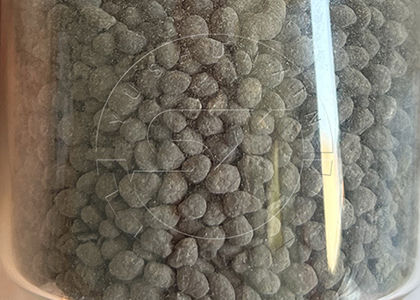 In Greece, agriculture plays an important role in the economy. But the area of arable land continues to decrease. So fertilizer is the key to improving the output of its crops. Here, bio organic fertilizer is an ideal choice. It can supply rich nutrients to crops in a balanced way. Moreover, its materials are commonly seen in daily life. Such as animal manure, biomass, straw, wine waste, etc. So many businesses are willing to invest in bio organic fertilizer production. For example, on 20th November 2022, a customer from Greece contacted us for suitable organic biomass manure compost granulator. The following are the specific details of this case:
What you need to do before bio fertilizer granulation?
---
Requirements of this Greek customer
This customer from Greece told us: "we need a quotation for the most suitable granulator machine. Our product is a mix of organic biomass and manure. The humidity of the product is around 30-35% and the capacity must be at least 2 – 2.5 t/h…"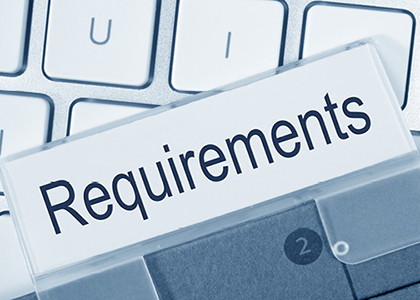 ---
Which equipment is suitable for 2 – 2.5 t/h granulation of organic biomass manure compost?
When you select a granulator for your bio fertilizer production, capacity is an item you must focus on. This Greek client needed an organic fertilizer pelletizer with a capacity of 2-2.5 t/h. For this, we recommend you choose new type organic fertilizer granulator or disc pelleting equipment. They both can meet the required capacity from the customer and have their own advantages:
New type organic fertilizer granulator for 20% – 40% humidity material pelleting
New type organic fertilizer pelletizer, as the name suggests, is especially design for organic waste granulation. Including organic biomass and manure compost pellets making. It mainly makes use of two forces to process organic materials into fertilizer granules. They are high speed rotary mechanical force and the resulting aerodynamic force. This method can help you produce fertilizer particles with a beautiful appearance. And it has a high granulation rate which reaches over 95%. But this only needs a low energy consumption. In addition, its requirement of feeding material moisture is 20% – 40%, which is in line with the water content of this Greek client material (30-35%). Therefore, new type organic fertilizer granulator is an excellent choice for you. And according to the output needs of the client, model SXJZ-1000 is advisable.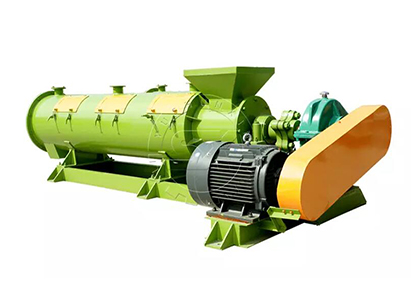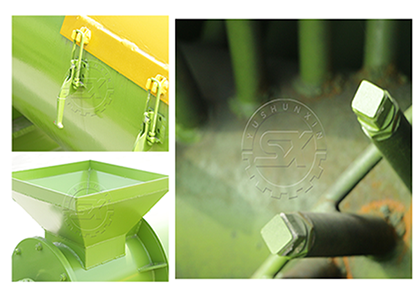 New type organic fertilizer granulator
Model: SXJZ-1000
Capacity: 2-4 t/h
Moisture of Feeding Materials: 20%-40%
Size of Feeding Materials (mesh): 50
Dimensions: 4700*2350*1800 mm
Disc pelleting machine for low cost organic litter granulation
If you want to finish organic biomass and manure compost granulation in Greece at a low cost, you can choose disc pan pelletizer. The price of it is only $1,000 – $16,000. But it has high performance in fertilizer pellet production. Its granulation rate can reach 93%. Pan granulator mainly relies on the rotation of the disc to turn powder compost into particles. Because when the disc starts rotating, organic biomass and manure compost will be driven upwards. And because of gravity, then they will fall and roll into organic fertilizer granules. Moreover, it occupies a smaller space. A disc granulator with a capacity of 2 – 4 t/h only needs an area below 10 ㎡. Therefore, it is also suitable equipment for small scale organic waste granulation of the client from Greece.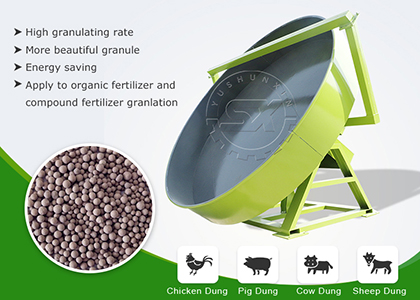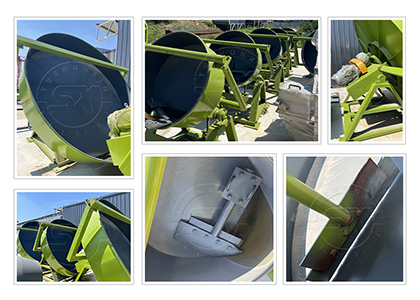 Disc pelleting machine
Model: SXYZ-1800
Capacity: 2-3 t/h
Motor Power: 3 KW
Diameter of Disc: 1800 mm
Dimensions: 2060*1700*2130
The above are details about our communication with the customer from Greece. In addition, besides bio organic fertilizer granulator, we also can provide you with many other fertilizer making machines. Such as compound fertilizer pelletizer, organic fertilizer compost machine, organic fertilizer production line, etc. If you are interested in them, please contact us immediately.
---