Why does so many customers choose the composting equipment for large production capacity?
For most of fertilizer manufacturers, the choice of the fertilizer production equipment is crucial to the development of the composting business. Some people will choose low volume composting equipment, while others will choose high volume composting facility for organic wastes composting. In fact, apart from the difference in production capacity, there is no difference between them. But, compared with the small scale composting, large volume composting brings higher economic benefits and the whole composting process is more commercial. So, many fertilizer business operators are willing to invest in large scale composting equipment for their plants.
Which kind of compost turner from SEEC can help you do large scale compost turning in your compost plant?
If you asked which kind of compost turning facility can help you do large scale compost turning, we will recommend you with the large wheel type compost turner. This type compost turner is the patent product of our company. It is a large scale composting equipment for large scale raw materials composting process. Besides, it has the fully automated electrical control system and can work without workers. Compared with the traditional compost facilities, it has higher turning depth and larger turning span. Generally speaking, the largest turning span of this machine can be 30 meters. According to your demand for output, this kind of compost turners can be customized for you. So, if you want to compost in a large scale, this type compost turning machine will be a good choice for you.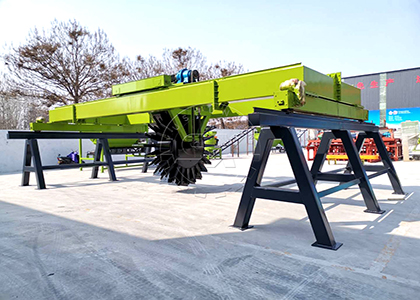 SEEC large scale composting equipment
Turning Depth: 1.5-3m
Turning Span: 2.5-30m
Product Category: Composting Equipment
Features: Automatic Compost Machine
Service: Customized
How does 200,000 tons large scale compost fertilizer production line running smoothly in fertilizer plant?
SEEC 200,000 tons compost fertilizer production line is a large scale composting project. The whole production line is equipped with large scale composting equipment such as large compost turner, fertilizer crusher and mixer, large compost storage and sifter, dryer and cooling machine, dust collector, granulator, screening equipment and the automatic packing machine. The annual output of the whole production line is 200,000. From raw material processing to the final product packaging, the whole production line can run smoothly. Besides, after the completion of the current process, the organic materials will be transported by the belt conveyor to the next production process. Meanwhile, we also design some typical fertilizer production lines for our customers. If you have any questions about the design of our production line, welcome to contact us freely.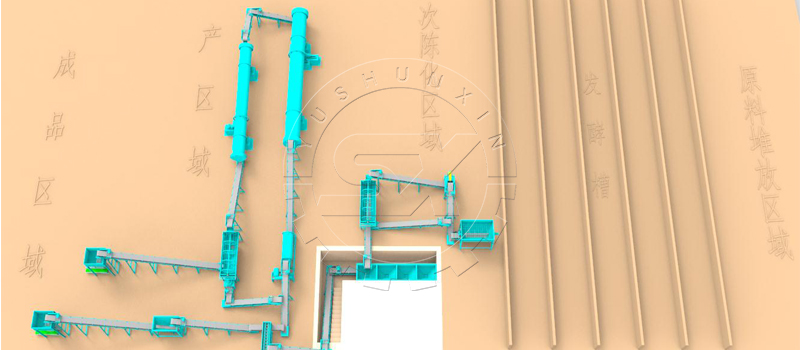 What is the process to make organic fertilizer on large scale?
Compared to small scale composting system, composting equipment in large scale can produce fertilizer products more effectively. Generally speaking, the key equipment in large scale composting system is the compost turner machine. Besides, it also need compost mixer, crusher, screening machine and other auxiliary equipment constitute a complete production line. Each equipment in the production line plays an irreplaceable role in fertilizer making process. As a professional fertilizer equipment manufacturer, SEEC can provide technical guidance to your composting system and finish the device configuration in production line.
Crushing: First of all, you need to crush the raw material before composting. Because you have large volume raw materials need to be crushed, SEEC recommend you use fertilizer crusher machine in large scale composting process.
Composting: Then, the compost turning equipment is needed in the production process. SEEC has different kinds of large scale compost facilities for you to choose. If your plant size is big enough, you can do windrow composting with hydraulic windrow compost turner. If you want to compost raw materials indoors, you can build some fermentation grooves in your plant and turn the raw materials with a groove type compost turning machine. Besides, you can also use self-propelled compost turning facility, this type compost turner has more flexibility. It can move freelyat the working place.
Mix the composted materials: For you mixing process, SEEC has different types of compost mixers as follows:
Granulation process: After composting process, the materials will be sent to the granulating equipment to make fertilizer granules.
Drying and cooling: During this process, the fertilizer granules will be drying and cooling for better storage.
Packing the products: Packaging is the final step in fertilizer production. For large volume composting system, a fully automatic packaging equipment is also essential to you.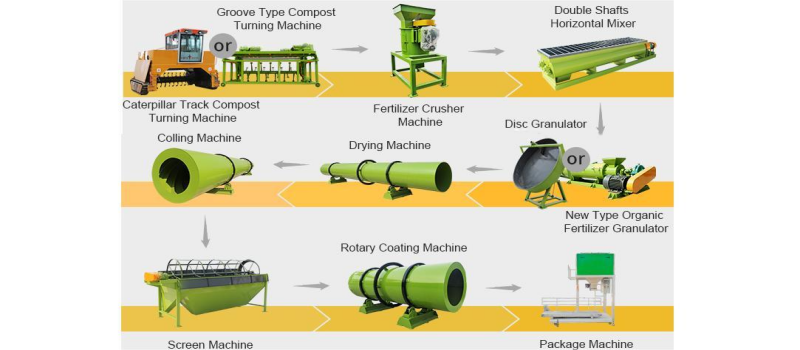 Other auxiliary facilities you may need for large scale composting operations
A complete production line is always inseparable from auxiliary equipment. They are not vital but they are useful to the production process. For example, the belt conveyor helps connect the whole production line well and you do not need works to transfer the processing materials from one place to another place. Cache storage bin helps slow down the transportation of materials etc. Here are some auxiliary equipment in large scale compost production.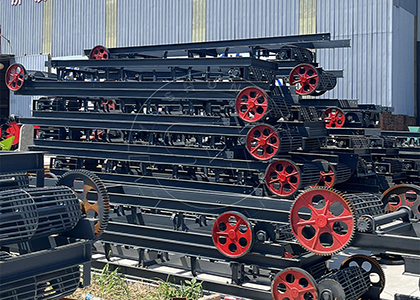 Are there any large scale industrial composting techniques designed for large compost heap?
For large scale industrial composting operation, it can be carried out in the form of in-vessel composting and windrow composting. So, SEEC in-vessel composter and windrow compost turner machine are specially designed for large scale industrial composting system.
Large scale in-vessel composting
SEEC in-vessel composter for sale is a large scale composting equipment. It takes the advantage of decomposition of microorganisms in nature.
During the fermentation process, the high temperature promotes the decompose the organic materials. At the same time, it will kill parasites, germs and other harmful substances to achieve harmless treatment. What's more, it adopts aerobic fermentation technology to let the organic material fermenting continuously in a closed vessel. So, it can be used for the fermentation of different kinds of animal manure, municipal solid waste, sludge waste and other organic wastes in our life.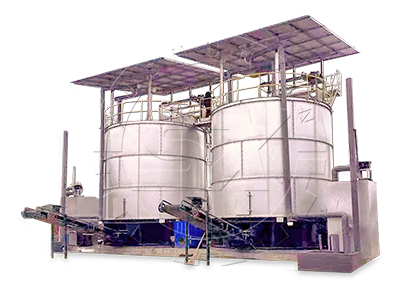 Large scale windrow composting
The windrow compost turner machine from SEEC is another composting equipment for large scale fertilizer composting work. It raises the turning of organic waste to a new level. With the help of SEEC windrow compost turners, you can compost your organic waste in a more efficient way. So, it is the ideal compost turning machine for operators who want to turn large volumes of organic material quickly in confined spaces. In SEEC, there are different type professional windrow composting equipment for you. If you are interested in them, just feel free to contact us.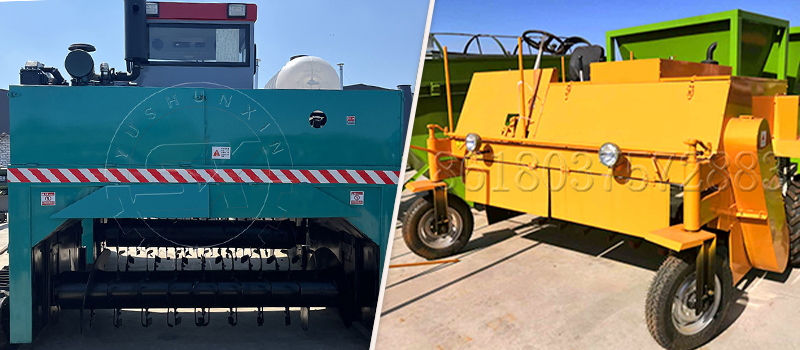 What is the advantage of large scale composting systems and equipment?
Compared with small scale composting, the production capacity of large scale composting system is higher. With the help of large scale composting equipment, you can compost lots of organic materials into fertilizer. Besides, large composting system has higher working efficiency and easy to operate. If you have any requirements about our equipment, welcome to contact us at any time.
What kind of material can fit large scale composting machine?
As we mentioned above, large scale compost systems have different types in our company. To some extent, the large scale composting method or technology, large scale anaerobic composting, adopts aerobic compost to prompt materials fermentation. Therefore, large scale compost machine is very popular around. In addition, in terms of the origin materials, they have similar features. For example, all kinds of manure, agriculture waste, sludge, etc.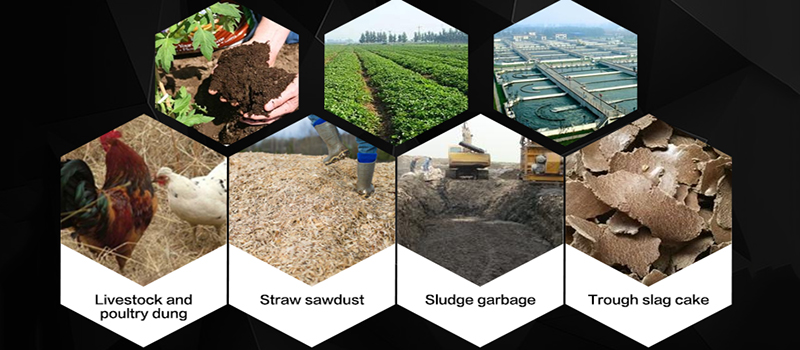 Animals and poultry manure
As we known, all kinds of manure have many functions for modern fertilizer industry. They contains a lot of nutrition to prompt the growth of various of plants and improve soil structure in case of increase soil solidification. Therefore, manure often be used as a kind of based fertilizer for making fertilizer. What is more, it has high economic value in fertilizer industry.
Agricultural waste
Those waste are mainly straw sawdust, died plants, etc. Furthermore, more than half of the photosynthetic products of crops are found in straw. It contains rich nitrogen, phosphorus, potassium, calcium, magnesium and organic matter, etc., and renewable biological resource with multiple USES. Therefore, it plays an important role in fertilizer materials.
Why does SEEC can provide you with the high quality compost facilities for large scale composting?
SEEC, is the professional fertilizer production equipment supplier in China. For composting equipment, we have our own manufacturing factory and r&d team to provide technical support. So, if you want to buy a large scale composting equipment for your large scale composting operations, welcome to visit our factory and contact us at any time. With nearly more than 30 years of equipment production experience, we are surely to provide you with the high quality large scale composting facilities and professional service.