How to recycle organic waste to produce compost fertilizer in our life?
In our life, there are lots of organic wastes can be collected to product compost fertilizer. As long as we have the patience to collect them together and classify, there are many things that can be recycled and utilized. In addition to the paper wastes and plastic bottles, some organic wastes are also precious to us. For example, animal manure, crop straw, green waste and so on. These organic wastes are suitable for composting to make full use of them. So, please do not throw them away to cause environmental pollution. Just use a compost fertilizer making machine, you can recycle and utilize them. With the rapid development of organic agriculture today, please believe that your choice compost fertilizer making project is worthy.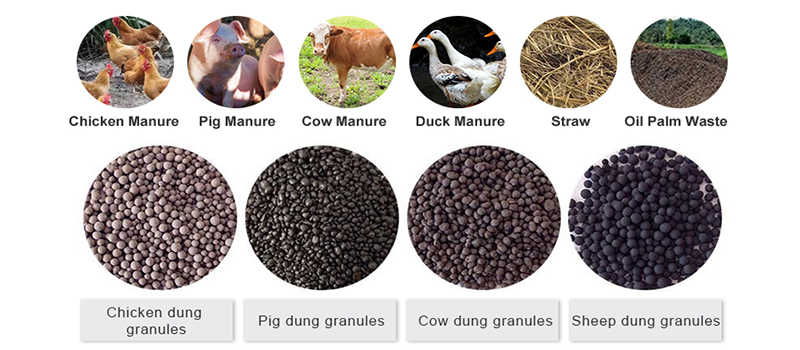 How to run a compost fertilizer business with low cost?
If your budget is limited, you can start with a small compost fertilizer business with low cost. For small scale compost fertilizer business, SEEC has designed a powder compost fertilizer production line for you. In this production line, the main compost fertilizer making machine includes the compost turner, SEEC new type vertical compost fertilizer crusher, rotary screen machine, belt conveyor and the compost fertilizer packaging equipment. This production line runs smoothly and has strong adaptability to the working field. If you have any special requirements for the facilities in this production line, welcome to contact us freely. We can communicate about the details of this project and provide customized service for you.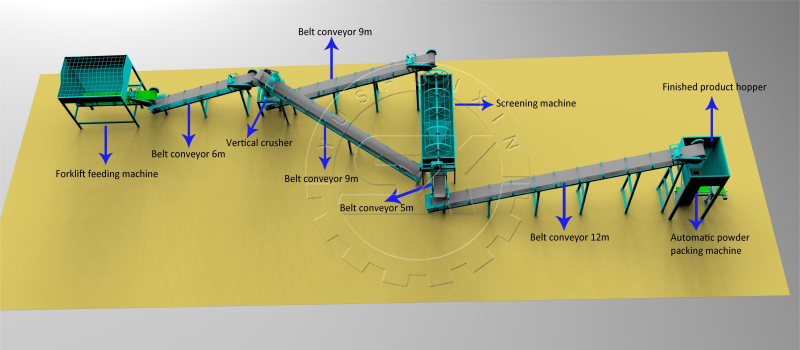 What kinds of equipment are needed in compost fertilizer making process?
In the compost fertilizer making process, there are different types compost fertilizer making machine to complete various processes in the whole production line. For different composting stages, equipment are needed as follows:
For the raw material processing, it mainly needs the compost crusher and mixer. Besides, if there are too much moisture in the raw material, it also needs a dewatering machine to reduce moisture content of materials. Then, after a preliminary processing process, you can stack the materials into windrows or piles for aerobic fermentation.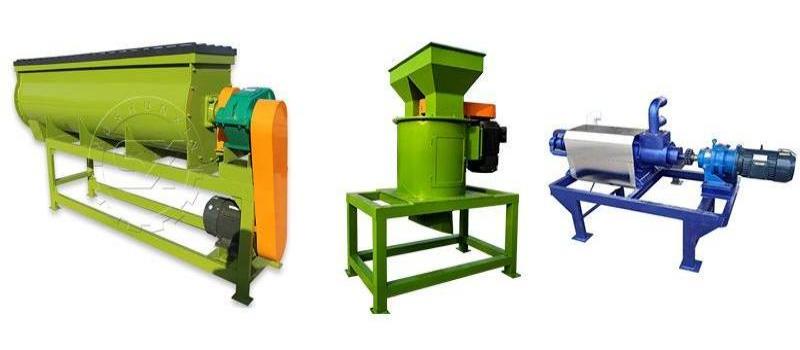 For aerobic fermentation process, the key equipment is the compost fertilizer turning machine. As a professional fertilizer equipment supplier, SEEC has different kinds of compost turners for your to choose: groove type compost maker, windrow composting equipment and trench compost turning facility,etc. Using a compost turning facilities in the fertilizer making process, it is a mechanical way to accelerating the fermentation process. It will turn over materials to increase oxygen supply and the porosity of the compost piles.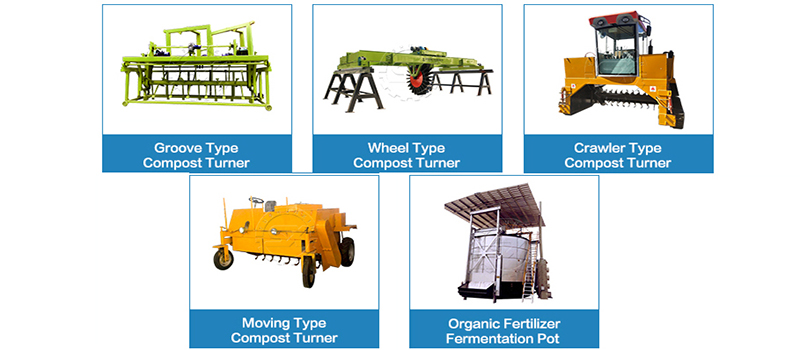 After the material is fermented, the simple powdery compost fertilizer is ready. Here, you can package them through SEEC automatic packaging equipment. In addition, you can do further process to get fertilizer granules products. The granulation process is common in commercial fertilizer production process. When the powdery composted materials continuously finish the process of mixing, granulating, balling and densification in granulating equipment, they will become granular fertilizer. Then, they need drying and cooling process for better store for commercial purpose.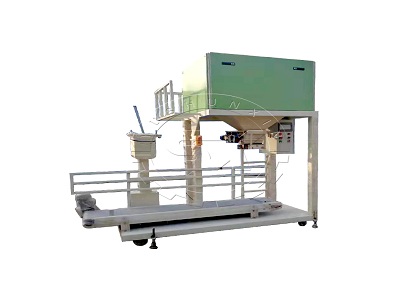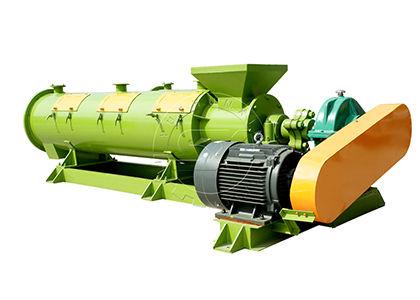 Besides, other compost fertilizer making machine also play an important role in the compost fertilizer making process. For example, the screening machine will help sort the high quality products which meet the production requirements.
A brief presentation about SEEC compost fertilizer production line
As the picture shows, this is a complete compost fertilizer production line from SEEC. The main compost fertilizer technology of this production line is the fermentation and granulation process. Of course, in order to create better fermentation conditions and shorten the entire production cycle, it introduces some composting techniques. Such as crushing the raw materials in small size to increase the contact area with oxygen. Besides, it adopts the aerobic fermentation technology in the whole compost fertilizer making project.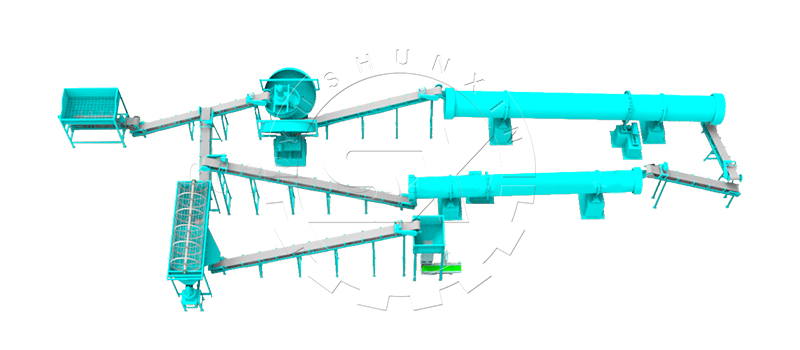 How to make compost fertilizer in a fast way?
If you want to make compost fertilizer in a fast way, SEEC recommend you to use the in-vessel composter in your plant. This kind of compost fertilizer making machine is a full-closed composting equipment. It adopts the aerobic fermentation technology to decompose the organic matter in the raw materials. So, it can finish the compost fertilizer fermentation process in a fast way.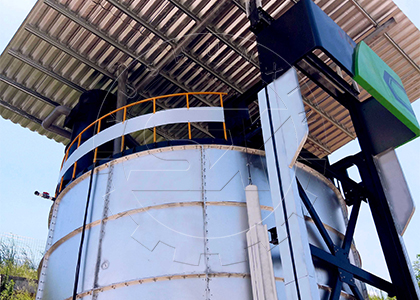 How to make compost organic fertilizer for commercial purpose?
In the whole organic fertilizer production fields, animal manure is the most commenly used raw material for the production. So, most farmers choose to make organic fertilizer from animal wastes. In general, the main raw materials for commercial organic fertilizer production includes animal manure, municipal sewage sludge, garbage, candy pomace, crop stalks and fermentation organic industrial waste, etc. With the help of SX compost fertilizer making machine, you can start your compost organic fertilizer business easily. If you want to make compost organic fertilizer for commercial purpose, your commercial fertilizer business can be simply designed into the following stages.
How to make compost manure fertilizer?
Manure is a kind of organic wastes for organic fertilizer making in agriculture. It is rich in organic matter, especially contains the important nutrients such as nitrogen, phosphorus, potassium and other trace elements. But, fresh manure can not be used directly as fertilizer. They will ferment naturally in the soil and produce high temperatures to kill the plant. What's worse, they will bring lots of pathogens into the soil. These pathogens will contaminate the surface water and groundwater.
So, composting is a good way to kill the harmful substances in animal manure and make them into high quality manure fertilizer. Take cow manure composting for example, if you want to make compost manure fertilizer from cow dung, the first thing you need to do is dehydrating the feces. Then, you can mix the dehydrated animal manure with crop straw or wood chips to make compost manure fertilizer. For manure composting, SX recommend you the following facilities to get high quality compost manure fertilizer.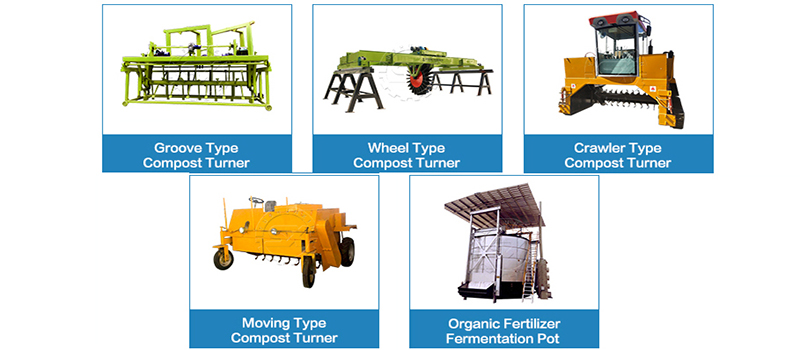 What is needed to set up a compost fertilizer plant?
To set up a compost fertilizer plant, you need a professional compost fertilizer making machine supplier help you design for your compost fertilizer business. In addition, you need to consider the production costs to increase or decrease your project budget. Of course, your budget should include equipment acquisition cost, site cost, labor cost, energy consumption cost and the later maintenance cost. So, if you want to set up a compost fertilizer plant in your country, just tell us about your budget and business plan. Then, SX will tailor for you a with a satisfactory compost fertilizer business plan.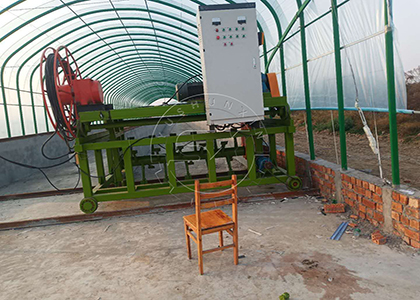 How does environment become clean by making compost fertilizer?
When we make compost fertilizer from the organic wastes in our life, the environment we live in will become more beautiful and clean. This has not only boosts the organic farming but also promotes the sustainable development. With the help of compost fertilizer making machine, most of the organic materials in our life will transfer into organic fertilizer and widely used in the field of crop cultivation.
Especially the organic wastes such as animal manure and crop straw, they will become useful fertilizer rather than randomly stacked in farms or other places. Besides, the landscape also needs organic fertilizer to feed the plants for netter and healthy growth. So, compost fertilizer using in different fields to make our life become more beautiful. At the same time, the demand of compost fertilizer will grow up. If you want to invest in compost fertilizer manufacturing, it would be a great time for you to contact us.