With the development of edible fungi industry, the scale of fungi growing increases greatly. Especially the growing of  commercial mushroom. But it will generate a large amount of waste, which contains corn cobs, sawdust, cottonseed husks, etc. If leaving the waste alone, it will cause serious pollution to the surrounding environment. Then how to treat these mushroom waste in a environmentally?  Converting it into compost fertilizer is an ideal choice. Here, SX can provide you suitable equipment to help you finish mushroom litter fermentation quickly and easily.
Tips: Additional materials like gypsum, peat moss, lime, soybean meal, and various other organic items may be added to the compost as well.
---
What kinds of equipment can help you make high quality mushroom waste compost easily?
In SEEC company, we have various types of mushroom compost making machines to help you make high quality mushroom compost. They adopt the most advanced fermentation technology to decompose the mushroom growing materials quickly. Here are some hot sale mushroom compost machines recommend to you:
Top 1: Self propelled mushroom waste compost machine
Windrow composting
is a easy method to make mushroom compost. During this process, cow dung will be pliled into stacks, whose sections are trapezoidal or triangular. And  compost turner will turn over the fermentation material regularly to let the oxygen come into the compost piles to speed up fermentation. For this, self propelled composter is an excellent choice. It can move freely in your farms to turn over your organic wastes. So when you use this compost machine for your mushroom compost making, you just need one worker to operate this facility to finish the fermentation work of your mushroom compost piles.
---
Top 2: Hydraulic mushroom litter compost turning machine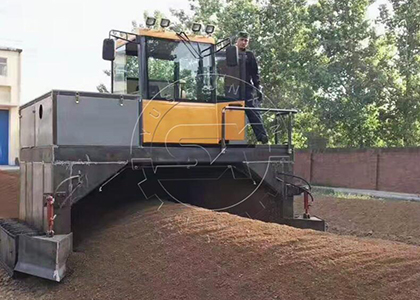 This kind of mushroom compost machinery from SEEC also adopts the aerobic fermentation technology. The turning width and height of this machine is different from the models. Of course, it also can be customized according to your requirements. the highlight of this type mushroom compost machine is that we have installed the hydraulic push plate on the front of this turner. So, you do not need to neaten the whole compost piles in composting process. What's more, it also can crush your organic materials, which greatly saves fermentation time and labor cost.
---
Top 3: Groove type mushroom residue compost turner machine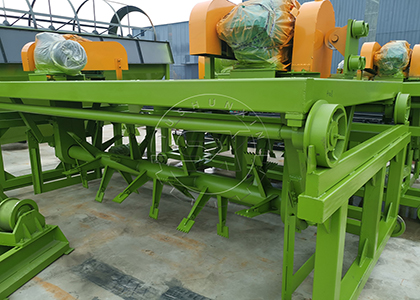 Using this type of mushroom compost machine in your mushroom production plant is a good choice for you. It saves working space a lot for materials fermentation. Just as the picture showing, all the raw materials for mushroom compost making are stacked into the fermentation grooves. Then, you can use this type compost machine to turn them regularly for better ventilation condition. This helps speed up your mushroom compost making process a lot. Besides, with the turning of raw materials, the temperature of compost piles will grow up to kill harmful bacteria and weed seeds.
---
Top 4: Multifunctional mushroom compost tractor
This type mushroom compost equipment is suitable for the fermentation with small scale mushroom compost materials. It is patent product of our company. The unique four-wheel walking design ensures the working stability of this machine. Thus, it can move freely in the workshop and outdoors. Besides, it mainly adopts the aerobic fermentation technology which can mix the sticky fermentation material, microbial fermentation agent and straw powder effectively. With the high working efficiency and low energy consumption, this type compost turner is popular for commercial mushroom growers who want to make mushroom compost by themselves.
---
How to processing spent mushroom substrate into organic fertilizer granules?
For many large scale mushroom growing factory, the disposal of spent mushroom compost has become a big problem. But in fact, commercially available 'spent' mushroom compost is not always truly spent. Although they can not provide enough nutrients to grow mushrooms well, they can become good raw materials to make organic fertilizer. So, please do not throw them away, just reuse of them to make good fertilizer products.
1. Ferment Spent Mushroom Compost Materials
The main raw materials for fermentation are spent mushroom compost, animal manure, crop straw, and other organic materials. Before fermenting, you need to mix them well and get a better physical condition for aerobic fermentation. Then, choose one suitable compost turning machine to turn them during the organic fertilizer making process.
2. Granulating With Professional Organic Fertilizer Pellet Machine
To make organic fertilizer granules, you need to equip professional fertilizer granulators. As a professional fertilizer equipment manufacturer, SEEC also has various organic fertilizer pellet machine for you.
3. Drying And Cooling Process
After granulating, your composted materials have been processed into fertilizer granules. But, they are not suit to package directly. So, the next step for your organic fertilizer making is drying and cooling your fertilizer granules.
4. Screening Best Organic Fertilizer Granules
In order to make high quality organic fertilizer granules products, you need to check the quality of the product before packing them in the bags. In this process, fertilizer granules that do not meet the requirements will be crushed and re-granulated in the organic fertilizer pellet machine. Good and beautiful fertilizer granules will be packed directly.
5. Packing for Better Market Sale
Packing is the final step in organic fertilizer making process. Here, we have automatic package machine to help you pack products quickly.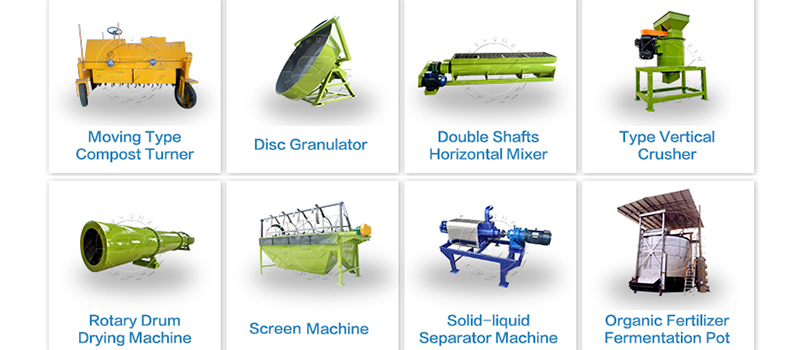 What is the key step in mushroom compost making process?
During the mushroom compost making process, the most important process is the fermentation of organic waste. So, it is necessary for you to choose professional machines to help you compost them quickly. With the help of mushroom compost turning machine from SEEC, you can turn over mushroom soil in a large scale and sold mushroom compost for commercial purpose. SEEC mushroom compost turner can mix and crush the raw materials in an effective way. So, it is a professional mushroom compost turner to help you turn over your organic materials. Besides, all types of our mushroom compost turning machines adopt the advanced aerobic fermentation technology to ferment the organic waste. As the temperature of compost pile increases, the compost turner began to turn to compost piles and speed up the fermentation time.