Moving type compost turner a hot sale product for organic fertilizer manufacturers and animal farm owners. Because it can help you finish harmless process of organic waste, such as cow dung, chicken manure, pig litter, sludge, sugar waste, etc. Thus, they no longer pollute the environment and are suitable to produce organic fertilizer. It is a kind of self-propelled compost machine, which is working on the flat cement floor. This will greatly reduce your budget for fermentation trench building and labor force. In addition, it has a four-wheel moving system, so it can flexibly move forward, backward and turn directions. This will make your organic fertilizer fermentation process easier.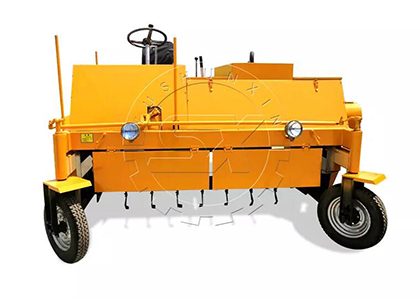 Can semi-skilled worker operate moving type compost turner?
---
What method is used in fermentation of moving type compost turner?
This moving type compost turning machine mainly adopts windrow compost method. It is the production of compost by piling organic matter or biodegradable waste, such as animal manure and crop residues, in long rows (windrows). Then the activity of microorganisms will generate heat to kill harmful bacteria, pest eggs and grass seeds in manure. But there are two items you need to focus on. For one thing, this process will consume a large amount of oxygen. For another, when the temperature of material is higher than 75℃, the beneficial bacteria will also die.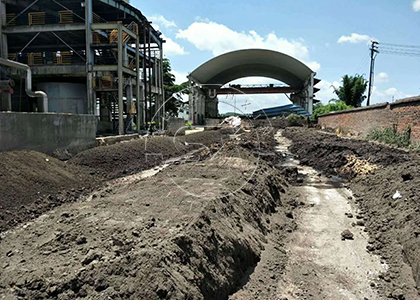 ---
How moving type compost equipment to help you make better animal manure fermentation?
Animal manure is an excellent choice for organic fertilizer manufacturing, because it is rich in nutrients which are necessary for the growth of crops and plants. Such as nitrogen, phosphorus, potassium, calcium, etc. But if you want to prepare organic fertilizer with animal manure, composting is an indispensable process. During this process, what can moving type compost machine do for you?
Supply oxygen
As mentioned above, animal manure compost is an aerobic process. So oxygen supply plays an important role in animal manure fermentation. When moving type compost turner working, the material will be broken into smaller size and has higher air porosity. Therefore, it can fully contact with oxygen, then microorganisms have enough power to decompose organic matter into humus.
Remove excessive heat
Animal manure fermentation usually is a temperature raising period. When the temperature of material is higher than 60℃, it can kill harmful substances in manure. But when it is higher than 75℃, the beneficial bacteria will also die. So it is essential to dissipate the excessive heat of compost. Here, the turning of moving type compost equipment can improve the air porosity of material. In general, it means better ventilation function. So the excessive heat of manure compost will be removed.
Adjust material moisture content
In addition, water content control is also essential in animal manure fermentation. It is advisable to keep the materials moisture content between 45% and 65%. However, fresh animal manure usually has a higher waste content. Here, composting with moving type compost turning machine is a good idea. In this process, the temperature of material will rise to evaporate excess water. And the turning of this machine will further eliminate the evaporated moisture.
Mix manure with other materials
If you want to make organic fertilizer from animal manure, commonly, you need to mix it with other materials. For example, you can feed fermentation bacteria to facilitate compost efficacy or add straw powder to adjust the C/N ratio. Moving type composter will mix them evenly to ensure that they can function adequately. Then you will have better fermentation of animal manure.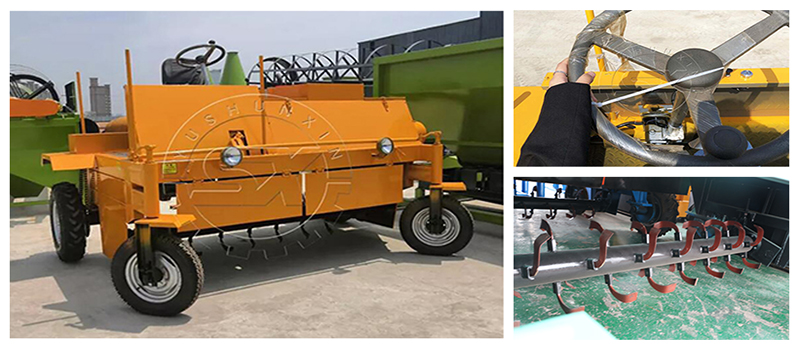 How to decompose organic ferttilizer quickly?
---
Why moving type compost is the best choice for small scale composting?
From the feedback of our customers, we find that many small organic fertilizer suppliers choose moving type compost machine to start the compost. Why? There are 4 reasons:
Small capacity
If you want to select a suitable fertilizer compost equipment, capacity is an item you must focus on. In general, moving type compost turner can process 300-500 m³ of organic waste windrows per hour. So it is an excellent equipment for small scale composting.
Low cost
The cost is also one of the important factors affecting the choosing of small scale compost machine. Moving type composter can help you compost fertilizer at a low cost. On the one hand, moving type has a more favourable price than other composters. On the other hand, it can help you save your budget for fermentation trenches.
Flexibly moving
Moving type compost turning equipment mainly relies on four wheels to move. This makes it move forward, backward and turn directions freely. So you can ferment organic litter in an easier way.
High degree automation
Moreover, the high degree of automation of moving type composter is also a reason why so many small scale compost fertilizer makers choose it. It is controlled by a steering wheel, so only employ one worker, you can operate it to finish organic waste fermentation. Moreover, after mixing, the fertilizer bases will form into new windrows automatically.
| | | | |
| --- | --- | --- | --- |
| Model | XZFPJ2000 | Power | 27.5HP |
| Composting Width | 2000MM | Heights | 600-800MM |
| Working Span | 600-800MM | Particle Size | 250MM |
| Roller Diameter | 600MM | Production capacity | 400-500CBM/HOUR |
| Sizes | 2100*2600*2700mm | Weights | 1500KG |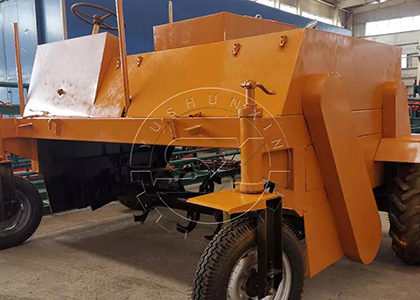 ---
Things you need to pay attention to when using moving type composter?
Using moving type compost turning machine not only is beneficial for better fermentation making, but also can prolong the service life of your machine. During using moving type compost equipment, there are four tips for your reference.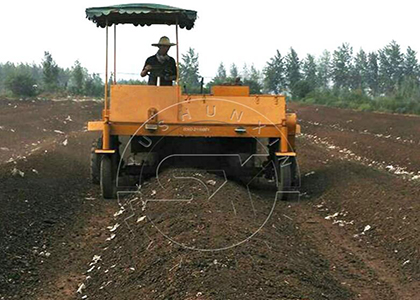 The width of the fertilizer piles cannot exceed the width of the moving type compost turner.
There should be a certain space left at both ends of the fertilizer pile, which is convenient for the machine to change direction. The spacing between the fertilizer piles should be more than 1 m.
Moving type self-propelled composter can not be used as a walking vehicle or a heavy truck.
The machine must work on the flat surface, and the ground must be cement floor.
---
What is the price of moving type self- propelled compost turner?
If you want to buy a moving type compost turning machine, SX fertilizer equipment factory is an ideal choice for you. We can provide you with quality moving type compost turner at a favourable. Because SX has advanced technology and nearly 20 years of manufacturing experience. This can reduce the cost of moving type composter manufacturing. In addition, SX is a source factory for fertilizer processing machines. So there is no extra charge during machine buying. Generally speaking, the price of moving type compost equipment is between $6,000-$12,000.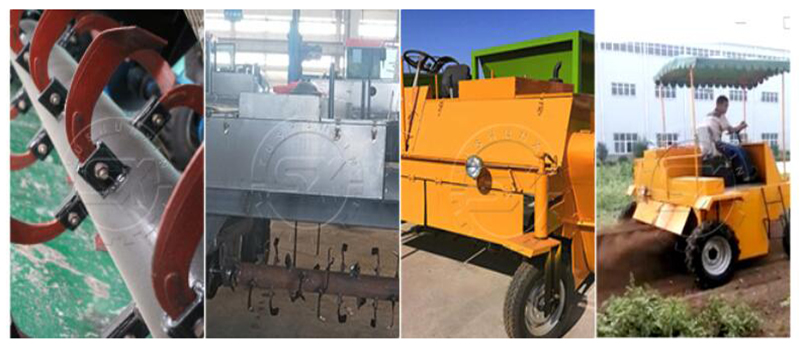 ---
What is the difference between moving type composter and crawler compost machine?
Both the crawler type compost turner and the moving type composter use the windrow composting method, what is the difference between them?
Capacity
First, they are different in capacity, which is an important item that needs to focus on during fertilizer compost machine selection. If your expectant capacity is below 500 m³/h, we recommend you choose moving type compost equipment. If you want to start a larger scale compost, you can choose crawler type compost turner. Its largest output can reach 1500 m³/h.
Moving method
Crawler type compost turning machine moves with tracks on both sides. This makes it have a large contact area with the ground. Therefore, it can move more stably. And moving type composter mainly relies on four wheels to move. This makes it turn direction easier. So it has greater flexibility.
Control part
These two machines both have the advantage of easy operation. But they have different control systems. Moving type compost machine is controlled by the steering wheel. However, crawler type windrow composter is equipped with two control rods to control this machine.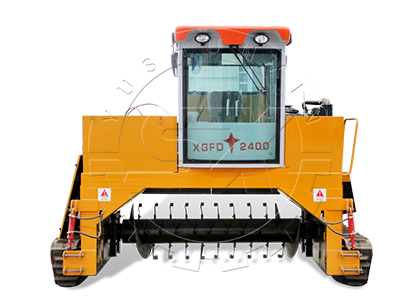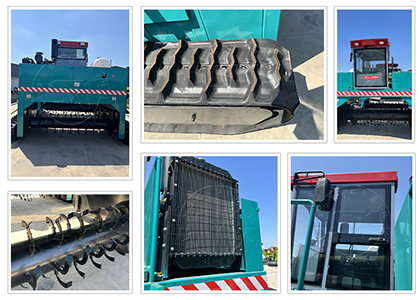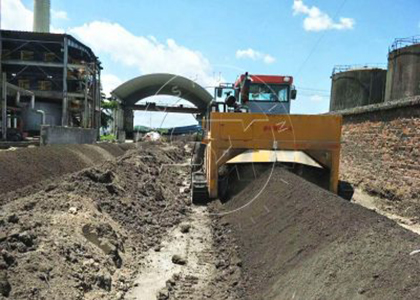 ---