Are you looking for a project for making fertilizer in a large scale? Do you plan to start compound fertilizer production business? Rotary drum granulation production line is an ideal choice for you. Whether you want to make NPK fertilizer, urea fertilizer or phosphate fertilizer. Whether you plan to prepare low, medium or high concentration compound fertilizer. It can fully meet your needs. In addition, it has a larger capacity than other fertilizer granulation systems, and its output can reach 30t/h. This is, it can help you produce up to 200,000 tons of fertilizer pellets per year. Therefore, it is widely used in the mass production of compound fertilizer.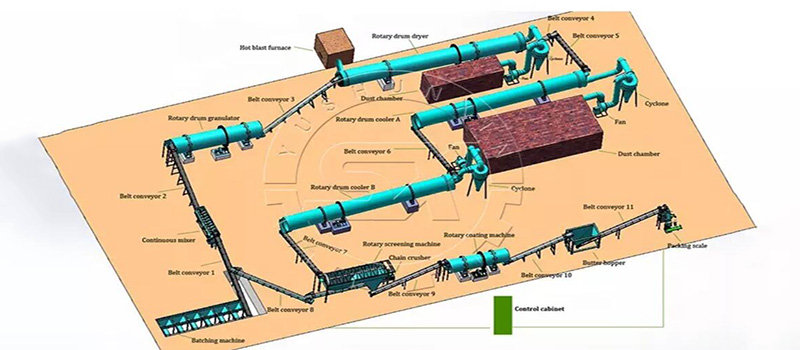 Learn more about rotary drum granulation line for fertilizer manufacturing!
---
How to start compound fertilizer production in a large scale?
With the increasing demand for compound fertilizer, more and more people want to invest in large complex fertilizer plants, especially NPK fertilizer manufacturing. However, neither the disc granulation line nor the roller extrusion granulation line is suitable for the production of large-scale compound fertilizers. So we specially design the rotary drum granulation production line for you. Then what equipment is needed in this preparation project of large scale compound fertilizer?
Automatic dynamic batching machine
It is an ideal choice for you to start continuous and large scale fertilizer making. Because this fertilizer batching equipment equips every material hopper with belt scale, which makes it realize the simultaneous delivery of multiple chemical materials. This can greatly save your time on fertilizer making.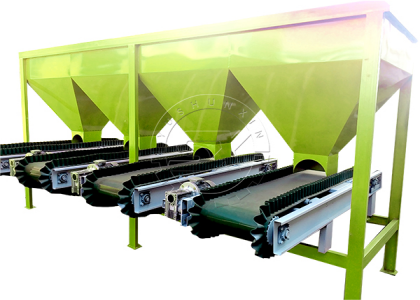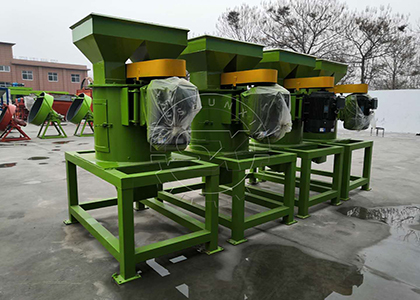 Crushing equipment
In order to make chemical materials easier to form pellets, it is necessary to crush them into fine powder. So after batching machine, you need to add a compound fertilizer crusher.
Double shafts horizontal mixer
This fertilizer equipment is also designed for continuous fertilizer manufacturing. Compared with the single shaft mixer and horizontal mixing equipment, it can blend various chemical materials evenly in a shorter time. Because it has two mixing shafts and can discharge materials without help from the worker.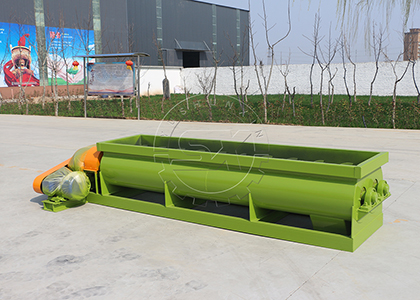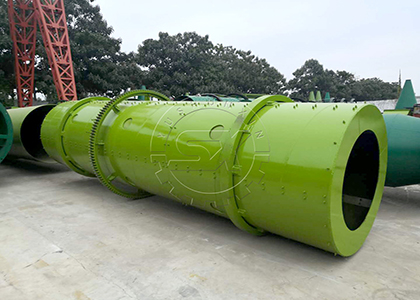 Rotary drum pelletizer
Drum granulating machine can process large amounts of urea, DAP, MOP powder into particles. After granulating, the compound fertilizer will have a lower possibility of pulverization and layering. So it is more convenient for transport and storage.
This is the configuration of a complete large scale compound fertilizer making line. For mass fertilizer production, it is advisable to choose equipment with a large capacity and a high degree of automation. It can greatly shorten your time spent on compound fertilizer making. And can rotary drum pelleting line be used in small or medium compound fertilizer production? Of course, SX will change the design according to your requirements.
---
Can the rotary drum granulation production line be used in organic fertilizer making?
If you want to manufacture organic fertilizer or bio fertilizer, this rotary drum pelleting line is also an excellent choice. Because it has a high performance in corrosion resistance. All equipment in this system is made of high quality alloy steel. And our engineers specially equip rotary drum pelletizer with rubber lining and lifting plates to prevent material sticking and reduce equipment corrosion. Therefore, the rotary drum granulation line has a high adaptability and is suitable for organic fertilizer and bio fertilizer production.
Other machines you need for rotary drum granulation
However, when you want to make organic or bio fertilizer by this fertilizer preparation system, it also needs some other fertilizer machines. For example, composting machine is necessary for fertilizer production from organic waste. It can facilitate animal manure fermentation, which can keep final organic fertilizer granules away from pest eggs, grass seeds, smelly odor. Then the composted organic materials will be transported into crushing machine and broken into fine powder. This can improve the granulation effect of your fertilizer particles. Moreover, if your organic materials have a high moisture content of more than 70%. The quality of final fertilizer products will decrease. Here, SX dewatering machine can help you a lot.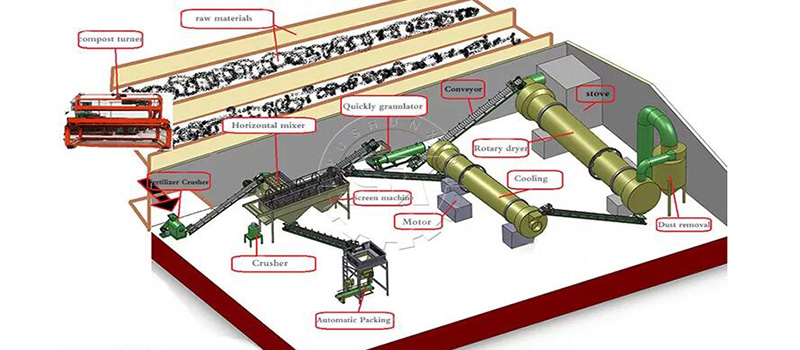 ---
What granulation method does rotary drum pelleting line employ?
When you select fertilizer making system for your fertilizer business, you also need to focus on the technology it employs. Rotary drum granulation making line mainly adopts wet granulation method, which adds water or other adhesives to materials to improve granulation effect. During wet granulation, the steam will be injected into the rotary drum pelletizer. This steam will provide suitable temperature and humidity conditions for fertilizer granulation. Then as the action of rotary drum, the material will stick with each other and roll into round fertilizer granules. Is this over? No. The fertilizer pellets produced by wet granulation method usually have a high moisture content. So it needs drying machine and cooling equipment to remove the redundant water.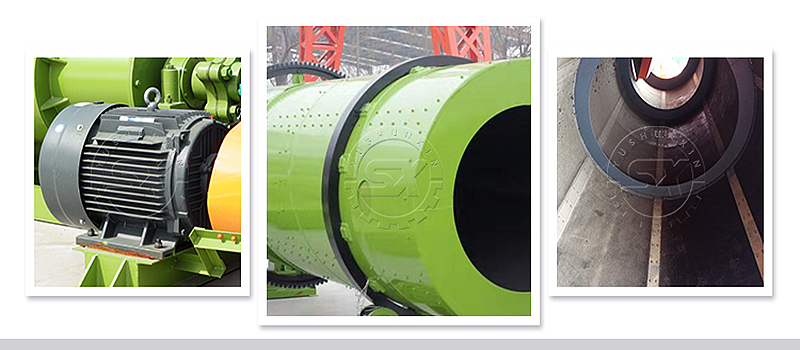 ---
Highlights of rotary drum granulation line from SX
Rotary drum granulation line is one of the most popular products in SX. And it has earned trust from fertilizer manufacturers at home and abroad. Why? There are reasons as fallows:
Large capacity
As mentioned above, it is the optimal option for large scale fertilizer plant. The capacity range of it is from 5,000-200,000 tons/year. And rotary drum granulators SXZGZ-2080 and SXZGZ-3210 are specially designed for mass production of fertilizer. They can make 8-15 tons and 15-30 tons of fertilizer pellets per hour respectively.
Wide applications
The rotary drum granulation production can manufacture compound fertilizer with different concentrations and types. Including low, medium and high concentrations of compound fertilizers. And the preparations of NPK fertilizer, DAP fertilizer, organic fertilizer, bio fertilizer, etc.
High degree of automation
The whole drum pelleting line for compound fertilizer making is kept running by an electrical automated control system. So it is a fully automatic fertilizer making project. Only by employing a few workers, you can finish high quality fertilizer preparation perfectly.
Producing higher strength fertilizer
Because this system makes fertilizer with wet granulation method. The produced compound fertilizer has a high density and strength. This makes finished fertilizer easier to transport and store.
Parameters of rotary drum granulator
| Model | Power(kw) | Diameter(mm) | Length(mm) | Rotary Speed(r/min) | Capacity(t/h) |
| --- | --- | --- | --- | --- | --- |
| SXZGZ-1240 | 5.5 | 1200 | 4000 | 17 | 1-3 |
| SXZGZ-1560 | 11 | 1500 | 6000 | 17.5 | 3-5 |
| SXZGZ-1870 | 15 | 1800 | 7000 | 11.5 | 5-8 |
| SXZGZ-2080 | 18.5 | 2000 | 8000 | 11 | 8-15 |
| SXZGZ-3210 | 37 | 3200 | 10000 | 9.5 | 15-30 |
---
What is the difference between rotary drum granulation line, disc pelleting line and double roller granulation line?
In SX, there are three fertilizer granulation lines, which are popular with fertilizer suppliers. They are rotary drum granulation line, disc pelleting line and double roller granulation system. They are all designed for turning powdery materials into particles. But they also are different in aspects as follows:
Cost
The cost usually plays an important role in the selection of fertilizer making line. If you want to produce fertilizer at a low cost, the double roller pelleting line is your best choice. Then the disc granulation system is also an excellent option. But if you have enough budget, the rotary drum granulation line is the most suitable one.
Capacity
If you want to start a large scale fertilizer plant, we recommend you choose rotary drum granulation line. But if you need a system for small scale fertilizer making, it is advisable to buy disc pelleting line or double roller granulation making system.
Application
when you plan to prepare compound fertilizer, you can freely choose any of them. But for organic waste disposal, disc and double roller granulation lines are the better choice.
Granulation method
Generally speaking, there are two types of granulation method used in fertilizer manufacturing. Dry granulation method and wet granulation method. If you need a dry granulation line, you can choose double roller pelleting system. But provided you need a wet granulation design, we have drum granulation production line and disc pelleting system on sale.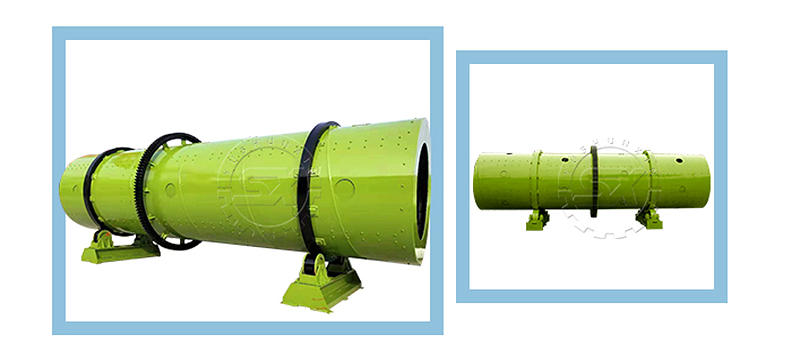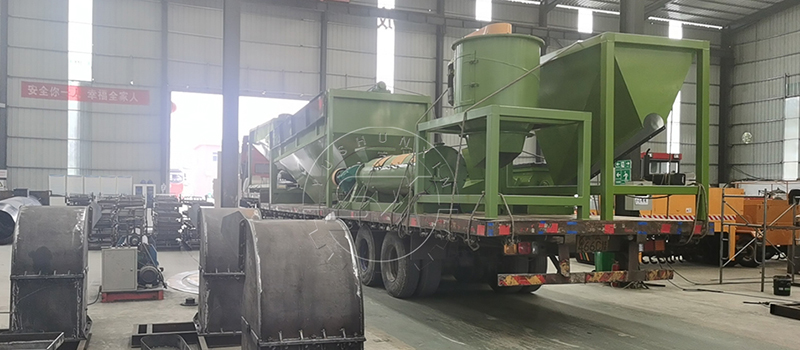 ---
What service can SX provide you during rotary drum pelleting line buying?
During the process of fertilizer equipment buying, the service of manufacturers is also an essential factor influencing your customers' decisions. SX is a leading fertilizer processing supplier from China. It can provide you with the most considerate service. For example:
Free CAD design provided
When you want to build a rotary drum granulation manufacturing plant, it is necessary to get a reasonable project design. An excellent design can greatly improve your fertilizer making efficacy. SX can offer you CAD drawing out of charge according to your requirements.
Field trips
If you want to know the actual operation of the rotary drum pelleting line, we can provide you with pictures and videos from our customers. In addition, if you want to further learn its performance, you can come to our manufacturing factory to visit. Our factory is located in Zhengzhou, Henan province, China.
Installation guidance
If you have difficulty in rotary drum granulation production line installation, we can offer you users instruction and operation video. And if you need, we can arrange the engineer to help you install the machines and train the skilled workers.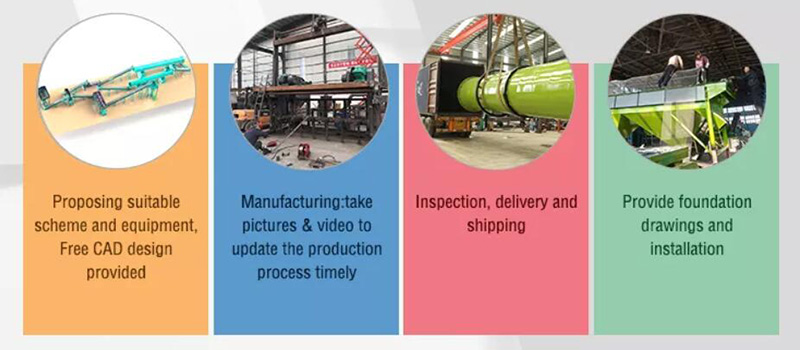 ---