With the increasing of organic fertilizer demand and the requirement of environment protection. More and more animal farm owners are willing to make animal manure into organic fertilizer. And in general, they choose to start with small scale fertilizer production. For this, you can choose a 1-2 t/h organic fertilizer making line. It can help you make organic waste into fertilizer quickly and easily. Moreover, this project only needs a small investment, but can help you eliminate pollution of organic litter and earn more money simultaneously. And SX can provided you different business plans for your choice.
Click here for your customized small scale organic fertilizer making plan!
---
Who needs this 1-2 t/h organic fertilizer making line?
Whose capacity is 15,000 tons/year or less
If you plan to make the organic fertilizer manufacturing system work 10 hours a shift and 2 shifts a day. It can help you prepare about 12,000 tons of fertilizer a year. And when you keep it running for 8 hours a shift and 3 shifts per day. The yearly capacity of this 1-2 t/h organic fertilizer making line can increase to 15,000 tons. Is it suitable for smaller scale organic fertilizer manufacturing. Of course, you can realize it by reducing the working time of this system.
Whose materials volume is about 3-120 tons per day
Usually, the fresh manure is a mixture of solid and water. And what we use to make organic fertilizer is the solid part, which only accounts for 1/3 of the whole. So generally speaking, producing 1 ton of solid organic fertilizer needs 3 tons of fresh animal manure from the farm. So if your material capacity is lower than 120 t/d, you can choose this 1-2 t/h organic fertilizer making line.
Click here for your customized 1-2 t/h organic fertilizer making plan!
---
How to design a low cost 1-2 t/h organic fertilizer making line?
When you want to start 1-2 t/h organic fertilizer manufacturing at a low cost, making manure into powder organic fertilizer is an excellent choice. And you can reduce the number of fertilizer machines purchased. Generally, there are two organic fertilizer processing equipment you must buy for the 1-2t/h powdery organic fertilizer making line.
Small scale groove type compost machine
Composting is an indispensable step of organic fertilizer production, whether you want to prepare it into powder or granular. Because in this process, the harmful bacteria, pest eggs and grass seeds will be killed by high temperature. So you use manure as fertilizer without any harm to crops and plants. In addition, for 1-2 t/h organic fertilizer making line, we recommend you choose small scale groove type compost turner. Its turning width can reach 2.5-5 m and turning depth is about 0.8 m. Its price is only $6,500-$15,000.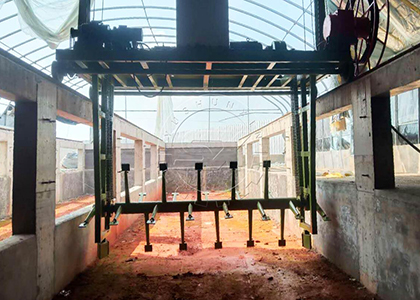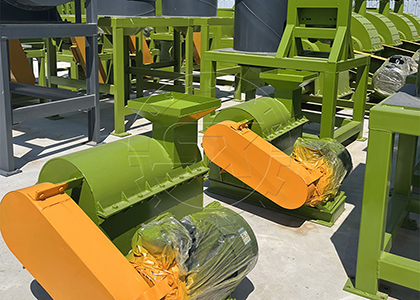 Semi-wet material crusher SXSF-60
Then fertilizer crushing machine is also essential for power organic fertilizer preparation. Before composting, you can use it to crush agglomerated manure into smaller size materials. In this way, organic materials can fully contact with oxygen and finish aerobic fermentation of organic fertilizer faster. Moreover, after composting, it can help you grind compost into finer powder, which is more convenient to use. Because organic waste usually has high moisture, semi-wet material crusher is an ideal choice for you. And SXSF-60 is suitable for 1-2 t/h organic fertilizer manufacturing.
---
Which granulation equipment is suitable for 1-2t/h organic fertilizer making line?
Provided you want to further improve the quality of your organic fertilizer, you can make it into granules. For 1-2 t/h small scale organic fertilizer granulation, there are disc granulator and flat die granulation equipment for your choice. They are suitable for different occasions.
Disc granulation equipment for wet fertilizer granulation
Provided you want to prepare organic fertilizer granules in a small scale, disc pan pelletizer is an excellent option for you. For one thing, it has a high granulation rate, which is higher than 93%. That is, with the same amount of organic materials, pan granulation machine can produce more fertilizer pellets in a certain period of time. For another, it has a favourable price of $1,000-$16,000. So it is popular with fertilizer manufacturers who want to make manure fertilizer particles at a low cost. And for 1-2 t/h organic fertilizer granulation, we recommend you choose SXYZ-2500 pan granulator, which has an output of 1.5-2 t/h.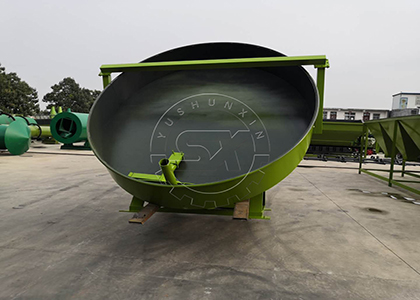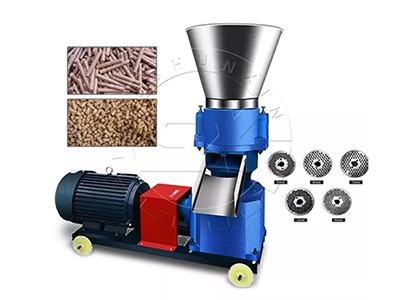 Flat die granulator for dry organic fertilizer granulation
But if you plan to granulate dry manure, which has a low moisture content of below 15%. You can choose flat die granulator. It mainly adopts dry granulation method, which relies on extrusion force between rotating roller and molds to make organic manure into columnar pellets. So there is nearly no water involved in the whole organic fertilizer pelleting process. If you want to turn columnar fertilizer pellets into round shape, you can use a polishing equipment after flat die pelletizer. It can help you a lot with fertilizer appearance improvement.
---
How to further upgrade the 1-2t/h organic fertilizer manufacturing line?
Besides fertilizer composting machine, crusher and granulator, there are many other machines that are beneficial for organic fertilizer production. If you want to further upgrade the 1-2 t/h organic fertilizer manufacturing line, you can purchase the organic fertilizer equipment as follows:
Manure dewatering machine: A high moisture of materials will hinder the fermentation and composting of organic fertilizer. And the most suitable water content of fertilizer compost making is 45%-65%. SX dewatering machine can remove excessive water from manure easily and effectively
Static batching machine: It is used to add auxiliary materials to enrich the nutrients of your organic fertilizer. Moreover, batching equipment can help you feed various materials strictly in accordance with the formula proportion.
SXWJ-7015 horizontal mixer: Mixer will help you blend various organic materials evenly. This can prevent your final fertilizer from nutrients imbalance.
SXGS-1020 screening machine: Screener is the key process to distinguish qualified from unqualified fertilizers. And the unqualified pellets will be returned to re-granulate. This can greatly reduce the waste of materials.
SXHG-0808 dryer and SXLQ-0808 cooler: If you granulate powdery organic fertilizer with wet granulation method, dryer and cooler is necessary. They can further remove the moisture of fertilizer granule and improve the quality of your granular organic fertilizer.
BM1200×4000 coating machine: Coating will add a protective film to your organic fertilizer granule. So it can be stored for a longer time.
Packaging machine: After packaging, the finished manure fertilizer is convenient to store and transport. And you can pack them into bags with different volumes, which can meet the different needs of your customers. And SX can provide you with both granular fertilizer packaging machine and powder organic fertilizer packing scale.
---