Compound fertilizer production line, as the name implies, is a production line widely used in making chemical fertilizer. It can produce complex fertilizers with different concentrations and types. There are various compound fertilizer production lines in SX machinery. And in this article, you can get access to the three most popular production lines. They are powder compound fertilizer preparation line, NPK fertilizer production line and BB fertilizer manufacturing line. Moreover, if you want to learn other complex fertilizer lines, you can contact us.
How to produce 15-15-15 NPK compound fertilizer?
---
What are the raw materials contained in compound fertilizer?
Compound fertilizer plays an important role in balancing fertilization, improving fertilizer utilization and promoting crop yields. Because during the process of making complex fertilizer, the main materials always contain two or more nutrient elements in nitrogen, phosphorus and potassium. They are necessary elements for crops to grow up.
Nitrogen is mainly responsible for promoting the growth of branches and leaves. Because it can improve the ability of plants to absorb nutrients. If you want to make compound fertilizer with rich nitrogen element. You can use urea, ammonium chloride, ammonium sulfate, ammonium nitrate and calcium nitrate as materials.
Phosphate plays an important role in blooming and fruiting. If you want to increase its content when preparing compound fertilizer. Monoammonium phosphate (MAP), diammonium phosphate (DAP), triple superphosphate (TSP) and superphosphate (SSP) are excellent options for you.
Potassium is essential to promote the development of rhizomes. And improving the ability of crops to adapt to temperature changes and resist pests and diseases. Then potassium chloride (MOP), potassium sulfate (SOP), potassium carbonate and plant ash is the key to the production of complex fertilizer with potassium.
There are various materials for making compound fertilizers. You can choose according to your needs. Besides materials, understanding processing procedures of complex fertilizer is also essential for you.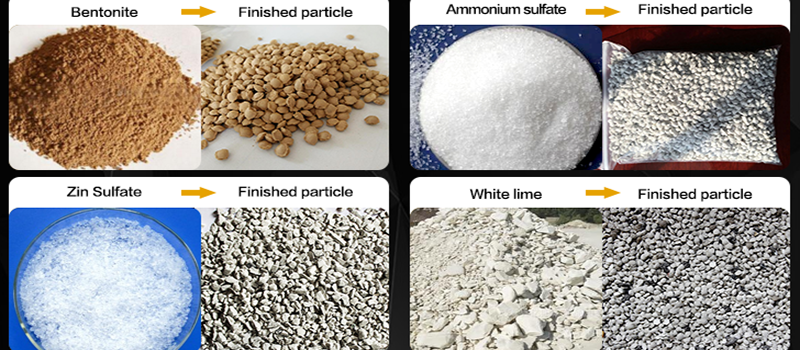 ---
How to make the raw materials into the complex fertilizer you need?
If you want to turn raw material into high-quality fertilizer, you need to process it multiple times. As a professional fertilizer equipment manufacturer, Shunxin can provide you with suitable fertilizer equipment for every procedure. The following is the most complete production procedure for compound fertilizers.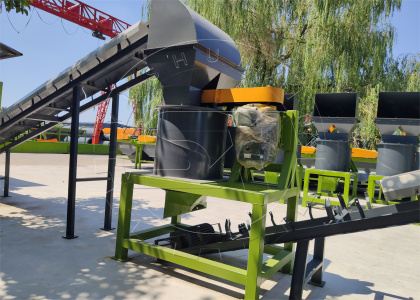 Crushing
Before producing compound fertilizer, you need to make all materials into powder. Because it is convenient for subsequent batching and mixing. So the fertilizer crusher plays an important role in high quality chemical fertilizer production. Cage shredder and chain crusher are suitable for grinding compound fertilizer materials.
Batching
Compound fertilizer is especially produced to supplement the nutrients lacking in plant growth. So you need making it in a certain proportion. Batching is the process to adjust the proportion. During this process, there are static batching machine and dynamic automatic batching equipment for your choice. They have a high degree of automation and can greatly save your time and production cost.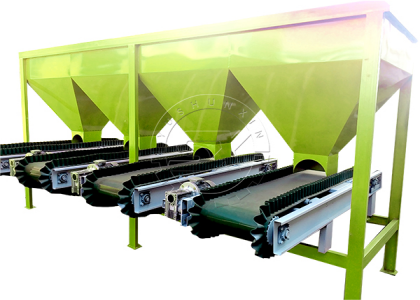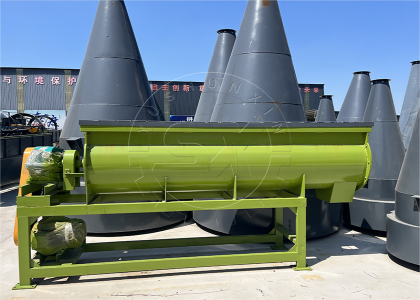 Mixing
Then you need to fully mix the materials. It is the key step to making uniform compound fertilizer. For this, we recommend you choose horizontal mixer or disc mixer. The former can hlpe you mixing different chemical materials evenly effectively and the latter can help you reduce the cost of compound fertilizer making.
Granulating
If you want to further improve compound fertilizer, turning it into granules is an excellent choice. After granulating, contact area between fertilizers will become smaller, which makes it not easy to stick. So it is convenient for storage and transport. Among our fertilizer granulators, pan granulator, rotary drum pelletizer are more suitable for using wet granulation method. And the double roller granulator is an ideal choice, if you want to use the dry granulation method.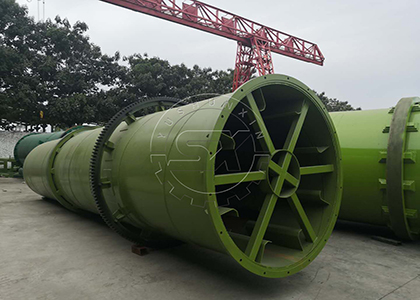 Drying and cooling
Excessive moisture content is not conducive to the storage and use of fertilizers.  If the moisture content of fertilizer is more than 14%, the drying process is inevitable. Then after drying, cooling can remove the water from the pellets surface, and lower the temperature.
Screening
During this process, you need to differentiate between qualified and unqualified fertilizers. Then convey the qualified fertilizer to the next procedure, and the unqualified to re-granulate. Rotary screening machine can help you complete the task perfectly.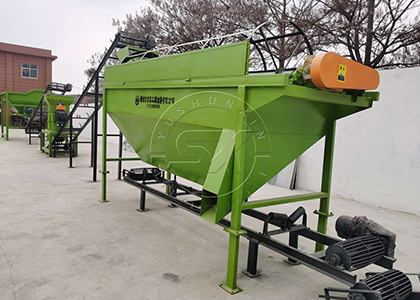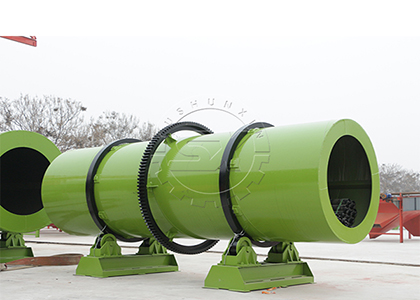 Coating
It will form a protective film on the surface of the chemical fertilizer. The protective film can isolate the air, which can make granules become easy to stick again. If you want to add a protective film to your fertilizer, you can buy our drum coating equipment.
Packaging
Packaging is the last procedure of the whole compound fertilizer production line. It is dispensable if you make fertilizer for your own use. But if you want to sell it to others, it can improve the competitiveness of your fertilizer products.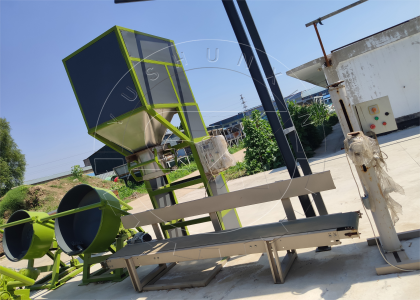 ---
3 main compound fertilizer production lines in SX fertilizer equipment factory
In order to meet the needs of producing compound fertilizers, our engineers design a variety of compound fertilizer production lines. Among them, the following three kinds of compound fertilizer production lines are our hot sale products.
Small scale powdery compound fertilizer production line
If you want to prepare compound fertilizer in a small scale, powdery compound fertilizer production line is an ideal choice for you. As mentioned above, only 3 steps, you can produce high quality powdery compound fertilizer. Simpler processing flow helps you save your money and time. Expect conveyor, crusher, batching machine and mixer, you can add screener and packaging equipment to your compound fertilizer production line. They are the ideal choice for improving the quality of your complex fertilizer.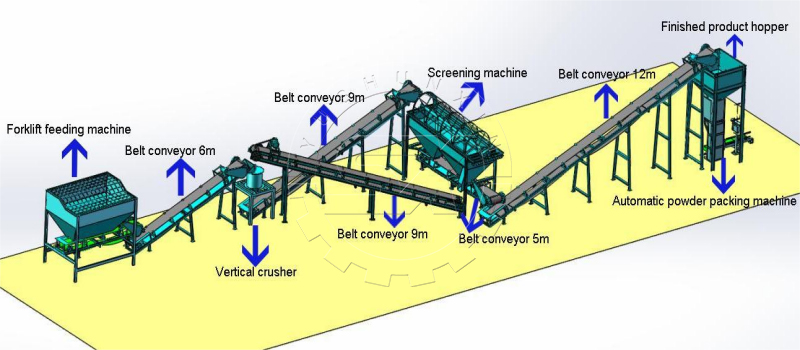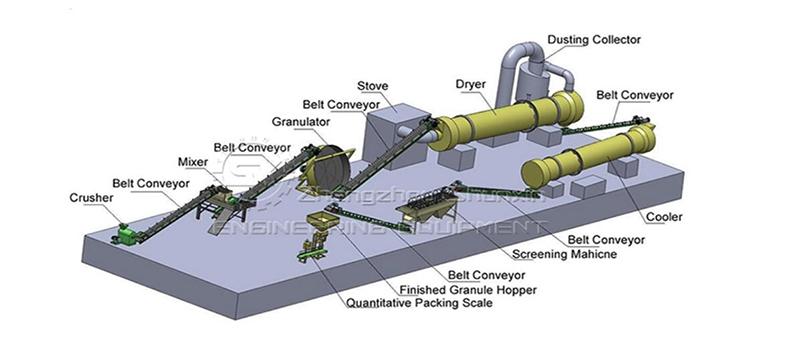 NPK fertilizer production line for sale
If you are prone to make granular compound fertilizer, we will recommend NPK fertilizer production line to you. It comprises all the procedures mentioned above. So the finished compound fertilizer has richer nutrients and higher quality. In addition, during granulating, it uses disc granulator to turn powdery materials into particles. And it usually can produce 1-6 tons compound fertilizer granules per hour. But if you want to enlarge the complex fertilizer plant scale, you can replace pan granulator with rotary drum pelletizer, which has a large output of 1-30 t/h. So it can fully meet your needs, whether you plan to build a small, medium or large compound fertilizer plant.
BB fertilizer production line for sale
If you plan to make granular compound fertilizer, but your budget is not enough. You can choose this BB fertilizer production line, which is also known as bulk blending fertilizer making line. You just need to feed several single fertilizers or compound fertilizers to the batching bins. Then after the mixer blends them evenly, you can package the fertilizer. There is only a mechanical force, but no chemical reaction occurs. So bulk blending fertilizer production line has fewer process steps and greatly reduces your production cost. It consists of four kinds of fertilizer equipment. Including batching machine, conveyor, mixer and packing machine. It is especially designed for granular materials, so the crusher is not needed.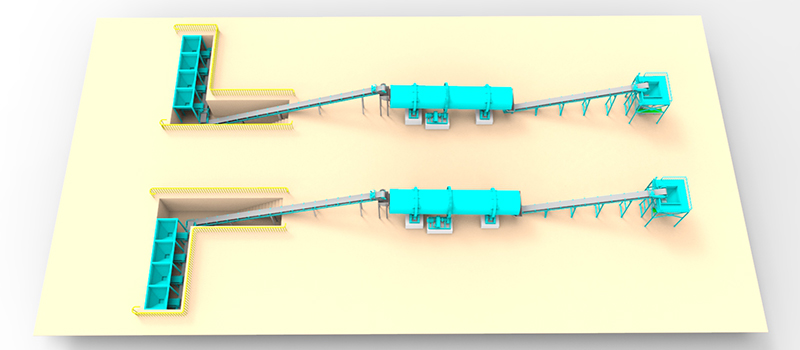 ---
How to start a compound fertilizer business?
As compound fertilizer demand grows, more and more people or companies switch to producing chemical fertilizer. Do you know what need to consider if you want to start a compound fertilizer business? There are some tips for your reference:
Make a budget plan
It is based on your survey and research on the compound fertilizer industry. This plan needs to include your total budget, as well as your budget for each project. Such as factory land, fertilizer equipment, materials, etc
Decide your materials and find a stable material supplier
Only after determining the type of raw materials, you can choose the appropriate fertilizer equipment. With a stable source of raw materials, you can produce fertilizers consistently. It ensures you have enough products to sell.
Choose a suitable place to build the workshop
It should be far away from the living and working area of the population. Because there will be some pollution in the process of producing compound fertilizer. You need to avoid letting this pollution affect denizens' lives. And the workshop needs to be located in an easily accessible place. It is beneficial for the sale and transportation of compound fertilizers.
Select a reliable fertilizer equipment manufacturer
It can not only provide you with high quality compound fertilizer equipment, but also offer you a lot of helpful advice. SX has 20 years of experience in compound fertilizer equipment production. It is an optimal choice for you.
---