In Mexico, cows play an important role in people's daily life. It can be the source of their food, income and entertainment. Mexico is not only one of the top cow meat export countries but also famous for bullfighting. There are many cow farms. But for large cow farms, manure management is not easy. The same goes for one of our customers. He also comes from Mexico. On 20th August 2023, the Mexico client emailed us for a manure management system for 2000 cattle. Here, SX can offer an excellent method – convert cow manure into fertilizer. The following are the specific details of this case: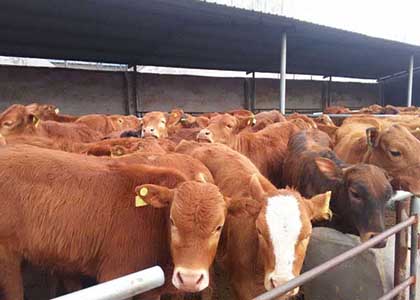 ---
How to dry cattle manure to 10% moisture content?
When making cow manure into fertilizer, moisture content is essential. The customer from Mexico told us that in the cow farm, there is 25-30 tons of manure waste generated a day in his farms. And cow manure contains around 70% moisture. But for commercial cow dung fertilizer production, you need to reduce it to 10%. How to finish removing the water from manure? SX can offer you an effective cow dung drying system, It mainly consists of two parts.
Cattle manure fertilizer drying
Because of high temperature environment creation, rotary dryer machine can help you dry cow manure fertilizer in a short time. Relies on the burning and hot blast furnace, you can generate hot air with a temperature of ≥300℃. So the rotary dryer can help you reduce the water content of cow manure to 10% easily and quickly. Moreover, for this 2,000 cow farm, it is advisable to buy a SXHG-1010 rotary drum dryer, which can dry cattle farm waste with 14%-50% moisture.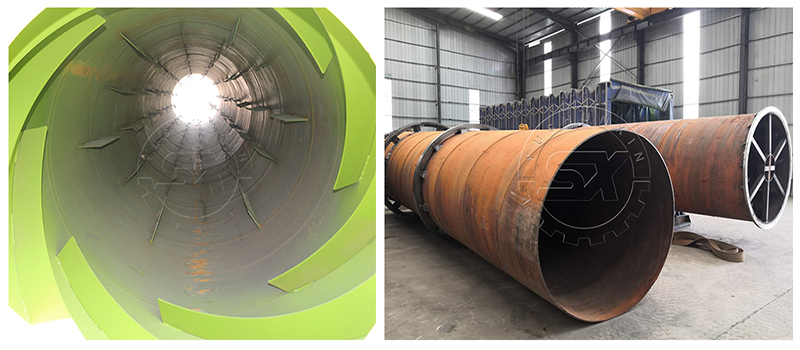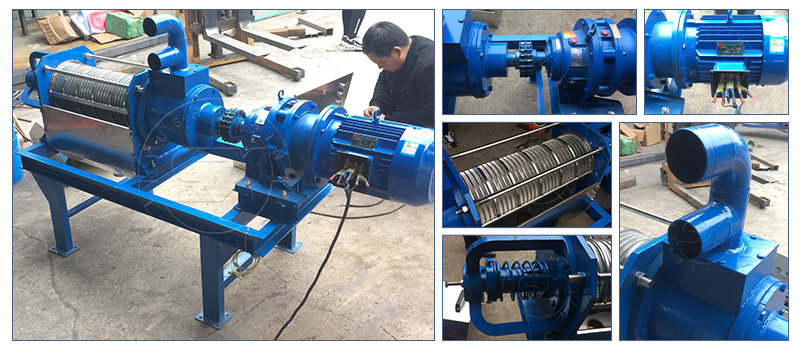 Cattle manure dewatering
However, if you feed cow manure with a high moisture content into rotary dryer directly, the material is easy to stick to. So for the Mexico client's manure management system for cattle, we add a screw type dewatering machine before rotary drying. It is suitable for processing cattle litter with a 50%-80% moisture content. In addition, after dewatering, you can get better cow dung material, which has a water content between 30% and 40%.
---
How to make cow manure into organic fertilizer?
For using cattle manure as fertilizer, besides material drying, you also need other steps.
Necessary step – composting
Among them, composting is necessary. Because it is the process of killing pathogens, pest eggs and grass seeds in manure. And compared with natural and manual aerobic fermentation, SX fertilizer compost machine can help you compost cow dung quickly and better. For 25-30 tons of cow farm waste disposal a day, SXLDF-2400 crawler type compost turner is an ideal choice.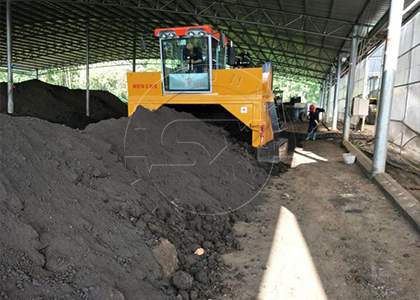 Crawler type compost turner
Model: SXLDF-2400
Turning Width: 2400 mm
Turning Depth: 600-1000 mm
Windrow Spacing: 800-1000 mm
Capacity: 500-700 m³/h
Power (horsepower) : 85
Working Knife Diameter: 400 mm
Working Speed: 6-10 m/min
Tip
Because the premium moisture content condition is 40%-60%, it is advisable to compost cattle manure after dewatering but before rotary drying.
Other methods for cow manure to fertilizer
After composting, you can further process cow manure composting into two forms of organic fertilizer. Powder or granule. SX can provide you with cow dung power fertilizer making line or cow manure granule making system according to your actual conditions and requirements.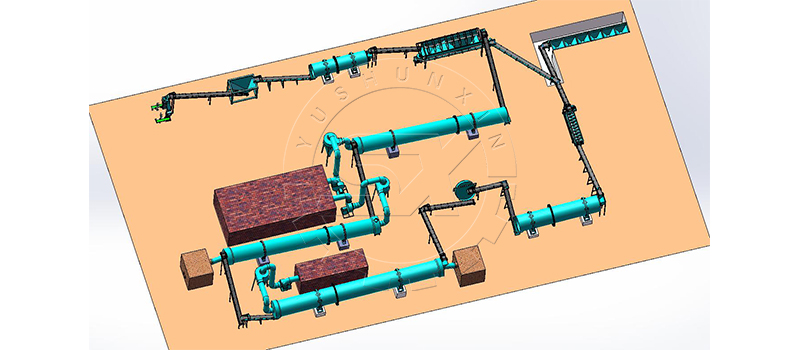 ---
What is the final design of the manure management system for 2,000 cattle in Mexico?
Finally, because of budget limitation, the client from Mexico determined to buy a fertilizer composting system first. Therefore, we sent him a cow manure fertilizer making line with screw dewatering machine, SXLDF-2400 crawler type compost turner, crusher, rotary dryer, rotary cooler, packaging machine and other auxiliary fertilizer machines.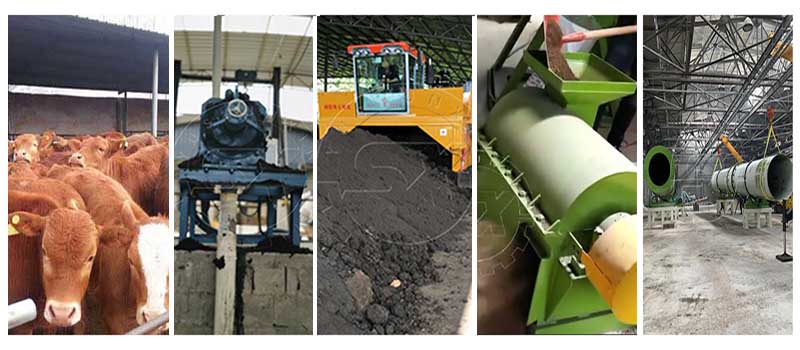 ---
---