What is Fertilizer Production Line and how to Start it in your Plant?
Fertilizer production line is a complete fertilizer production process to make high quality fertilizer. The fundamental production line is equipped with the specialized fertilizer equipment such as compost turner, mixer, crusher, screening machine, package machine and other auxiliary equipment. If you want to set a fertilizer granule production line in your plant, it also need fertilizer granulator, drying and cooling machine, polishing machine, coating equipment etc.
ShunXin, as a professional fertilizer equipment supplier in China, we can help you design for your fertilizer production business personalized. The typical fertilizer production line in our company includes chicken manure fertilizer production project, horse manure compost production line, etc. What's more, foucus on customer's demands, we have different performance fertilizer equipment with small scale or large scale production capacity. For small scale composting work, we can provide you with small composters. If you need large composting equipment, our fertilizer equipment can be designed in large capacity. Besides, according to your requirements and the actual situation of your factory site, we will optimize your production line as much as possible to save your cost on fertilizer making. So, if you have any questions about our fertilizer equipment, just contact us freely.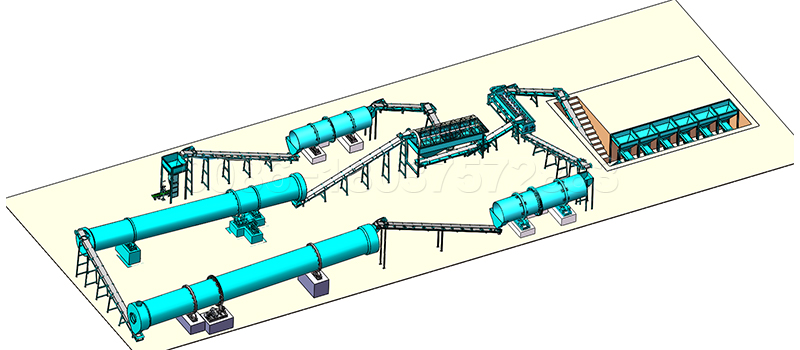 In ShunXin Company, are there any Typical Production Lines for your Fertilizer Making?
As a professional fertilizer equipment manufacture, there are some typical fertilizer production lines in our company. These production line is designed to use the most common wastes to make fertilizer. Such as cow dung, chicken manure, horse manure and other organic wastes. Besides, there are also lot of raw materials can be used to make high quality fertilizer. So, if you want to use your wastes to make fertilizer, just tell us which kinds of wastes you want to use for fertilizer making and how much production capacity you want to get from the fertilizer making production line. Then, we can provide customize service for you to meet your needs.
Organic Fertilizer Production Line
This diagram shows the organic fertilizer making process from ShunXin. The whole production line mainly needs the compost turner, crusher, mixer, granulator machine, ball shape machine, dryer and cooler machine, organic fertilizer screener, packing machine etc. What's more, these essencial organic fertilizer production equipment can be customized according to your requirement.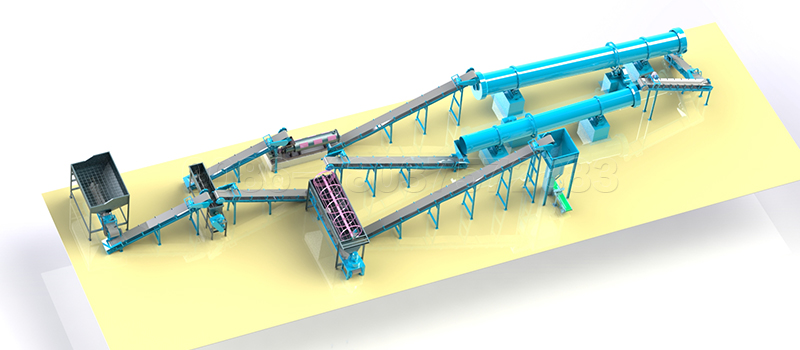 Features of ShunXin Organic Fertilizer Production Business:
This production line use the animal manures and the agriculture waste as the raw material to make organic fertilizer. It not only turns the waste into treasure, but also protects the environment.
The whole organic fertilizer production process is centralized controlled. So, this series of organic fertilizer machines are highly automatic and easy to operate.
Both batching system and packing system are controlled by the computer, thus ensuring the precision of material batching and fertilizer packing.
It has the high-quality, stable performance, advanced aerobic fermentation technology, and convenient maintenance.
What is the Dollar Cost of Purchasing a Mini Organic Fertilizer Production Line?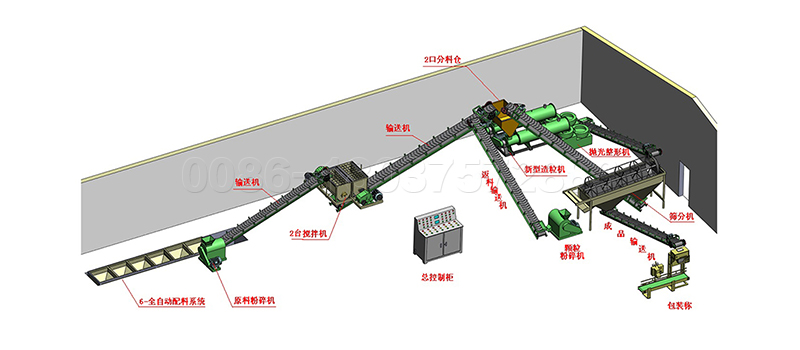 If you are not going to invest so much money to make organic fertilizer, a mini organic fertilizer production project is a good choice for you. If you want to know the latest quotation for this production line, please contact us. We will offer you the best price and professional service. Meanwhile, if you want to change the layout of the production line, we can talk about the details to make a better design.
Cow Dung Composted Fertilizer Production Line
Cow dung is a kind of high quality raw material for fertilizer making. If you do not know how to make use of cow dung to produce organic fertilizer, this complete cow manure fertilizer production process will give you a perfect solution. Using some professional cow dung composting equipment from ShunXin, you can compost your cow dung waste easily.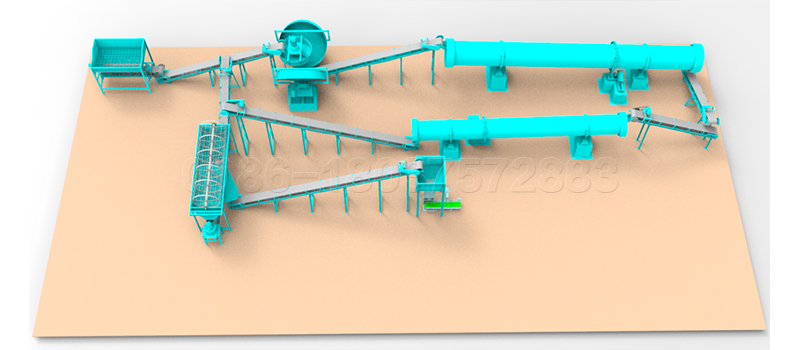 How to Establish a Fertilizer Powder Production Line with Less Energy Consumption?
The production process of powdery fertilizer is more simple than granular fertilizer. And the energy consumption is less than granular fertilizer production line. So, it can be regarded as small compost production line or mini fertilizer production line. If you want set up a fertilizer powder production line, the fertilizer production project can be like this.
How to Choose the most Suitable Fertilizer Production Line for your Plant?
Generally speaking, a good fertilizer production business plan should meet the standers as follows:
Stable and reliable operation. This is because production line is a continuous process. When the raw materials finish one process, it will move to the next process. Thus, each equipment in the production line is critical to the fertilizer making.
High degree of automation. The production of fertilizer is different from other products. Due to the particularity of the fertilizer production process, the equipment with high degree of automation can reduce the labor cost.
Long service life. Using high-quality fertilizer production equipment can greatly reduce the maintenance and repair costs.
If you do not sure which kinds of production line is the most suitable one for your plant, you can contact us freely. Our engineers will customize for your plant according to your actual situation and needs. In the meanwhile, the business plan we designed for you will meet the above three advantages to save your cost on fertilizer making process.
ShunXin: Quality Assured Fertilizer Machinery & Production Line Manufacturer in China
As a professional fertilizer equipment manufacturers for more than 30 years, our products and services have been well praised by our customers. Especially our customized service, more and more fertilizer production plant owners are willing to buy fertilizer equipment from ShunXin. About the production of fertilizer equipment, we have our own factory and r&d team to provide high quality fertilizer equipment to our customers.