Brief Introduction of Organic Fertilizer Production Process


Crushing
Mixing
Fermentation
Granulation

Semi-wet material fertilizer crusher for organic waste composting

Double Shafts Horizontal Mixer

Self-Propelled Mushroom Compost Turner Machine

chicken manure fertilizer making machine
Raw material selection. There are many raw materials that can be used in organic fertilizer production, such as cow dung, chicken manure, vegetable waste, crop straw, municipal sludge etc. So, you don't have to worry that you don't have the raw materials to produce organic fertilizer in your country.
Crushing or dewatering process. If the size of your raw materials are big, you need to crush them before fermenting process. Meanwhile, dewatering is necessary to deal with material with high moisture content.
Mixing process. By mixing materials and other biological species, the quality of the final organic fertilizer product can be guaranteed.
Fermentation process. Fermentation process also can be called composting process. It is the key process in organic fertilizer making process. So, you need to pay attention to this process.
| Screening | Drying | Cooling | Package |
| --- | --- | --- | --- |
| Fertilizer Screener for Sale | Rotary drum drying machine for making manure organic fertilizer | Rotary drum cooling machine for chicken waste processing | Automatic Packaging Equipment for Finished Organic Fertilizer Packaging |
Get Latest Price about Our Equipment, Feel Free to Contact us!
Granulation process. Granulation is another key process of organic fertilizer production. It helps to make composted materials into organic fertilizer granules.
Drying and Cooling. Because of wet granulation, organic fertilizer granules need to be dried and cooled to reduce moisture to store for a long time.
Package. Packing is the final process in organic fertilizer making process.
How to Set Up an Organic Fertilizer Production Plant in your Country?
Organic fertilizer production is popular in recent years. If you want to set up an organic fertilizer production plant in your country, it is a good choice for your to purchase the organic fertilizer production equipment from SEEC. Then, you need to make a detailed organic fertilizer production business plan for your plant. This business plan should be as detailed as possible to make sure your factory runs smoothly. In general, before you build a fertilizer plant, you need to consider the cost of investment and how many workers you need to employ to finish the organic fertilizer production process in your plant. Here, the engineer from SEEC can help you make a design for your organic fertilizer production project. If you plan to engage in organic fertilizer production, please feel free to contact us.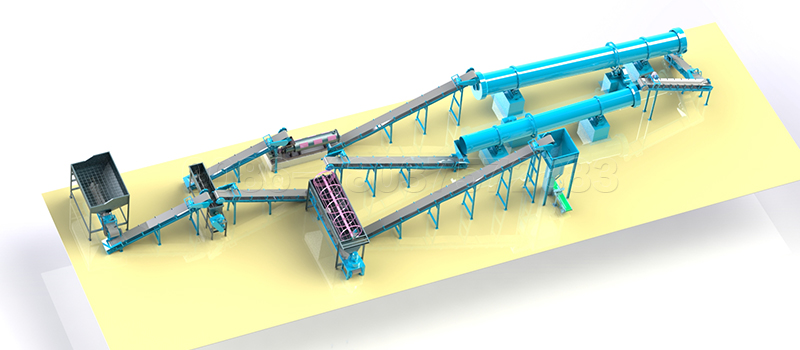 What are Commonly used Fertilizer Equipment in Organic Fertilizer Production System?
The production of organic fertilizer is using the fresh chicken manure, cow dung or any other organic wastes as raw materials to make high quality organic fertilizer. So, there are some commonly used fertilizer equipment in organic fertilizer production system. These organic fertilizer production equipment can be divided into the following categories.
Crushing equipment : SEEC semi-wet organic material crusher and the new type vertical crusher not only has high crushing efficiency, but also durable for organic fertilizer production.
Mixing facilities: According to the characteristics of materials, SEEC has design suitable mixing structure for the organic fertilizer mixer. The internal stirring structure of mixing equipment is divided into stirring knife type, screw type and so on.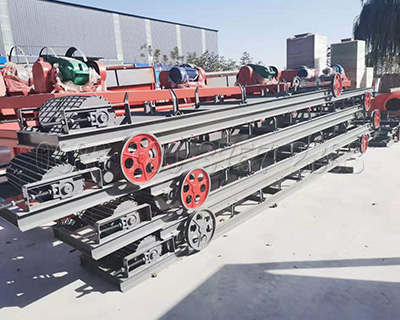 Mobile Belt Conveyor for Sale
Conveying equipment: In order to improve the efficiency of organic fertilizer production, SEEC mobile belt conveyor and fixed belt conveyor play an important role in organic fertilizer production system. Using the conveying equipment in organic fertilizer production business both can reduce the labor cost and save time for material transfer. With the strong conveying capacity and long conveying distance, conveying equipment is the necessary equipment in small ,middle and large scale organic fertilizer production line.
Granulating machine: For organic fertilizer granulating process, SEEC has easy-operated disc granulator, new type wet granulator, drum granulator etc. According to the characteristics of your raw materials, we can help you choose the appropriate granulator for your organic fertilizer plant.
Drying and cooling equipment: Because of the organic manure drying temperature should not exceed 80 ℃, so our organic fertilizer dryer mainly use the hot air to dry the organic fertilizer granules. The rotary drum drying machine from SEEC has the advantages of large drying capacity, stable operation and low energy consumption. Besides, the cooling machine is the auxiliary equipment for drying machine to finish the drying and cooling process continuously.
Screening equipment: The organic fertilizer screening facility can be divided into three levels of screening, secondary screening etc. It can be customized according to your actual production requirements. Besides, it also has rotary screen machine and vibrating screen machine for you to choose.
Automatic packaging equipment: The packing machine from SEEC can also be customized for you
What Equipment can be used for Organic Fertilizer Production Fermentation?
Fermentation is an important process in organic fertilizer making process. A good fermentation environment can not only reduce the loss of compost nutrients, but also greatly shorten the fermentation time. Compost turner is an important organic fertilizer production equipment, and using an organic fertilizer compost turner is necessary in the fermentation process. SEEC organic fertilizer compost turning equipment mainly adopts the aerobic fermentation technology to decompose the organic matter in raw materials. It helps to add more oxygen to the compost piles to speed up the fermentation process. Here are some typical compost turners for your organic fertilizer production fermentation.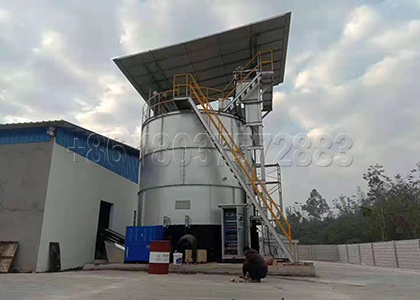 Get Latest Price about Our Equipment, Feel Free to Contact us!
How to Engage in Organic Fertilizer Production from Animal Manure?
Animal manure is a great organic material to make organic fertilizer. Take the chicken manure composting for example, it has 18.7% crude protein, 2.5% fat, 13% ash, 11% carbohydrates and 7% fiber, 2.34% nitrogen, 2.32% phosphorus and 0.83% potassium. So, it is good method to composting these organic materials into organic fertilizer rather than randomly stacked in the farm. With SEEC organic fertilizer production equipment, you can do it more effectively. If you want to make organic fertilizer from animal manure, SEEC has designed an animal manure organic fertilizer production line for you. This production line can be used to make organic fertilizer products from different kinds of animal manure such as chicken manure, cow dung, sheep manure etc. If you have any questions or requirements about this production line, welcome to contact us for more details.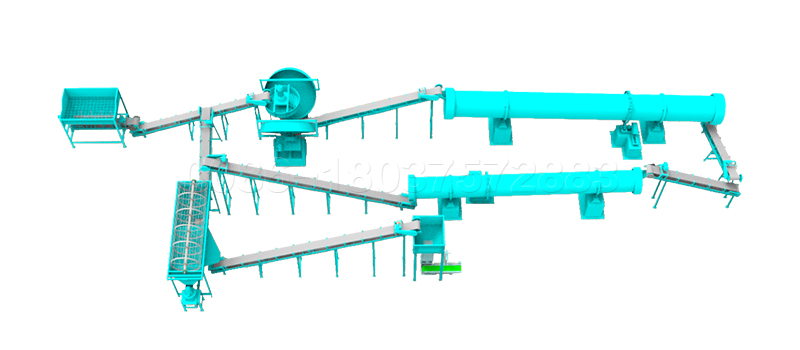 How does SEEC Designed for your Organic Fertilizer Production Business?
SEEC is a professional organic fertilizer equipment manufacturer in China. We can provide you with the most suitable organic fertilizer production equipment according to your budget and site conditions. So, if you want to start your organic fertilizer production business, please let us know the above information. In addition, different production volumes also need different production equipment to meet your requirement. Accoording to your demands, we have small composting equipment and large fertilizer making machine for you to choose.